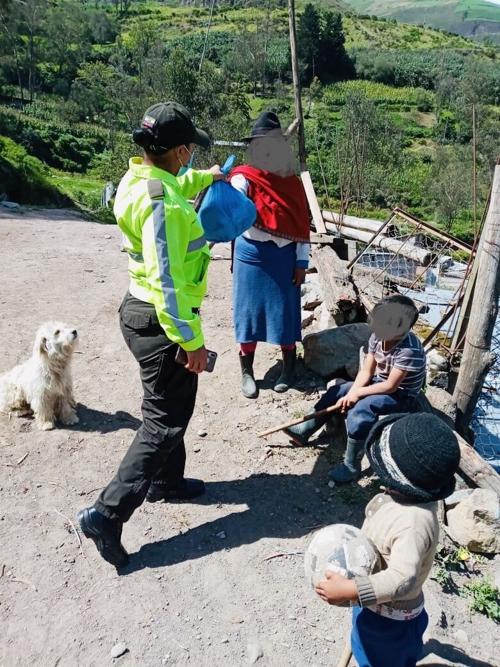 Maria Lida Foundation is pleased to announce that it has provided over 5,000 pounds of humanitarian relief in the Alausí, Ecuador region. This includes delivering meal kits and face masks to vulnerable neighborhoods in the area that are combating the COVID19 pandemic.
COVID19 has deeply impacted the world and Ecuador has unfortunately been no exception. In response to this crisis, the Maria Lida Foundation has conducted ongoing COVID19 relief missions to help underserved populations who are struggling with food insecurity and lack of access to personal protective equipment. These missions have served approximately 3,000 people in the region with the help of the Foundation's local team and partners.
The Maria Lida Foundation is a nonprofit organization with the mission of promoting self-sustaining economic development in Alausí, Ecuador through tourism, education, and training programs. It was created by Shannon Turner who is the product of an immigrant family from Ecuador to the United States and passionate about giving back to her Ecuadorian roots.
"I am very proud of our team and local partners for delivering for the community of Alausí, Ecuador during this crisis. While the pandemic has been heartbreaking and wreaking havoc in the country, I am inspired by the willingness of community members to help each other in this time of need. These missions could not be done without God's provision and the work of our team, local partners in Ecuador, and financial contributors. I pray for God to Bless all involved in our COVID19 relief efforts for their commitment to help the area's most vulnerable during this time," said Shannon Turner, Maria Lida Foundation's Founder and Chief Executive Officer.
Anyone interested in helping the Maria Lida Foundation's COVID19 relief efforts in Ecuador can visit the organization's website. In addition, information can be obtained by contacting our  team below:
Contact Person: Jorge Mora
Title: Country Director, Maria Lida Foundation
Fundación María Lida realiza campañas de ayuda beneficiando a miles
La Fundación María Lida se complace en anunciar que ha proporcionado más de 5.000 libras de ayuda humanitaria en la región de Alausí, Ecuador. Esto incluye la entrega de kits de comida y mascarillas faciales en los barrios más vulnerables de la zona que están combatiendo la pandemia COVID19.
Esta pandemia ha impactado profundamente el mundo, y Ecuador lamentablemente no ha sido la excepción. En respuesta a esta crisis, la Fundación María Lida ha llevado a cabo misiones de ayuda COVID19 en curso para ayudar a las poblaciones desatendidas que están luchando con la inseguridad alimenticia y la falta de acceso a equipos de protección personal. Estas misiones han servido a aproximadamente 3.000 personas en la región con la ayuda del equipo local y socios de la Fundación.
La Fundación María Lida es una organización sin fines de lucro con la misión de promover el desarrollo económico autosostenible en Alausí, Ecuador a través de programas de turismo, educación y capacitación. Fue creada por Shannon Turner, quien es el producto de una familia inmigrante de Ecuador a los Estados Unidos y cuya pasión es de devolver y ayudar a sus raíces ecuatorianas.
"Estoy muy orgullosa de nuestro equipo y de nuestros socios locales por brindar ayuda a la comunidad de Alausí, Ecuador durante esta crisis. Si bien la pandemia ha sido desgarradora y está causando estragos en el país, me inspira ver la voluntad de los miembros de la comunidad de ayudarse mutuamente en este momento de necesidad. Estas misiones no podrían realizarse sin la provisión de Dios y el trabajo de nuestro equipo, socios locales en Ecuador y contribuyentes financieros. Ruego que Dios bendiga a todos los involucrados en nuestros esfuerzos de ayuda COVID19 por su compromiso de ayudar a los más vulnerables de la zona durante este tiempo", dijo Shannon Turner, Fundadora y Directora Ejecutiva de la Fundación María Lida.
Cualquier persona interesada en contribuir a los esfuerzos de ayuda COVID19 de la Fundación María Lida en Ecuador puede visitar el sitio web de la organización. Para información adicional por favor ponerse en contacto con nuestro equipo a continuación:
Persona de contacto: Jorge Mora
Título: Director Nacional, Fundación María Lida