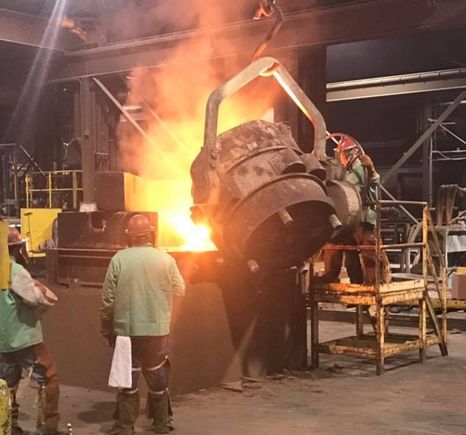 St. Louis, MO – John Meyer, Founder of MetSource, (http://www.met-source.com) announced today his firm's success in providing large copper castings used in the start-up of melting furnaces allowing local metals mill to continue essential operations un-interrupted during covid-19 pandemic.
A large metals mill producer recently contacted MetSource on their ability to supply large copper castings critical in their start-up of new furnace linings.  The mill was experiencing delays and uncertainty regarding supply from their current source due to covid-19 restrictions placed on their supplier's business.  The component allows the Mill to pack refractory around the furnace coil and is specifically engineered in dimension and alloy to melt at a precise rate to allow seasoning of the furnace refractory during start-up.
MetSource, collaborating with their partner Manufacturer -MetalTek International (http://www.metaltek.com), were able to produce a sample part within weeks after receipt of order. According to Meyer, "normal lead-time in such an endeavor would be measured in months not weeks. I am very proud to have been able to participate in helping our local manufacturers continue operations during this pandemic." The response provided included transfer of a pattern and repair, engineering time, agreement by all parties to a change in metallurgy and actual production time to produce the sample part.
MetalTek, deemed an essential business according to U.S. Department of Homeland Security CISA guidelines, has remained operating and supporting essential business requirements.  Shawn Cefalu, General Manager of MetalTek Carondelet division, stated "MetalTek prides itself on working with customers to provide timely solutions.  Our team has enjoyed this opportunity to provide this unique answer to our customer's need." 
Meyer is a graduate Metallurgical Engineer with over 20 years of industry experience including alloy development, failure analysis and part manufacturing.  His unique background as a Manufacturer's Representative allows him to put his customer's interest in the forefront of every sourcing decision. Because he is not directly working for any manufacturer, Mr. Meyer's expertise and business model allows him to determine the optimal process for his client's part.  His keen eye for determining the optimal manufacturing solution or tweaks to an existing design to enhance part manufacturability offers distinct value to customers.
MetSource is a technically oriented Manufacturer's Representative firm in the metals industry assisting manufacturers and end users in material sourcing and part manufacturability. The company offers capabilities in castings (centrifugal, continuous, investment and sand), forgings, machining, heating elements and plastics. With this lineup, MetSource offers some of the world's most unique capabilities in terms of size, alloy and process. For further information, visit the company's website at http://www.met-source.com or companies can contact Mr. Meyer at 314-413-3367 for consultation regarding solutions for your metals or plastic component.
MetalTek's Carondelet division is a sand cast foundry in Pevely, MO specializing in heat, corrosion, and wear resistant sand cast alloy components for countless demanding applications in a broad range of industries. For further information, visit the company's website at http://www.metaltek.com
The business news you need
With a weekly newsletter looking back at local history.