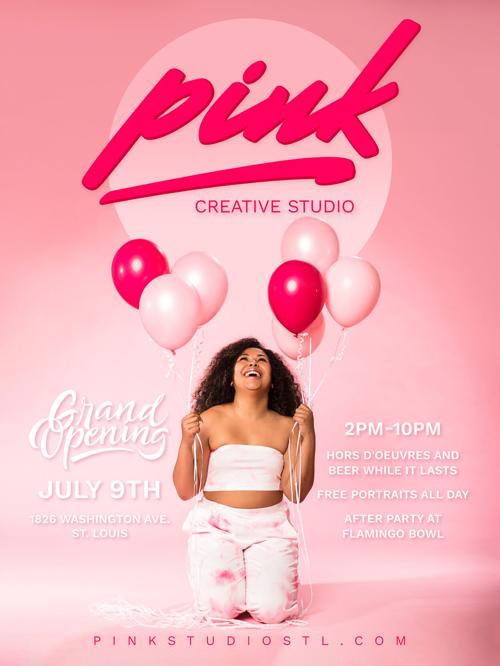 NEWS RELEASE
FOR IMMEDIATE RELEASE:
June 21, 2021
Contact: Casey Otto
Pink Studio -Owner
314.210.3992
Downtown photography studio and retail store, Pink, plans Grand Opening event with a mission to bring creativity to the community. 
ST. LOUIS, MISSOURI (June 15, 2021)– After the coronavirus pandemic swept the nation last year, Casey Otto and Isabel Domiano, the team behind Pink, downtown St. Louis' newest photography studio and retail shop, decided to put their Grand Opening plans on hold. On Friday, July 9 2021 the duo plans to unveil all their hard work during their newly scheduled Grand Opening event held from 2-10pm at 1826 Washington Ave, St. Louis, MO 63103. 
Their mission? To bring creativity to the community by making photography accessible no matter what side of the lens people feel most comfortable.
The studio features the photography of founders Otto and Domiano, and sessions are designed to highlight not only their own vision, but that of their clients' as well. 
"We really want people to create with us!" said Otto. He and Domiano met back in 2018 through the local Instagram photography community, both emerging as leaders for hosting meet-ups for photographers of all skill-levels. Otto with #STUDIODAZE, an invitation-only collaborative photography event, and Domiano with HerSTL, an organization for female photographers. They eventually aligned their efforts and Pink was born.  
In addition to photo sessions, the team plans to continue fostering community and growth through the studio by offering photo demonstrations + classes, one-on-one training, and even application-only collaborative photo shoots featuring select photographers, models, and make-up artists. Their efforts are centered on offering avenues in which to learn, grow, and excel to every skill level. 
The Grand Opening event will give people a chance to tour their new photography space and retail shop which will sell print photography created in the studio and other fine art, limited run, and handmade wares. 
St. Louis born and raised, Casey Otto started his first business, Plan Nine Skate Park, at 23 with big dreams of providing a space for kids to skate and bike safely. Voted Riverfront Times' Best Skate Shop in 2008, he grew to 4 locations in shopping malls across the city, and turned Plan Nine into a multimillion dollar business before struggling through the recession and eventually falling victim to the faltering mall industry. Losing it all, he returned to the drawing board to rebuild. 
With lessons he's gleaned through years of experience, he's excited to open Pink's doors with more wisdom, but a similar vision: to build a facility that nurtures a community and a craft that he loves.