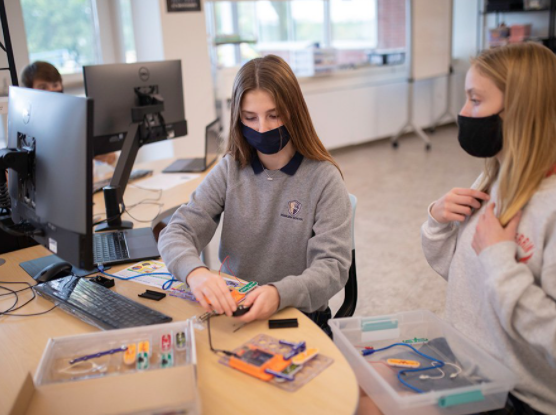 The innovative classrooms are motivating K-12 students
and developing future-ready leaders.
St. Louis, MO—Principia School recently launched the region's first SmartLabs, innovative classrooms offering a wide variety of experiential educational activities geared toward STEM and media arts education for K–12 students.
Dubbed "IDEA Labs" at Principia, the two state-of-the-art learning environments were created to advance proficiency in computer science, mathematics, software engineering, digital art, communication, and more. To engage and excite students of all ages, interests, and abilities, the School's IDEA Labs personalize the learning experience with the integration of STEM discipline, real-life challenges, and hands-on experiences.
"By moving beyond textbooks and theory, we are giving our students a chance to succeed in an ever-changing, fast-moving environment while fostering essential skills such as communication, flexibility, creativity, and collaboration," Principia Head of School Travis Brantingham says. "We are equipping students with the tools, resources, and confidence to adapt to new technologies and ideas that push the world forward."
Principia offers a proactive, student-led educational approach that allows students to learn at their own pace and develop and launch projects unique to their specific interests—both independently and through collaborative teams—in an atmosphere that encourages testing new ideas, technologies, and methods.
"By giving students a chance to work at their own pace while collaborating with other skill levels and interests, we are creating an encouraging and stimulating environment that nurtures students and also pushes them outside of their comfort zones," says STEM Facilitator and Integration Specialist Tommie Traylor.
Traylor works closely with other departments across Principia School to develop a strategic STEM curriculum that integrates with other subjects—further encouraging students to apply skills and concepts to real-world situations and make deeper connections to what they are learning in other classes.
All students in grades K-12 utilize the labs, working within eight broad topic areas: Circuitry; Computer Graphics; Digital Communications; Mechanics & Structures; Robotics & Control Technology; Scientific Data & Analysis; Software Engineering; and Sustainability. High school students and upper elementary grades rotate from project-to-project throughout the year while younger students engage in whole-class, teacher-led activities.
"The response to the new IDEA Labs has been incredibly positive from students and faculty alike," Traylor says. "Allowing students to apply their knowledge through application has a powerful, real-world connection for our students—this is the way forward in education."
When protocols allow, Principia looks forward to inviting St. Louis-area educators to come visit and see the IDEA Labs in action. We expect to offer programmatic support for schools interested in designing field trips, competitions, and special classes. For more information, contact IDEA Lab Facilitator Tommie Traylor at tommie.traylor@principia.edu.
Principia School is an independent, co-educational college preparatory school offering innovative, future-focused programs for students in preschool through grade 12. Founded on the principles of Christian Science, the School welcomes students who value scholarship and are eager to grow in character, embrace opportunity, and pursue excellence. Hands-on, experiential learning defines instruction and deepens learning through strong community engagement and exceptional global curriculum-based trips. For more information on Principia's innovative programs and offerings, visit www.principia.edu or email info@principia.edu.