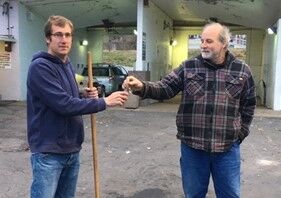 Saint Louis Group Business Brokers Sold: D&L Family Carwash 
Business Address: 4110 Meramec St., Saint Louis, MO 63116
Seller: Dan May, 314-517-3272
Buyer: John Vander Pluym, 314-609-0289
At the corner of Gravois Rd, and Meramec St. is a car wash that has become a fixture of the community.  Although there is no sign at the location indicating the name of the carwash or even to attract attention to it as a carwash, people have flocked to it since 1964.  Whether for a special occasion, such as a first date, family vacation, wedding or other special event, or just because it "was time", people have come to this location in large numbers to get their cars and trucks cleaned,
For the last 25 years, the carwash has been owned by D&L Family Carwash, Inc.  Dan May, President of D&L Carwash, said the carwash attracts customers year-round.  In fact, his busiest month of all time was February one year when the area was hit with a snow storm.  He said the lot was packed for several days with waiting lines down the street.
When Dan decided it was time to "pass the baton" to someone else, he contacted Jeff Teismann of Saint Louis Group Business Brokers to find the right buyer.
On Dec. 4th, ownership was turned over to Southside Carwash Inc.  John Vander Pluym, President of Southside Carwash, said "I've been driving by this carwash my entire life."   Dan praised John as "just the right guy" to take over the reins.  
John said he plans to start by giving the place a fresh coat of paint.  He also has plans to install credit card readers and a business sign.  However, he doesn't want to make too many changes that might derail the reasons people continue to patronize the business.
Saint Louis Group is a local business brokerage firm that helps those who want to sell and buy businesses, and local companies in the Saint Louis region.