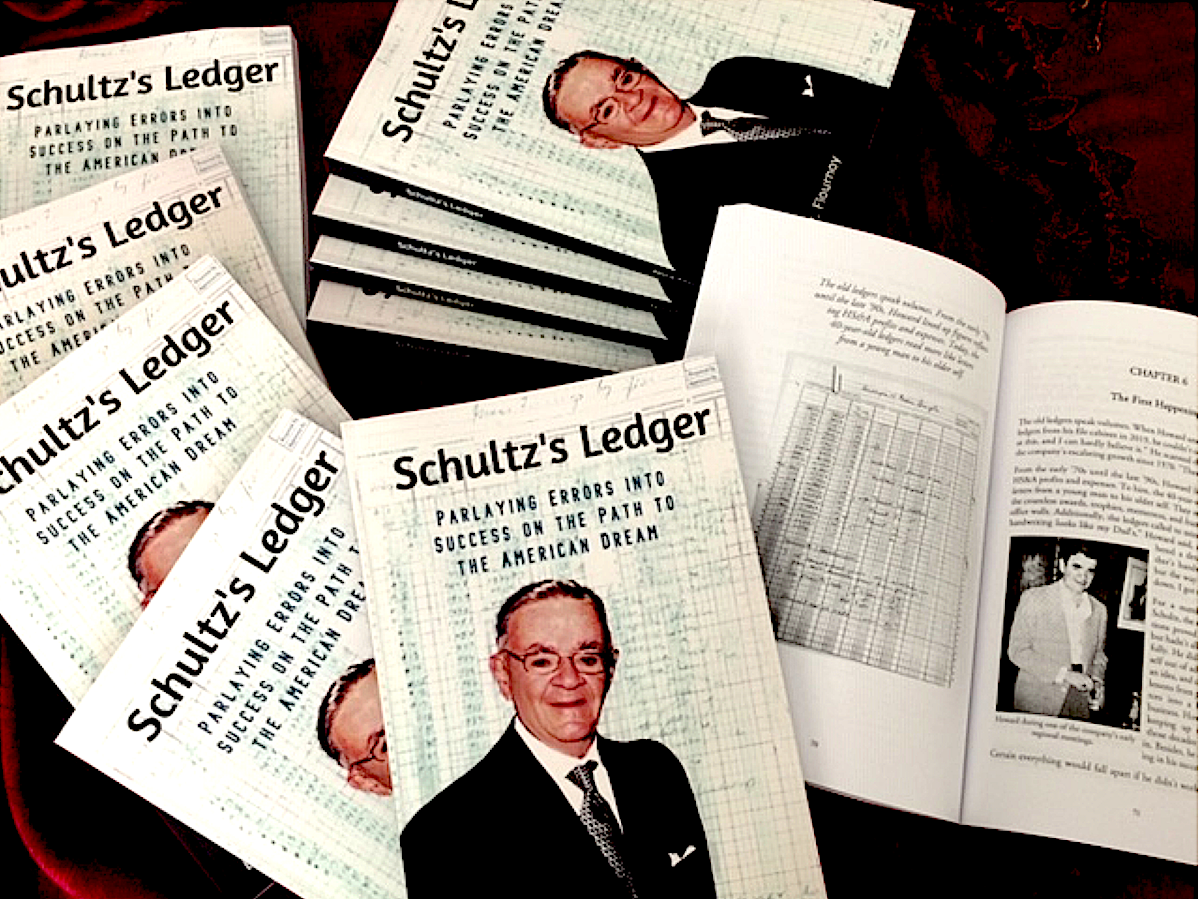 DALLAS, TEXAS (02/28/2020) — The biography of Dallas entrepreneur and philanthropist Howard H. Schultz — "Schultz's Ledger: Parlaying Errors into Success on the Path to the American Dream" — tracks a timeline from the beginning of the Great Depression to 2019. Author Nina P. Flournoy follows the life and career of Schultz from his modest Jewish upbringing in New Jersey to his success in Dallas as an innovative financial entrepreneur and philanthropist with world-wide impact. Working in the back offices of retail giants in the day of adding machines, Schultz hopscotched the country during the heyday of the great American department store, landing at a top retail establishment in Dallas on the heels of the Kennedy assassination.
Finding himself on the frontlines of the shift to computer technology in the U.S., he saw firsthand the high incidence of financial errors despite and because of computer technology. After a devastating career setback, he parlayed those financial errors into the world's first recovery auditing firm — Howard Schultz & Associates, International. In the process, he developed a rare blueprint for successfully structuring a family-oriented profit-sharing business while also forging a strong foundation in community and world affairs.
The book revolves around the development and expansion of HS&A into the largest company of its kind in the world, before Schultz sold it to competitor PRG in 2002. However, Flournoy also delves into Schultz's personal, religious, and philanthropic evolution — in particular, the Schultz family's contribution to the Jewish community in Dallas and world-wide, and their hands-on approach to supporting Jewish education. At its core, the book is a page-turning story of an optimistic, straight-arrow numbers guy with an unwavering moral compass, who, with the help of his dynamic wife, crafted a vision for structuring a rewarding life.
Available in paperback at Amazon Books. For more information or to set up an interview, contact NFES at npflournoy@gmail.com.
Nina P. Flournoy is a former reporter and editor for national and local publications. A longtime Communication Studies professor at Southern Methodist University in Dallas and Director of SMU-in-London, Flournoy has published books including The Lions Among Us, about the 1930s East Texas oil boom and the petroleum fraternity that helped build Dallas; A Geophysicist's Memoir: Searching for Oil on Six Continents, on the life of Albert Hrubetz; and Originally From Shreveport: A Lite Off-the-Wall Memoir, featuring stories of William Peavy. Flournoy's company, NFES is based in Dallas. (ninaflournoyeditorialservices.wordpress.com).
The business news you need
With a weekly newsletter looking back at local history.