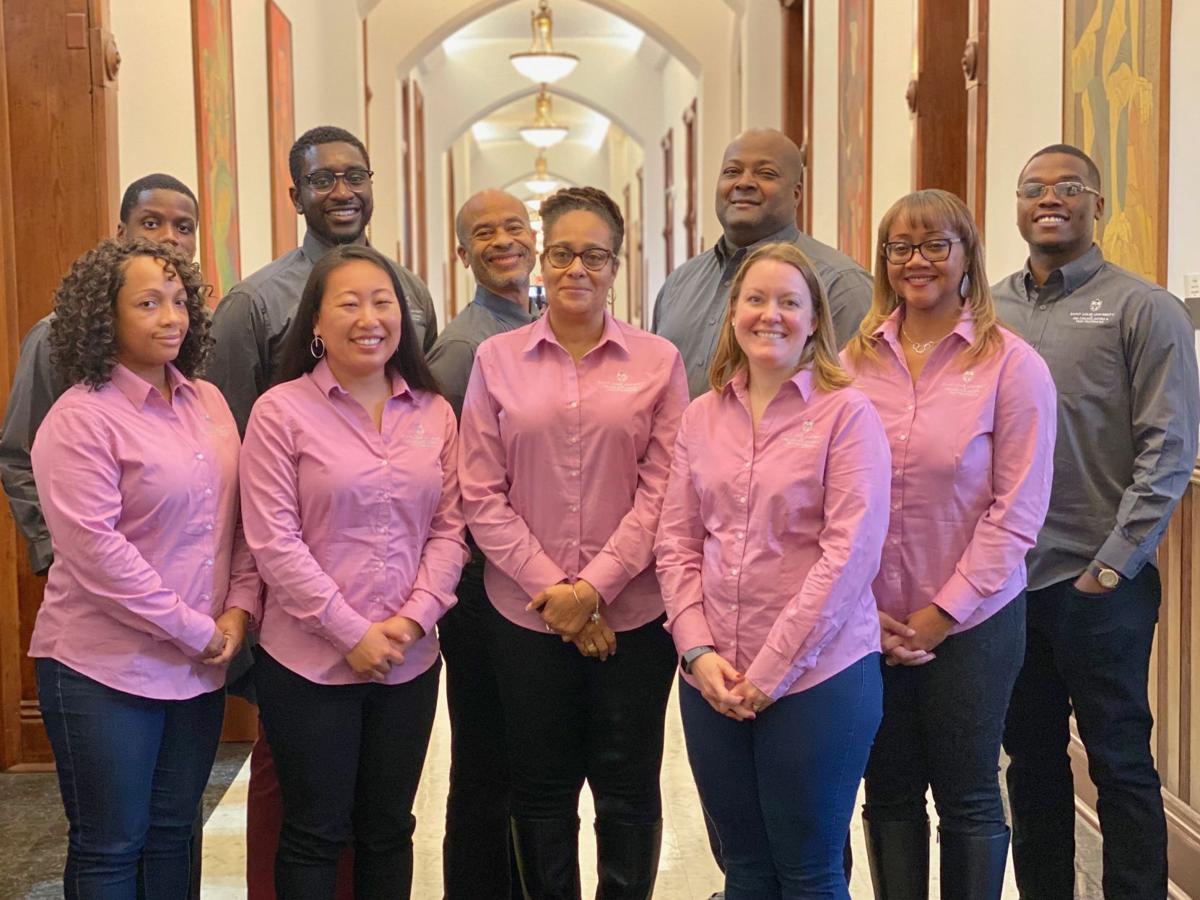 Essential to a student's flourishing, in the classroom and in their career, is a capacity to envision success for one's self. Institutions of higher learning are often pictured as catalysts for personal and professional success, but entry into these spaces has historically been limited, inhibiting students from disadvantaged backgrounds from successful enrollment and matriculation at colleges and universities. At SLU, the Pre-College, Access and TRIO (PCAT) programs actively empower students at various moments across their educational journey to expand opportunity for academic and professional success for students from disadvantaged backgrounds, particularly first-generation college students. In essence, PCAT programs strive to generate a pathway for student success beginning in kindergarten and extending through graduate school. Deemed the K-20 pipeline, this collection of initiatives not only provides substantive programming, but also instills in its students an understanding that they belong in higher education.
One robust SLU initiative that contributes substantially to the early stages of PCAT's K-20 pipeline is Summer @ SLU. Offering a multitude of summer programs, for-credit courses, athletic camps, and more, the breadth of Summer@ SLU's programming targets school-age students as well as adult learners. Camp Invention, for one, is a STEM-focused, Summer@ SLU program offering rising 1st graders hands-on experience with innovative technology and opportunity for creative problem-solving. Other weeklong experiences might include a volleyball clinic or a creative writing workshop for middle- and highschoolers. For its diversity of programming, one can envision Summer@SLU's work to exist adjacent to formal PCAT programs; however, their parallel operations feed into a similar mission.
From as early as Pre-K, students can play, learn, and live on a university campus, sowing seeds of recognition that college is and should be an attainable goal for them. Beyond the learning outcomes of their particular camp, Summer@SLU participants can help students envision themselves succeeding at a university. To foster this foundational ambition is imperative, especially in communities historically underrepresented in higher education. Though not a formal PCAT initiative, early involvement in Summer@SLU programs acts as a student's entry into PCAT's K-20 pipeline, whose support only grows as students progress in their education.
Next in the pipeline, Educational Talent Search or SLU Talent Search supports 501 middle and high school students in the St. Louis Public Schools District. Along with Student Support Services (SSS) and McNair Scholars, SLU Talent Search is a TRIO program which operates on competitively awarded grants from the Department of Education. Active in Cole and Long Middle School, SLU Talent Search is an application-based program where eligible students from disadvantaged backgrounds can access tutoring, mentoring, educational field trips, among other services beginning in sixth grade. Further, Talent Search counsels students at Sumner, Vashon, and Roosevelt high schools on financial as well as academic matters pertaining to their postsecondary education. Most importantly, Talent Search prides itself on its boundless encouragement of students and their capacity to succeed as they pursue educational  opportunities after high school. 
The holistic approach taken by Talent Search here is a testament to the mission of the K-20 pipeline. Not only does the program cultivate a vision of accomplishment within students, it also aims to make that dream accessible and feasible for Talent Search participants and their families. An orientation toward success in college and beyond is engendered in students as they participate in Talent Search initiatives like a robotics program at Roosevelt High School, where students are immersed in a simulated tech start-up atmosphere. They not only design a robot but also have to pitch its viability as a business model to their peers. Participants can view themselves as budding engineers or entrepreneurs, inspiring a professional drive toward successful enrollment in higher education. 
Early segments of PCAT's K-20 pipeline like Summer@SLU and SLU Talent Search focus on the inspiration and motivation of students in pursuit of a college degree; however, once a student enrolls, it's imperative that they are sufficiently supported throughout their journey in higher education. Located at that significant transition point when a student enters college, the Billiken Success Program (BSP) aids students provisionally admitted to SLU on the condition that they successfully complete this yearlong PCAT program. BSP begins with a JumpStart phase, introducing students to campus before the start of the semester for an extended orientation to the university and the cadre of advisers and resources available to them. From there, a carefully personalized curriculum spans their first and second semesters, bolstered by regular academic advising and peer mentoring. Eligible students in BSP may also have the opportunity to progress further through PCAT's K-20 pipeline as early as their first semester by applying to Student Support Services (SSS).
Instrumental to PCAT's mission for student success throughout their SLU undergraduate experience is the ongoing support, advocacy, and advising provided by SSS. An integral resource to its students since 1984, SSS serves up to 175 students who identify as first-generation college students, come from a modest-income household, or have some disability throughout their time at SLU. Entry into SSS is available to eligible students with applications accepted on a rolling deadline. Like its partner TRIO program Talent Search, SSS advances a holistic approach to its care for students, offering academic support, financial advising, peer mentoring, among other services. 
SLU graduate (Computer Science '19) and current Master of Public Policy student at the University of Chicago, Ricardo Saucedo, attests to the importance of this branch of PCAT's K-20 pipeline: "Through SSS, I found a niche at SLU that supported me every step of the way in my undergrad journey. As a first-generation student, this is more than I could have asked for as I was navigating higher education, clueless most of the time." Through SSS, PCAT equips students with institutional knowledge and resources instrumental to matriculation at SLU, but the mission of their K-20 pipeline remains to foster ambition in their students that extends, at times, into graduate study. 
  SLU's Ronald E. McNair Postbaccalaureate Achievement Program, often referred to as SLU McNair, forms the final segment of PCAT's K-20 pipeline. The  most recent addition to its triad of TRIO programs, SLU McNair supports up to 25 high-achieving college students annually who identify as first-generation and Pell-eligible, and aspire to pursue graduate study toward attaining a PhD. Typically, applicants enter the program as sophomores or juniors and can access one-on-one faculty mentoring, GRE preparation, paid summer internships, along with an array of other services. Saucedo reflects on the role of SLU McNair's support for enrolling at the Harris School of Public Policy at the University of Chicago, a nationally ranked program. 
"Without McNair, it is highly unlikely that I would be in graduate school, for starters. The exposure the McNair program gave me made me a stronger individual. My imposter syndrome, which drastically hindered my confidence levels at SLU, quickly dissipated as I was able to realize my worth, knowledge, and strengths."
Though housed at SLU, the McNair Scholars Program partners with several area universities to offer support to scholars across the St. Louis region, including Fontbonne, Harris-Stowe, University of Missouri-St. Louis, Washington University in St. Louis, and Webster. Additionally, interested first-year students and eligible candidates who apply after available slots have been filled also have an opportunity for graduate school preparation. The Gateway to McNair Scholars Program is a pre-McNair initiative which provides mentoring from graduate students as well as from current McNair Scholars. For students in PCAT's K-20 pipeline, both Gateway and McNair Scholars reinforce students' professional visions and the very accessible possibility of attaining a doctorate in their field of study.
The K-20 pipeline, at its best, extends from its home at SLU to offer resources, experiences, and opportunities to students of many different ages: a first grader stepping on campus for the first time, a graduating senior finalizing an application for doctoral study, and all those in between. PCAT strives to instill a passionate drive in students at each stage of the pipeline and to transition them smoothly between initiatives as they progress in their education. PCAT enjoins its students to embrace its vision, that the success of their future need not be bound by historical barriers, especially those set around a college education.