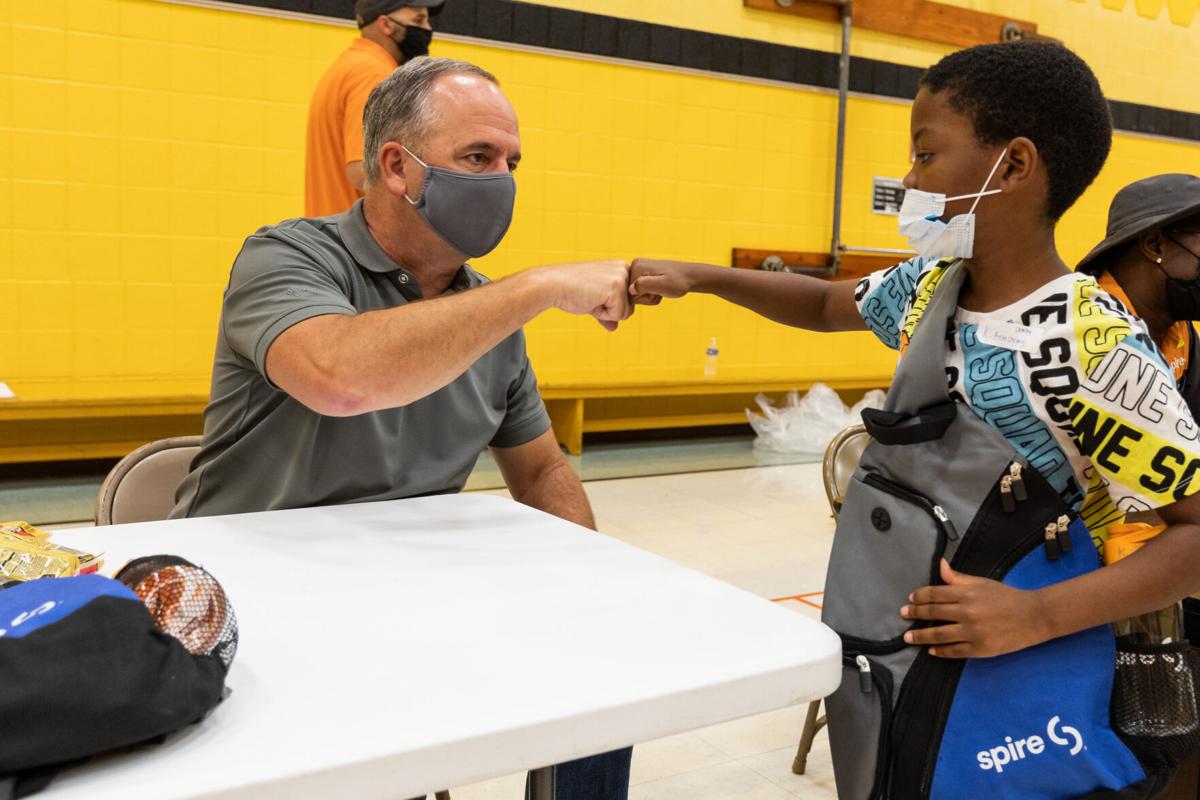 ST. LOUIS (Aug. 24, 2021) — This week, Spire is donating more than 1,000 backpacks filled with school supplies to six St. Louis City elementary schools. On Aug. 24 and 25, Spire employees are delivering school essentials to students at Froebel, Herzog, Hickey, Patrick Henry, Shenandoah, and Sigel Elementary. This is the sixth year the natural gas company has supported students through the giveaway.
Each donated backpack contains snacks, writing utensils, binders, erasers and notebooks.
"Everyone has been through so much this past year and a half navigating the pandemic," said Dr. Michael Baird, principal of Hickey Elementary. "Some of our scholars have not been in school since the beginning of the pandemic.  These school supplies are setting up our scholars for success as we welcome them back into our classrooms."
Spire launched the backpack giveaway in 2015 to reflect its commitment to advancing communities.  Schools are selected to participate based on areas where Spire field crews are currently working. During the giveaway, field crew members help distribute the backpacks and engage students.
"We do this event each year to be a part of the community," said Rex Thompson, Spire employee engagement specialist and an organizer of the giveaway. "And the best way to be part of any community is to connect with people and help when there is a need. As we advance as a company, we strive to make sure we are advancing our communities as well."
"Investing in the tools children need to be successful and thrive is one of the most fulfilling activities we are able to do as a company," said Steve Lindsey, Spire executive vice president and chief operating officer. Lindsey participated in giveaways at Patrick Henry and Hickey. "This event means a lot to the kids, and it means just as much to Spire. Seeing the smiles on children's faces as you hand them their backpacks is the biggest reward."
At Spire Inc. (NYSE: SR), we believe energy exists to help make people's lives better. It's a simple idea, but one that's at the heart of our company. Every day we serve 1.7 million homes and businesses making us the fifth largest publicly traded natural gas company in the country. We help families and business owners fuel their daily lives through our gas utilities serving Alabama, Mississippi and Missouri. Our natural gas-related businesses include Spire Marketing, Spire STL Pipeline and Spire Storage. We are committed to transforming our business through growing organically, investing in infrastructure, and advancing through innovation. Learn more at SpireEnergy.com.