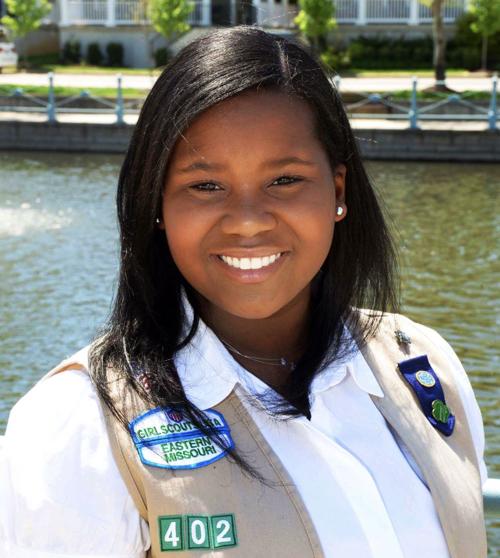 Contact: Aurrice Duke-Rollings
Chief Marketing and Communications Officer
St. Charles Girl Scout Goes for the Gold
Gold Award Girl Scout creates STEM summer camp for students
St. Louis, MO – March 23, 2020 – Girl Scouts of Eastern Missouri is pleased to announce Alayna Jenkins, a graduate of Orchard Farm High School, has recently earned the mark of the truly remarkable – the Girl Scout Gold Award. This young change-maker demonstrated extraordinary leadership through a measurable and sustainable community service project.  
The importance of early introduction of medicine-related subjects to students is crucial in developing career interests in healthcare, according to the International Journal of Medical Education. The introduction to medicine is even more vital as the Association of American Medical Colleges projects a shortage of approximately 122,000 physicians by 2032. After learning about this statistic, Jenkins decided she wanted to take action and create a positive learning environment for her community. So, to earn her Gold Award, she created a STEM summer camp highlighting the science of medicine and the potential career paths.
Jenkins organized a biomedical science summer camp, a week-long day camp for 30 students from Orchard Farm Elementary School and Discovery Elementary School. During the program, Jenkins and her team led the students through hands-on experiments such as conducting a urinalysis lab, building a brain out of clay and a dissection. Afterward, Jenkins provided her curriculum to the Health Occupations Students of America (HOSA) chapter at Orchard Farm High School, who has committed to continuing her program.
The Gold Award is earned by a high-school-aged Girl Scout who has dedicated on average more than 80 hours to address an issue she's passionate about in a way that produces meaningful and permanent change. Whether it's on a local, national or global level, Gold Award Girl Scouts, like Jenkins, provide innovative solutions to pressing and relevant challenges.  
Gold Award Girl Scouts don't just change the world for the better, they change it for good. On a national level, Girl Scouts have answered the call to drive lasting, impactful change in the areas of STEM (science, technology, engineering and mathematics), legislation and education. Some of the benefits of becoming a Gold Award Girl Scout are:
Immediately rising one rank when enlisting in the US Armed ForcesEarning scholarships from colleges and universitiesRecognition from many government and non-profit organizations
Earning the Gold Award is just one of the amazing things girls can do as part of Girl Scouts. To join Girl Scouts or learn more about volunteering, please visit girlscoutsem.org/join.
We're Girl Scouts of Eastern Missouri
Our extraordinary journey began nearly 100 years ago when the first Girl Scout troop was formed in our region in 1918. Every year since, we've furthered our mission of building girls of courage, confidence, and character who make the world a better place. We're the preeminent leadership development organization for girls. And, with programs across eastern Missouri, Girl Scouts offers every girl a chance to practice a lifetime of leadership, adventure, and success. To join, volunteer or donate to Girl Scouts of Eastern Missouri, call 800.727.GIRL (800.727.4475) or visit www.girlscoutsem.org. Girl Scouts is a proud United Way member and is supported by the following United Way agencies: United Way of Greater St. Louis, United Way of the Mark Twain Area, United Way of Adair County/Northeast Missouri and Franklin County Area United Way. Follow Girl Scouts on...Twitter http://twitter.com/GirlScoutsEM and Facebook http://www.facebook.com/GirlScoutsEasternMO.
The business news you need
With a weekly newsletter looking back at local history.