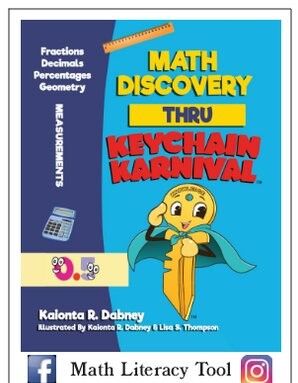 Math Discovery Thru Keychain Karnival
St. Louis, MO. 12.9.2011 through the Present, sixteen-year-old Kaionta Dabney started his journey as a kid and entrepreneur at the age of 7.  Kaionta's business stemmed from his mother's math class, teaching students fractions, decimals, percentages, measurements, and geometry through Creative Arts!  With creative arts, a brand was born to name Keychain Karnival.
In 2017, Kaionta started brainstorming on a Math Literacy Workbook to assist students struggling in math.  From his experience as a kid learning math, he knew firsthand how those challenges made students feel.  Kaionta discovered a way to help students in the community, by learning math with hand-made keychains!
Kaionta said, "If I can learn math through art and have FUN, other students can too!"
In 2020, Kaionta completed his workbook and titled it "Math Discovery Thru Keychain Karnival".  It was published in June 2020, for fifth grade and higher.  After reviewing the content, Kaionta determined it's an excellent intro for fourth grade. 
In addition to creating a math workbook, Kaionta helps the homeless by providing them with Gift Cards.  During this Pandemic, using his Tithes, Kaionta has completed three rounds of "Gifting Gift Cards to the Homeless". 
This year Kaionta like to double that amount of Gifting Gift Cards he did in 2020!  With the release of his English workbook and a Spanish version, there is no doubt he will achieve his goal! 
In kicking off the new year, on January 10th Kaionta received a Teen Entrepreneur of the Year Award from Silent Impacters!  Next, Kaionta will have his first booking signing:
On December 9, 2021 will make ten-years Kaionta, the CEO has been in his entrepreneur journey.  In March 2019, officially made Keychain Karnival an LLC!  This is our 10 Year ANNIVERSARY, Level Up for Knowledge!