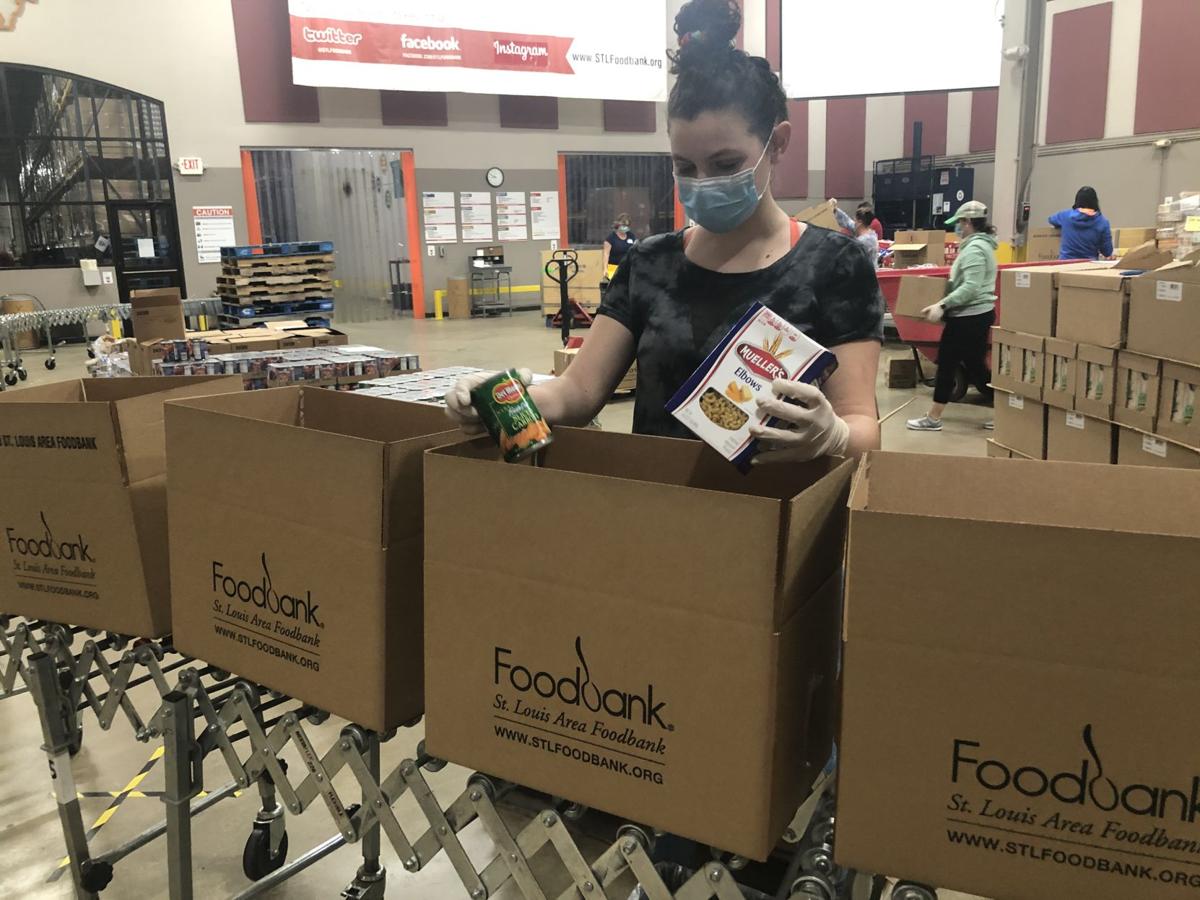 St. Louis, Mo. (April 23, 2020) – The St. Louis Area Foodbank, the bi-state region's largest food provider to people in need, recently received a grant of $502,563 from Missouri Foundation for Health (MFH) to address the increased need for food assistance as result of the COVID-19 pandemic. With this strategic investment from MFH and support from the community, the Foodbank aims to distribute more than 10 million meals to children, families and seniors in the St. Louis region by June 30.
Specifically, the St. Louis Area Foodbank will use MFH grant funds in the following ways:
·       Hiring of 20 full-time temporary employees to assist in increased distribution efforts throughout the Foodbank's 14-county service territory in Missouri. Positions include over-the-road truck drivers, warehouse and mobile programs staff, SNAP intake coordinators, and individuals to sort and pack food in our volunteer center.
·       Equipment for capacity building to support our increased distribution efforts. The Foodbank will rent 4 additional trucks over the next 10 weeks to ensure that food is getting to people in need as quickly as possible.
·       Trailers for increased storage capacity to increase the Foodbank's ability to source and distribute more food to families impacted by the COVID-19 crisis.
·       Organize 70 Disaster Mobile Markets to bridge service area gaps created by volunteer-led food pantries who have temporarily shut their doors. The number of mobile food distribution events will continue to grow in April and upcoming months as the Foodbank organizes additional Disaster Mobile Markets with existing and new partners to meet the increased demand for food assistance.
·       Ongoing food support to the Foodbank's network of community partner agencies to purchase food and other materials each week that will nourish and empower families.
·       Infant Formula for vulnerable parents with infants that are seeking formula resources due to the empty shelves in grocery stores. Through local and national partnerships, the Foodbank will source infant formula and baby food to support families with children ages 0-3. The Foodbank will work with its network of community partner agencies to distribute the formula.
"This is unlike anything we've seen in the 45-year history of the St. Louis Area Foodbank," said Foodbank President and CEO, Meredith Knopp. "It is a time of unprecedented need and we are grateful to Missouri Foundation for Health and everyone that has backed our efforts. Our promise is that we will continue to feed individuals and families in need as long as it takes to recover. Support from the community allows us to get displaced workers back to work and maximize the number of people we're able to safely help. It's a win-win for the region."
In Missouri, the St. Louis Area Foodbank has 384 partner agencies (food pantries, soup kitchens, shelters, etc.) and community program partners located in 14 area counties. The organization is in constant communication with its partners to assess evolving need and provide guidance for food distribution safety for staff, volunteers, and individuals receiving food assistance.
The Foodbank is also collaborating with schools, hospitals and other partners to hold "drive thru" food distributions as a "contact-less" means of distributing emergency food boxes, fresh produce, frozen meat, personal care items, and household essentials to high-risk, high-need, and low-access communities.
The Foodbank is also the only local distributor of food to low-income seniors through the Community Supplemental Food Program (CSFP). Whenever possible, the organization is delivering two months-worth of food boxes. By providing a two-month supply, it reduces the risk of seniors being exposed to COVID-19.
In conjunction with this investment, the Foodbank is partnering with the St. Louis Regional Chamber to hire workers displaced by the coronavirus outbreak to help keep up with the increased need for food assistance. These temporary employees will work full-time for the next 10 weeks at the Foodbank.
The recruitment firm Labor Finders will screen qualified applicants and conduct the hiring. Interested parties are encouraged to contact Labor Finders by phone at either its St. Louis office at (636) 287-3709 or St. Peters location at (636) 244-9080.
The St. Louis Regional Chamber will promote the employment opportunities among its members who may have employees who are unemployed or temporarily furloughed by COVID-19 related layoffs.
About the St. Louis Area Foodbank
The St. Louis Area Foodbank began its service to the community in 1975. Since that time, the organization has grown to become the bi-state region's largest nonprofit 501c3 food distribution center dedicated to feeding individuals in need. Through a robust network of community partners and programs throughout 26 counties in Missouri and Illinois, the Foodbank helps provide 37 million meals annually. More than 392,000 people in the bi-state region rely on the Foodbank for assistance each year. For 45 years, the St. Louis Area Foodbank has been there for people dealing with crisis, be it a natural disaster, a global pandemic, or the everyday crisis of hunger. For more information on Foodbank's COVID-19 relief and response efforts and how people can access resources near them, call (314) 292-6262 or visit http://STLFoodbank.org/covid19.
About the St. Louis Regional Chamber
The St. Louis Regional Chamber is a broad community of leaders united for economic prosperity throughout the entire St. Louis bi-state region. Our aspiration is for St. Louis to be one of the Top 10 U.S. regions in prosperity. Our one purpose is to inspire a greater St. Louis. Together, we will make St. Louis a more attractive place for people to live, work and invest. For more information, visit www.stlregionalchamber.com.
The business news you need
With a weekly newsletter looking back at local history.