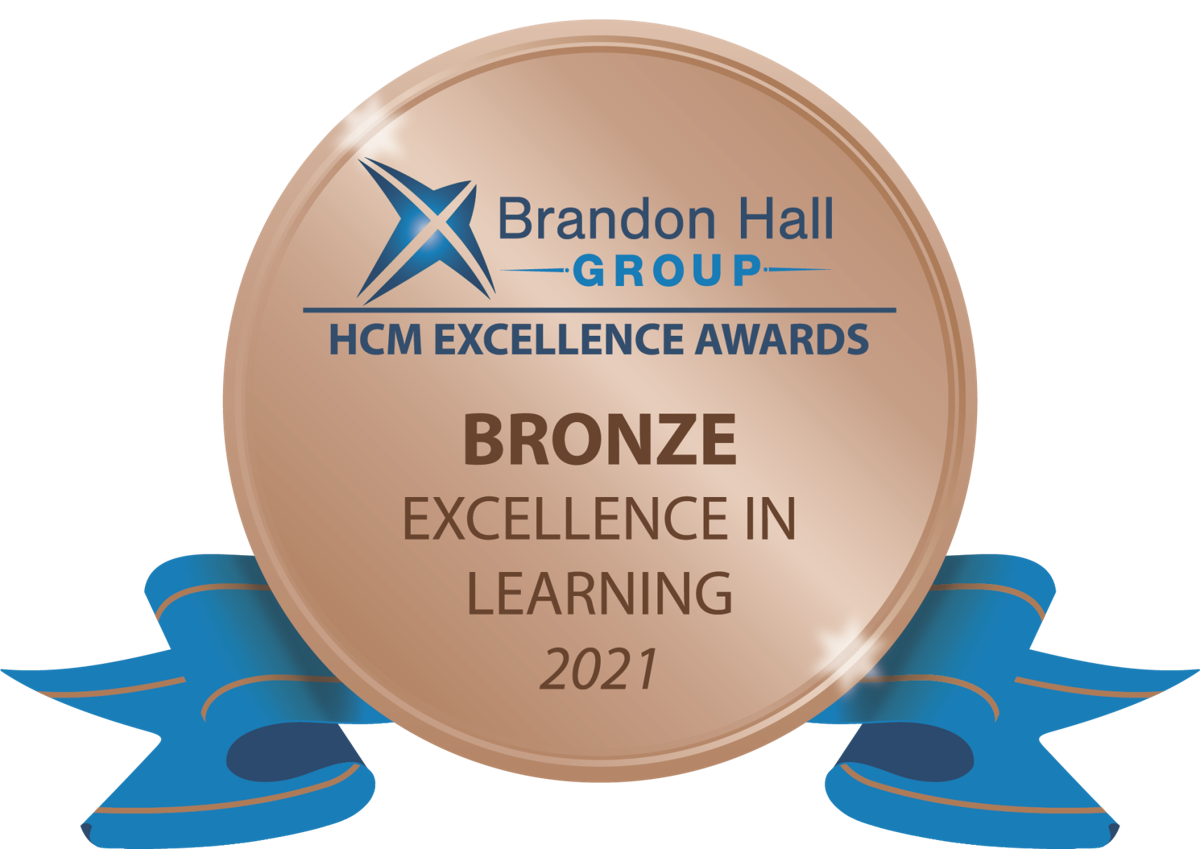 St. Louis, MO – August 24, 2021 
The 2021 Brandon Hall Group HCM Excellence Awards are given for work in Learning and Development, Talent Management, Leadership Development, Talent Acquisition, Human Resources, Sales Performance, Diversity, Equity & Inclusion, and Future of Work.
Ungerboeck, a leader in innovative event and venue management software solutions, and Thought Industries, a leading platform in customer learning management, won a coveted Brandon Hall Group Bronze award for excellence in the Learning and Development, Best Advance in Creating an Extended Enterprise Learning Program category. Ungerboeck and Thought Industries' win was announced on Aug. 19, 2021. The winners are listed at https://www.brandonhall.com/excellenceawards/past-winners.php.
The award recognizes Ungerboeck's education program, with its Learning Center as the hub of training and education content and videos, live instructor-led courses, and learning paths that provide opportunities for exhibition and venue professionals to earn certifications in the company's suite of event software.
Ungerboeck originally planned a soft launch of the program in early 2020 for select customers only. However, due to the rapid developments of the COVID-19 pandemic, Ungerboeck fast tracked the Learning Center with the help of the Thought Industries platform and opened it to all customers at no cost. This allowed as many event professionals as possible to take advantage of the different learning opportunities available. Following the launch, the Ungerboeck Training and Education team moved fast to bring the program to the next level by introducing certifications in June 2020.
The goal of the program was to empower Ungerboeck's global customer community with online learning opportunities that offer industry-specific education. Ultimately, the company wanted to support customers by helping them develop new skills to boost their career growth.
Today, Ungerboeck's Learning Center has over 9,000 registered learners from over 600 organizations worldwide. This is 800% above the original goal. Since June 2020, over 1,000 certifications have been issued, an average of three per day.
"The Ungerboeck education and training program made a big impact on our customer community. We were overwhelmed with gratitude and positive feedback," said Manish Chandak, President and CEO of Ungerboeck.
"We were thrilled to be able to provide free education opportunities and allow event professionals to upskill at a time when many people were furloughed or needed to look for new jobs," Chandak added. "As a reliable partner to the industry, we considered it our duty to support our customers working in companies across the globe with high-quality content and the ability to get certified without any extra cost."
"Brandon Hall Group Excellence Awards in 2021 provide much-needed and well-deserved recognition to organizations that went above and beyond to support their stakeholders during the unprecedented disruption of the COVID-19 pandemic," said Brandon Hall Group COO and leader of the HCM Excellence Awards Program Rachel Cooke. "The awards provide validation of best practices in all areas of HCM at a time when they have never been more important to employers, employees and customers."
Entries were evaluated by a panel of veteran, independent senior industry experts, Brandon Hall Group analysts and executives based upon these criteria: fit the need, design of the program, functionality, innovation and overall measurable benefits.
Excellence Award winners are scheduled to be honored at Brandon Hall Group's HCM Excellence Conference, Feb. 1-3, 2022, at the Hilton West Palm Beach, Florida. Select winners also will serve as presenters in breakout sessions, sharing their leading practices during the conference.
"We added several awards categories this year to specifically address critical needs, including how organizations addressed the new dynamics of work and embedded the principles of diversity, equity and inclusion in their HCM practices," Brandon Hall Group CEO Mike Cooke said. "Winning organizations in all categories demonstrated a people centric approach while driving superior business results under challenging and unprecedented conditions. Demonstrating HCM's impact on the business is what sets our awards apart."
Ungerboeck is the world's leading event technology software provider, empowering over 50,000 users in more than 50 countries. Our community of customers includes top shows across the globe; amazing performing arts venues; international convention centers; some of the most-visited museums, professional sports arenas, and stadia in the world; and other events and venues of all shapes and sizes.
For more than 35 years, Ungerboeck has driven innovation by helping organizations adapt to emerging trends. The organization's signature platform is available in six languages. Ungerboeck proudly supports its worldwide client base from its global headquarters in the United States with regional presences in Germany, France, Mexico, England, Australia, and China. (www.ungerboeck.com)
Brandon Hall Group operates the largest and longest running awards program in Human Capital Management. As an independent HCM research and analyst firm they conduct studies in Learning and Development, Talent Management, Leadership Development, Diversity, Equity & Inclusion, Talent Acquisition and HR/Workforce Management. These benchmark studies help organizations by providing strategic insights for executives and practitioners responsible for growth and business results.
Coupling the research studies with the best practice from the awards, Brandon Hall Group has helped more than 10,000 clients globally and more than 28 years of delivering world-class research and advisory. At the core of our offerings is a membership program that combines research, benchmarking and unlimited access to data and analysts. Membership enables executives and practitioners to make the right decisions about people, processes, and systems, coalesced with analyst advisory services which aim to put the research into action in a way that is practical and efficient.
Brandon Hall Group has also launched professional certifications for business and human capital management professionals to upskill themselves and gain credentials for career advancement. (www.brandonhall.com)
Thought Industries provides the world's number one software platform for customer learning management (CLM). CLM empowers businesses to create compelling learning experiences for customers, partners, and professionals. These experiences help businesses grow revenue, increase customer loyalty, and ensure customer success across technology, manufacturing, healthcare, and other industries with complex products and training requirements. Thought Industries was founded in 2014 around the core belief that online learning experiences should be modern, intuitive, engaging, and scalable. Headquartered in Boston, Thought Industries has offices across North America and Europe. (www.thoughtindustries.com)