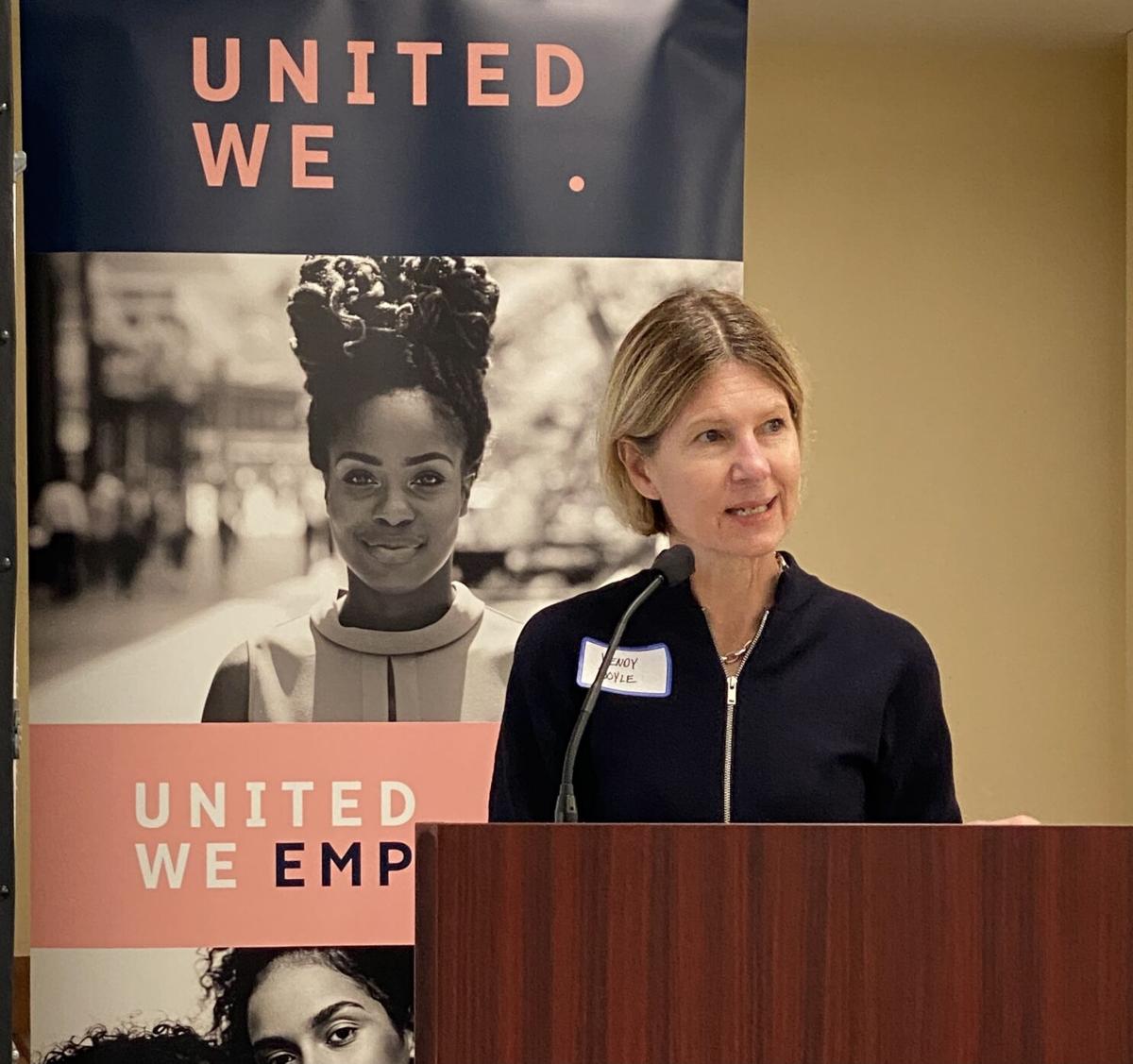 Upcoming Oct. 28 Virtual Women's Town Hall Will Give STL Area Women a Second Chance to Weigh In on Women's Economic Barriers Following Florissant Event
September 20, 2021 – United Women's Empowerment (United WE) and its recently launched Missouri Women's Economic Task Force held a town hall last week in Florissant to obtain valued input, data and insights from area women on key issues and factors that keep them from fully participating, advancing or succeeding in the workforce.   
The McKinsey Global Institute found that Missouri could grow its economy by 10-15% by 2025 if women's participation in the workforce increased.  
The input obtained from town hall participants will inform a series of policy recommendations for state leaders and lawmakers to be delivered at the end of 2021 and will set the tone and priorities for women's economic development policy (including policy affecting childcare, family leave, occupational licensing, entrepreneurship restrictions and others) across the state.  
Much of the discussion at the event drew from existing research commissioned by United WE, including the Status of Women in Missouri and The Coronavirus Impact on Missouri Women reports. In particular, women at the Florissant town hall discussed child and elder care, access to healthcare, the impact of COVID-19 on ability to balance work and home, and challenges starting and operating a small business. 
"We are thankful for women in the Florissant and St. Louis area for joining us to share their insights, experience and opinions so we have an accurate picture of the most pressing concerns and barriers women may face in fully participating and advancing in the workforce," said Wendy Doyle, United WE President & CEO. "In particular, we are finding care for children and aging family members to be particularly consistent barriers for women's full participation in the workforce." 
Area women will have a second chance to weigh in – this time virtually – in another statewide town hall on October 28 from 5:30-6:30 p.m.  Register for free here. 
Among members of the community, Florissant town hall participants included: 
St. Louis County Executive, Dr. Sam Page  
Florissant Economic Development Director, Travis Wilson  
Executive Director of Hawthorn Foundation, Becky Willard 
Area women, including those working in communications, diversity, equity and inclusion, and education, and consulting, among other professions. 
Attendees enjoyed a candid and lively discussion about what real women need to succeed in the workforce that covered everything from childcare to employment benefits to mentorship and female executive representation at work. On the latter issue, one attendee said, "There should be a concerted effort to expand and grow the number of female execs and leaders in organizations. The more we amplify female voices, the more we can normalize and create an environment for other women to succeed on their own terms." 
The Task Force will hold four additional town hall discussions between September and October 2021 to continue to collect qualitative data from Missouri women firsthand.  
United Women's Empowerment, or United WE (formerly the Women's Foundation), is a non-partisan, nonprofit organization whose mission is to advance all women's economic and civic leadership. Since 1991, United WE has overcome systemic barriers to women's economic development and civic leadership by investing in research, advocacy, and policy solutions. We have conducted 19 meaningful research studies, advocated for issues resulting in 37 policy actions, and supported more than 150 civic appointments.  
Our work positively impacts hundreds of thousands of women and families by commissioning transformative research, scaling our fast-growing Appointments Project®, advocating for reforms that honor the legacies of women, and contributing to policy solutions that advance equal pay, paid family leave, affordable childcare and occupational licensing, and aid in fighting against sexual harassment. Unite with us.  
Visit www.united-we.org and connect with @UnitedWeEmpower on Facebook, Twitter, LinkedIn and Instagram.