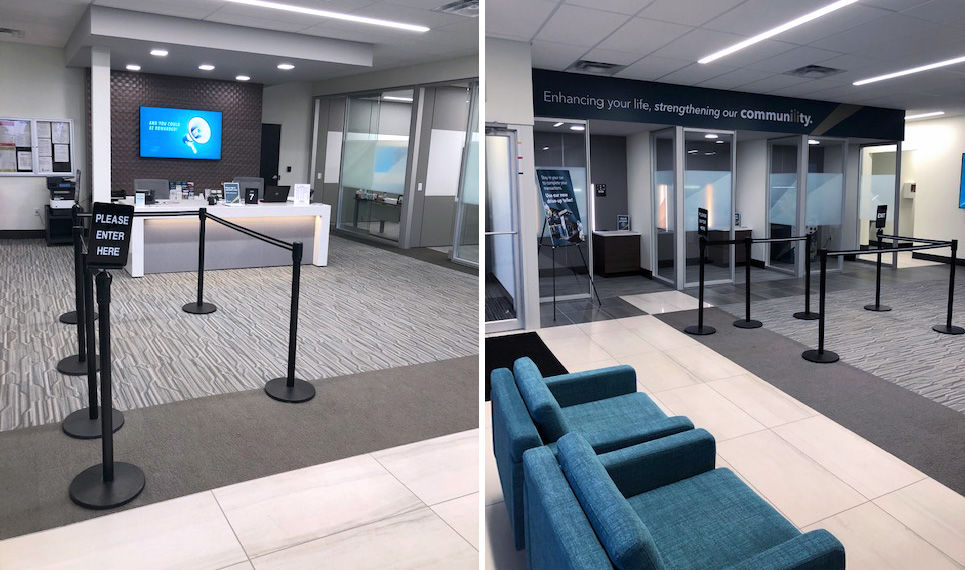 ST. LOUIS—Vantage Credit Union recently remodeled its branch in O'Fallon, Missouri. The renovated space features a vivid, modern design that highlights Personal Teller Machines (PTMs) which provide convenience and flexibility for Vantage members by allowing them to speak with a teller agent or use it as an ATM. 
In addition to the new technology, the branch transformation also includes new spaces for members to meet individually with financial coaches. The O'Fallon branch manager, Jennifer Moore, describes members' reactions to the renovations as overwhelmingly positive. She particularly noted that "members like the privacy the newly remodeled branch offers."     
The project represents the credit union's dedication to individualized financial guidance and care for its members, while seamlessly integrating twenty-first century technology designed to simplify members' lives. 
Vantage hosted a "Grand Reopening" celebration for the local O'Fallon community the morning of Saturday, December 7, 2019. In addition to the branch staff, additional Vantage representatives were on hand to help with the new PTMs, and sweet treats were available for all who attended. The community also had an opportunity to enter a drawing for a chance to win a prize valued up to $500. Brandy Joyce was selected as the winner in the random drawing. As her prize, Ms. Joyce selected a Vantage SmartSaver CD—a unique Certificate of Deposit option which allows for ongoing deposits, one of the many Vantage products specifically designed to assist members in meeting their financial goals. 
Vantage Credit Union is a leading, full-service financial institution with over $878 million in assets and over 80,000 member-owners. The credit union's 12 locations serve the City of St. Louis and 19 counties in eastern Missouri and Madison and St. Clair counties in Illinois.