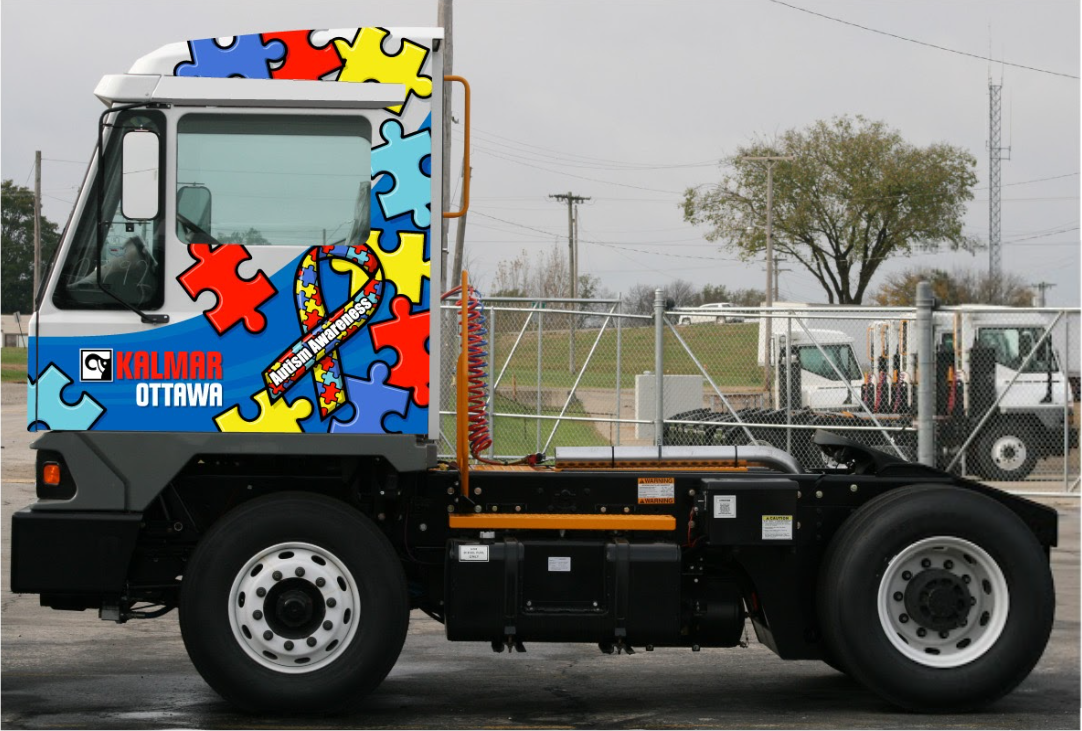 SAINT LOUIS, MISSOURI (APRIL 2, 2021) –  In an effort to promote awareness and acceptance of people with Autism, Wiese USA, in partnership with Kalmar Ottawa, will be donating $250 per week, per rental of our specially wrapped Autism Awareness Kalmar Ottawa truck to the Autism Research Institute. If you're in Missouri, Kansas, or Illinois and rent our Autism Awareness truck between April 2, 2021 and December 31, 2021, not only will you help promote Autism Awareness, but you'll help Wiese USA make a difference by donating to the Autism Research Institute through the It's ok to be different campaign.
Last month, Kalmar Ottawa hosted a contest to award an Autism Awareness wrapped truck to the dealership with the best marketing campaign that helps promote Autism Awareness month. Wiese USA was excited to be one of the winners. Starting in April, Wiese USA will be working to help educate and promote the understanding of the unique gifts of autistic people. At Wiese USA, we believe it is important to appreciate each other's differences. It's ok to be different!
Values are very important at Wiese USA. These founding principles were established and lived by the company's founder, Harold Wiese, more than 75 years ago. This prominent piece of "who we are" as a company is what makes Wiese USA stand out from other organizations. People don't buy what you do; they buy why you do it. At Wiese, we ultimately try to live the golden rule, treat others as we want to be treated. These are not just things that we say, it's how we live. It's Ok to Be Different!
Wiese USA is among the oldest and largest material handling companies in the United States. Founded in 1944 by Harold Wiese, we serve a variety of industries across the United States with a full range of quality products to meet every material handling need. Based in St Louis and led by Chip Wiese, we have numerous locations across the Midwest and Mid-South dedicated to providing fast, quality service to its customers. Our company has received the prestigious Dealer of the Year award from Mitsubishi Caterpillar Forklift America for the last 19 years in recognition of the work that employees do every day. For more information about Wiese USA, visit www.wieseusa.com.
Kalmar Ottawa has been part of the Ottawa, KS community since it first became a legal entity in 1943 as Ottawa Steel Products, Inc. making attachments for farm equipment.  Since these early days of Ottawa Steel Products, the company has gone through many different products and name changes but is known for its current product, the terminal tractor, and the name Ottawa Truck.
Kalmar Ottawa not only invented the product but is the global leader in the terminal tractor business, producing over 70,000 units, more than all its competitors combined. Kalmar Ottawa trucks are known for their superior quality and reliability, which is directly attributed to the employees in Ottawa, KS. For more information about Kalmar Ottawa, visit www.kalmarottawa.com.
About the Autism Research Institute
The Autism Research Institute's (ARI) mission is to support the health and well-being of people affected by autism through innovative, impactful research and education. The Autism Research Institute is the hub of a worldwide network of parents and professionals concerned with autism. ARI was founded in 1967 to conduct and foster scientific research designed to improve the methods of diagnosing, treating, and preventing autism. ARI also disseminates research findings to parents and others worldwide seeking help. The ARI data bank, the world's largest, contains over 42,000 detailed case histories of autistic children from over 60 countries. For more information about the Autism Research Institute, visit www.autism.org.