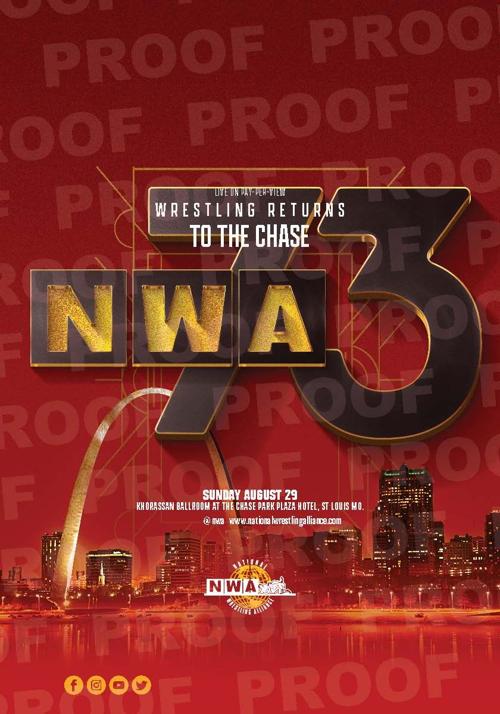 IMMEDIATE RELEASE
NWA WRESTLING RETURNS TO THE CHASE IN ST. LOUIS TICKETS GO ON SALE FRIDAY JULY 16, 2021
THRU TICKETMASTER
St. Louis, Missouri – Tickets go on sale Friday July 16, 2021 at 5pm CST for the National Wrestling Alliance's return after 37 years to the legendary Chase Park Plaza Hotel in St. Louis Missouri; with four star-studded events August 28 thru August 31, 2021.
The weekend will be kicked off by NWA EMPOWERRR, the first all-women's NWA pay-per-view on August 28th (7pm CST), and NWA 73, also on pay-per-view on August 29th (7pm CST), commemorating the 73rd anniversary of the formation of the National Wrestling Alliance in 1948.
All followed by NWA POWERRR television series tapings, August 30 & 31 Times To Be Determined.
Tickets will be available at ticketmaster.com
August 28 and August 29 Ticket prices start at $35 dollars and range to $100. All Tickets for August 30 and 31 are just $30.
Each Ticket and seat are specific to one date and event only.
About the National Wrestling Alliance
Founded in 1948, the National Wrestling Alliance is the oldest and most prestigious professional wrestling organization in the world. Current programming includes the critically acclaimed NWA Powerrr and the documentary series that started it all: Ten Pounds of Gold; plus a new series, 'Race To The Chase', which highlights the NWA's historic return to St. Louis.
Press Contacts
Brian Stull
St Louis Media
(314) 359-7919