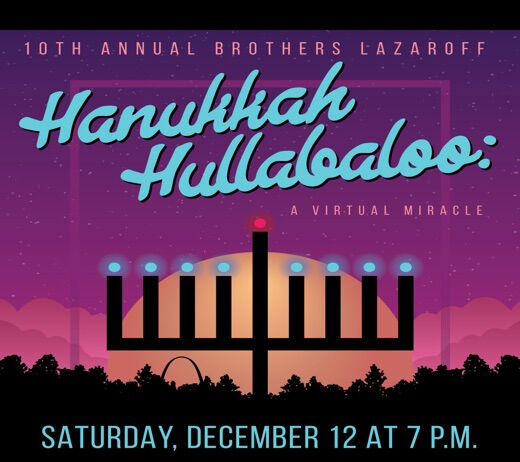 Over the past decade, St. Louis band Brothers Lazaroff has grown its annual Hanukkah Hullabaloo into one of the year's post popular holiday events. This year, they'll unveil a new show celebrity-packed show online. The 10th Annual Brothers Lazaroff Hanukkah Hullabaloo: A Virtual Miracle will take place on Saturday, December 12 at 7 p.m. online at http://www.metrotix.com/events/detail/hanukkah-hullabaloo-a-virtual-miracle.
Brothers Jeff and David Lazaroff welcome fans to gather safely virtually as they broadcast "live" from the backyard around the bonfire. They'll be joined by special celebrity guests and features from 
Hullabaloo regulars, as well as the annual recitation of "Eight Nights," a series of nine poems by Rabbi James Stone Goodman set to experimental and funky eastern European folk jams by The Eight Nights Orchestra. The Brothers' wives will be frying up latkes in their deep fryers and DJ Boogieman will man the giant menorah.  
Some of the celebrity guests joining the Brothers virtually include:
§  Ray Benson, founder of multi Grammy Award-winning Western Swing band Asleep at the Wheel
§  Kinky Friedman, best-selling author and songwriter
§  Lee "Scratch" Perry, legendary reggae superstar and producer
§  Elizabeth McQueen, Grammy Award nominated vocalist, singer-songwriter and radio personality from Austin, Texas 
§  Jo Firestone, comedienne and writer for The Tonight Show with Jimmy Fallon
§  Peter Martin, Grammy Award-winning Jazz pianist
§  Anita Jackson, St. Louis' premier vocalist
§  A special prayer for healing from Tweedy (solo/family project by Wilco's Jeff Tweedy)
§  And more celebrity guests to be announced 
The band will accept donations via Metrotix with all proceeds going to the National Independent Venue Association (NIVA) to support its #saveourstages initiative. Independent venues and promoters were the first to close in March due to the pandemic, and they are still shuttered with no income and huge overhead. These small business owners are doing everything they can to survive, from draining their retirement savings to taking second mortgages on their homes. Seven months into the shutdown, they have had no meaningful federal assistance. 90 percent of NIVA members reported they could be forced to close forever without meaningful federal relief; hundreds have already permanently shuttered, never to return again. More than two million emails have gone to Congress people asking them to #SaveOurStages.
Describing Brothers Lazaroff and the music they play is no easy task. Shapeshifting through endless configurations from a 4-7 piece rock band to an 8-11 piece Jazz band, to World Music orchestra or stripped down roots combo, they float across genres playing their catalog of original songs with a family of St. Louis' finest musicians. Whether playing thrilling rock n' roll on a festival stage or the intimate confines of a listening room, Brothers Lazaroff mine their catalog of eight full-length albums to craft an experience and labor to give back as much energy as their loyal fan base gives to them. For more information, visit http://www.brotherslazaroff.com.
Stay up-to-date on what's happening
Receive the latest in local entertainment news in your inbox weekly!