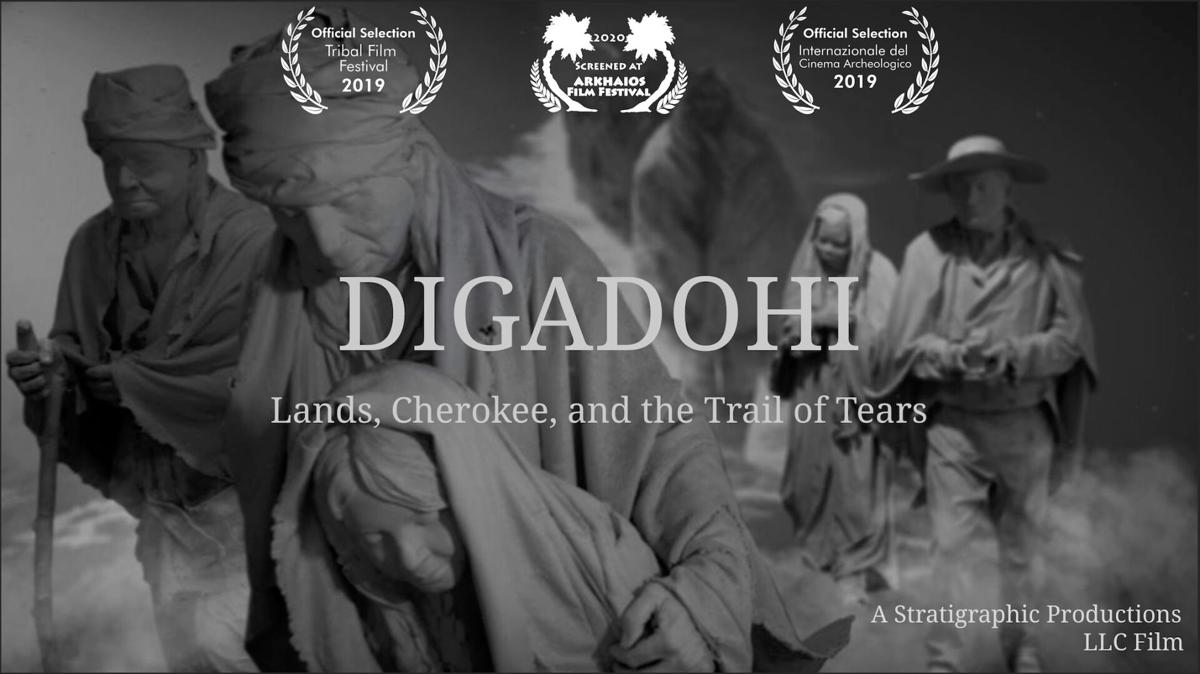 St Louis, Missouri (March 1, 2021) – Worldwide SVoD rights for archaeologist and filmmaker Monty Dobson's Trail of Tears documentary DIGADOHI: Lands, Cherokee, and the Trail of Tears have been acquired by streaming platform Heritage.
DIGADOHI means lands in Cherokee and the story of genocide and ethnic cleansing is recorded in the archaeology at places along the Trail of Tears and in the traditions and family histories of the Cherokee today. The film chronicles archaeological excavations at witness sites along the trail including the Snelson-Brinker farm in Missouri, where on July 4th, 2017 the historic cabin was burnt to the ground. Using cutting edge archaeological methods and archival research, researchers, community activists and Cherokee leaders work to rescue a historic property from the arsonist's flames and preserve the memory of the Cherokee who died there.
The film chronicles a year of those investigations and weaves the family stories - European, African, and Native - that were unearthed along the Trail into the national story of America. Producer and Director Monty Dobson, an archaeologist and documentary filmmaker points to the role of archaeology in helping discover little known or lost histories: "Archaeology tells us a local story, one site, one hole, one shovel at a time. But each site is in turn part of a larger history of place. And at sites along the Trail of Tears, from Georgia to Oklahoma, including those here in Missouri, you have multivocal stories: prehistoric, Native, European settler, the African American experience, all coming together in one place. That's the story of America, and the shared landscape of our history ties us together in profound ways." Ultimately it is a story of survival and passing on a living culture and tradition to their children. Dobson states "One of the main points that all the Cherokee we worked with made was: 'Yes, our Ancestors were victimized, but they did not allow themselves to be victims. They persevered and we are thriving today because of them.'" Interviewing Elders, researchers and Cherokee Nation officials DIGADOHI explores this dark chapter of America's history from the perspective of the families whose stories intertwine at that one place in Missouri.
Heritage Broadcasting Service -Heritage- is a subscription video-on-demand platform developed by Archaeological Legacy Institute (ALI), a 501(c)(3) nonprofit dedicated to nurturing and bringing attention to the human cultural heritage, by using media in the most efficient and effective ways possible. Heritage was developed to deliver premium content that tells the human story through compelling film. Heritage diverse films are united by the theme of cultural-heritage and are produced by some of the most innovative and skilled storytellers in the world today.
DIGADOHI was produced by Stratigraphic Productions LLC. Founded in 2014 by archaeologist Dr. Monty Dobson and historian Dr. Andrew D Devenney. Stratigraphic Productions produces proven award-winning documentary films for television about science, history and culture. The company maintains offices in the US in Michigan, and Missouri. Major funding for DIGADOHI was provided by the Missouri Humanities Council.