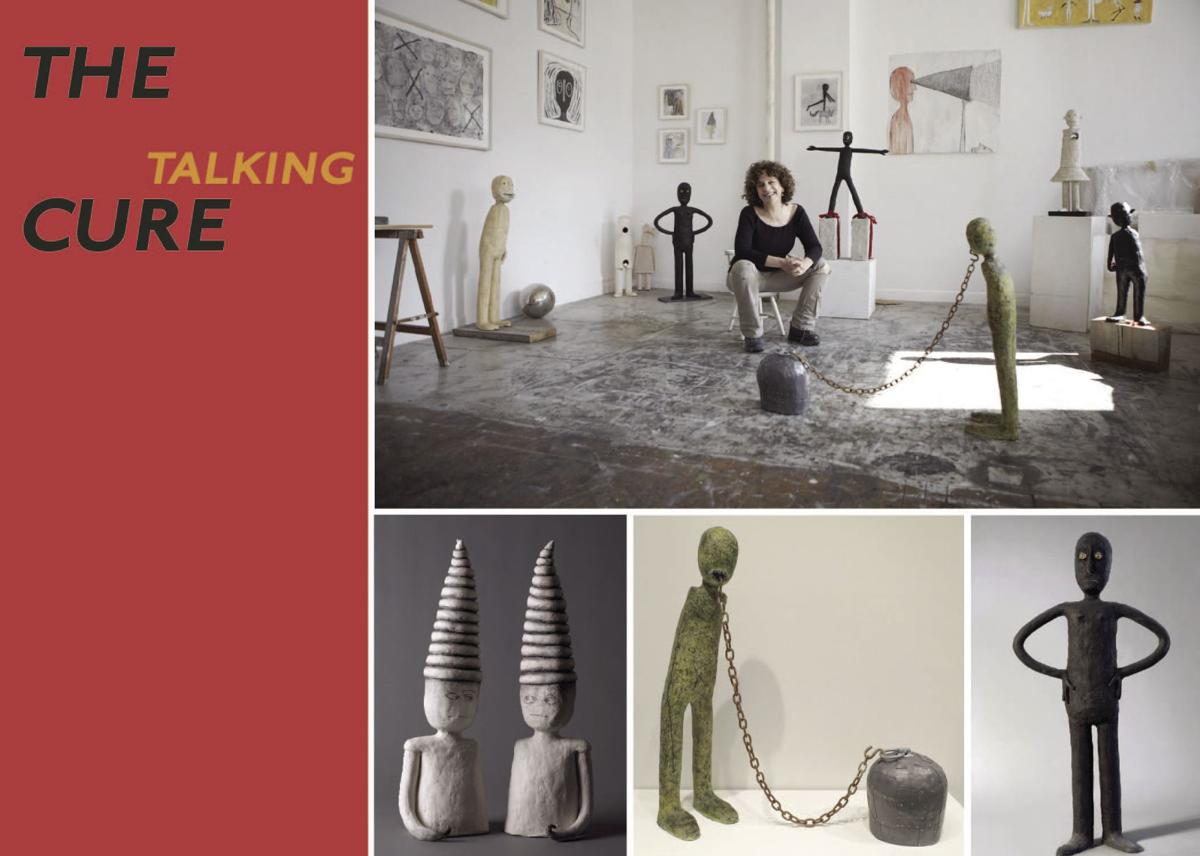 The Gallery at the Kranzberg Arts Center is pleased to host the St. Louis debut of acclaimed interactive multimedia installation The Talking Cureas the centerpiece of its 2018 season, running from January 19 through May 27. Conceived and produced by New York-based visual artist Melissa Stern, The Talking Cure includes her collaboration with twenty-four writers, poets, novelists, screenwriters, playwrights and actors.
The Talking Cure takes its name from Sigmund Freud's original description of psychoanalysis. Stern created twelve sculptures – some of the folks living in her brain made real. She then asked twelve writers, poets, novelists, screenwriters, and playwrights to each choose a sculpture to which they related most intimately. Each wrote his or her imagined monologue of the goings on in the sculpture's mind. Next, she found 12 actors and had each of them record one of the monologues. With minimum direction, they spoke their interpretations of the written pieces that had in turn been inspired by each sculpture. The audio recordings were digitally coded and sent up into the cloud. Each piece was assigned a QR Code digital marker. When viewers point their smart phones at the code, it triggers the audio.
"I have long been fascinated by what goes on in people's minds when they look at art. What stories do they tell themselves? What emotions and memories are triggered?" says Stern. "I have made work that deals explicitly with memory, childhood and family, subjects with a strong psychological bent. I'm as interested in what others think the pieces are 'saying' as in what has motivated me to make them in the first place."
As a "call and response" installation, Kranzberg Arts Center will use The Talking Cure as a catalyst for other exhibits to follow it during the 2018 season. Resident organizations of Kranzberg Arts Foundation will create response pieces that will culminate in a May 27 showcase at the Gallery. The Foundation will also be working with educational institution partners throughout the region as participants.
"The impact at each of the previous venues for The Talking Cure has been widespread and is always defined by the participants viewing the artwork," says Kranzberg Arts Center Gallery Director Diana Hansen. "Everyone who viewed the exhibit was invited to respond in whatever way was, to them, the most immediate and meaningful. Now it is our turn to engage with this exhibit and to make an impact in our community."
Since 2012, The Talking Cure has been exhibited at Fetherston Gallery in Seattle; Smart Clothes Gallery in New York; the Akron Art Museum and Real Art Ways (RAW) – Hartford, Connecticut's Contemporary Art Center; Redux Contemporary Art Center in Charleston, S.C.; and, most recently, the Weisman Art Museum in Minneapolis.
Melissa Stern has worked in sculpture and drawing for more than twenty years, living and exhibiting in California, Europe, and New York City. Her work is featured in a number of prominent corporate and museum collections including Dow Jones, JP Morgan, The Arkansas Art Center, American Museum of Ceramic Art and the Kohler Corporation, where she was an artist-in-residence. Her one-of-a-kind book, Nightmares, has been acquired by the Library of Congress.
With a background in anthropology, Stern's work reflects both non-Western and outsider art influences. Her drawings, collages and figurative sculptures are characterized by their richly drawn and deeply layered surfaces, as well their quirky, often dark humor.
About the Gallery at the Kranzberg Arts Center
The Gallery at the Kranzberg Arts Center showcases outstanding, relevant works from a diverse range of artists in the St. Louis community. In collaboration with area nonprofits, artists, and educators, the Gallery challenges established concepts of what art is and does, and engages with the community in new and meaningful ways. This spirit of innovation, experimentation, and community make the Gallery at the Kranzberg Arts Center one of the premier visual arts destinations in the Midwest.
About Kranzberg Arts Foundation
The Kranzberg Arts Foundation is committed to providing the essential infrastructure necessary for the arts to thrive in the St. Louis community. Through the development of performing arts venues, visual arts galleries, free music programs, and work spaces for non-profit arts organizations, the Foundation creates opportunities for and nurtures the growth of artists, while working with emerging and leading arts organizations to engage with St. Louis's diverse community in ways that are relevant, inclusive, and inspiring. For more information, visit www.kranzbergarts.org.