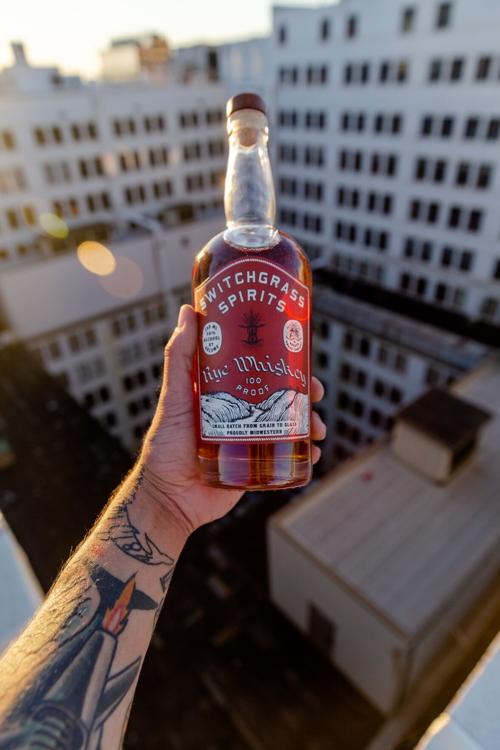 ST. LOUIS, MISSOURI, July 30, 2020--- Switchgrass Spirits, a young Saint Louis distillery, created a local delivery release party to introduce their one year old,100 proof rye whiskey.  
Saint Louis residents wanted to support local businesses in these difficult times.  Switchgrass  Spirits which only started selling product in February 2020, decided to release their one year old Rye Whiskey without the usual tastings and in person events. 
Celebrating in packed venues with alcohol is not possible these days.  "We wanted to celebrate and offer something special and safe to our customers and fans, so we created the Rye 100 Club," explains Jerry Seelbach, Head of Sales and Marketing for Switchgrass Spirits.  
Instead of a raging party in a bar or crowded distillery, fans had a Rye 100 Club kit personally delivered to their homes by Switchgrass workers who checked IDs and smiled at customers through their masks.  Local spirit manufacturer's find themselves in a difficult position because of the nature of their product.  "Sometimes I wish we just sold t-shirts," joked Sarah Miller, a founding member of the distillery, "it would be so much easier to mail a t-shirt instead of a bottle of booze. We learned a lot and hope to do another online pre-sale with delivery in the future."  
Switchgrass has made a local, affordable option for your home bar. The rye is bolder and has more flavor than the smoother Switchgrass bourbon.  This makes it ideal for mixing in a cocktail or sipping with ice.  The 100-proof spirit's flavor carries through in a classic old fashioned or Manhattan. Now more than ever the home bar is something people are cultivating as we miss cocktails from our favorite bartenders. Switchgrass Rye has an affordable price point which encourages people to experiment with their own bartending skills.  
To help more people feel comfortable making cocktails and curating a home bar, Switchgrass Spirits will begin online cocktail classes this fall along with their release of a new apple brandy and bourbon.  
Switchgrass Rye will be available for the first time this Friday, July 31, 2020 in Saint Louis liquor stores, grocery stores, and bars for in store and curb-side pick-up.  
Stay up-to-date on what's happening
Receive the latest in local entertainment news in your inbox weekly!