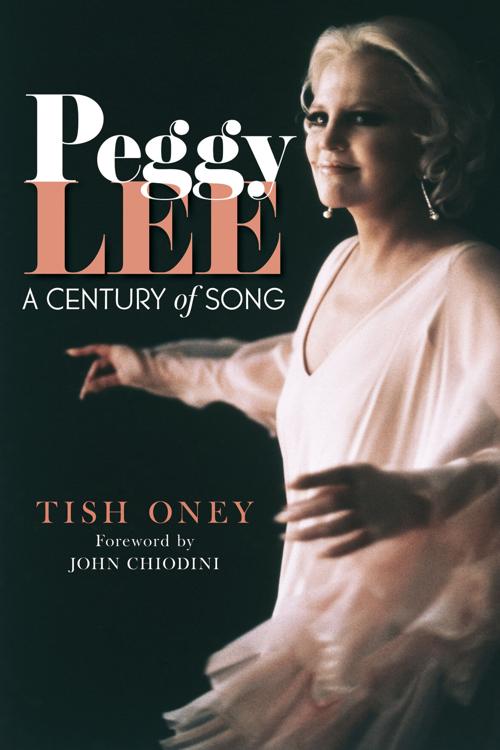 Peggy Lee's centennial celebration continues with the release of "Peggy Lee: A Century of Song"
Performing artist, author and composer Dr. Tish Oney unpacks Peggy Lee's musicianship in new biography
GREENVILLE, S.C., Aug. 5, 2020 — "Peggy Lee: A Century of Song" arrives from Rowman & Littlefield Aug. 20, 2020 as part of the official "Peggy Lee 100" global campaign celebrating the famed singer's centennial year. Author, musician and musicologist Dr. Tish Oney shines new light on Lee's musical development and her lasting legacy in the canon of American popular music, jazz, blues, film music and other genres. The biography is available for order at Rowman & Littlefield and all other major online booksellers.
This May, Oney participated in a panel discussion and birthday toast to Peggy Lee alongside Billie Eilish, k.d. lang, Eric Burton from the Black Pumas and Lee's granddaughter, Holly Foster Wells as part of the GRAMMY Museum's At Home Series. Since she began her research on Lee in 2004, Oney has developed a deep understanding of the singer through extensive scholarship and research, her relationship with the Peggy Lee Foundation and Peggy Lee Enterprises and performing nationally touring shows highlighting Lee's original songs with Lee's former guitarist and collaborative composer, John Chiodini, the author of the book's Foreword.
"Peggy Lee provided one of my first pivotal memories of a strong, capable woman," says Tish Oney, author. "As a child watching her PBS-broadcast Atlantic City concert I witnessed her consummate band leadership, outstanding musicianship, extreme focus and command over every artistic moment throughout her two-hour performance. She was captivating. Lee's example has continued to positively influence my own artistic journey in powerful ways."
"Peggy Lee: A Century of Song" has earned a Starred Review from Library Journal. The book guides the reader through the evolution of Lee's recorded music, vocal development and artistic achievements, while interviews with Lee's family, friends and music colleagues reveal insights and memories of this musical icon. Oney highlights the ambition and defiance that allowed Lee to become her own unique artist at a time when it was unusual for a singer to direct her own performances and to sustain that integrity over the course of a career spanning 50 years. Seasoned musicians and casual listeners alike will enjoy this biography as an informative, inspiring read.
Tish Oney composes, arranges, and performs jazz internationally as a singer and pianist with symphonies, big bands, and jazz combos and presents workshops and lectures on jazz theory, voice pedagogy and multi-genre singing. Each of her five critically acclaimed albums have attained Grammy consideration in several categories. Possessing a doctorate in jazz studies from the University of Southern California's Thornton School of Music, Oney has been featured on NPR, CBC, PRI, and Talk Radio Europe. She has taught at several universities and writes articles for All About Jazz, The Journal of Singing, and other publications. She is currently authoring another book for Rowman & Littlefield, "Jazz Voice: A Guide to Singing Pedagogy."
For more information, to schedule an interview with Tish Oney or to request a copy of "Peggy Lee: A Century of Song" (Rowman & Littlefield, 2020) for review, please contact Kathryn Kamper (pr@tishoney.com or 973-856-0080). Visit https://rowman.com/ISBN/9781538128473/Peggy-Lee-A-Century-of-Song for further information on the book, https://www.tishoney.com/ for more information on the author and https://www.peggylee.com/new-cd-dvd-releases/peggy-lee-a-century-of-song/ to learn more about Peggy Lee's centennial celebration.
Facebook: @TishOneyFan
Twitter: @tishsings
Instagram: @TishOneyOfficial
Note to journalists: please link "Peggy Lee: A Century of Song" to the following address https://rowman.com/ISBN/9781538128473/Peggy-Lee-A-Century-of-Song as this is the preferred place of purchase.
###