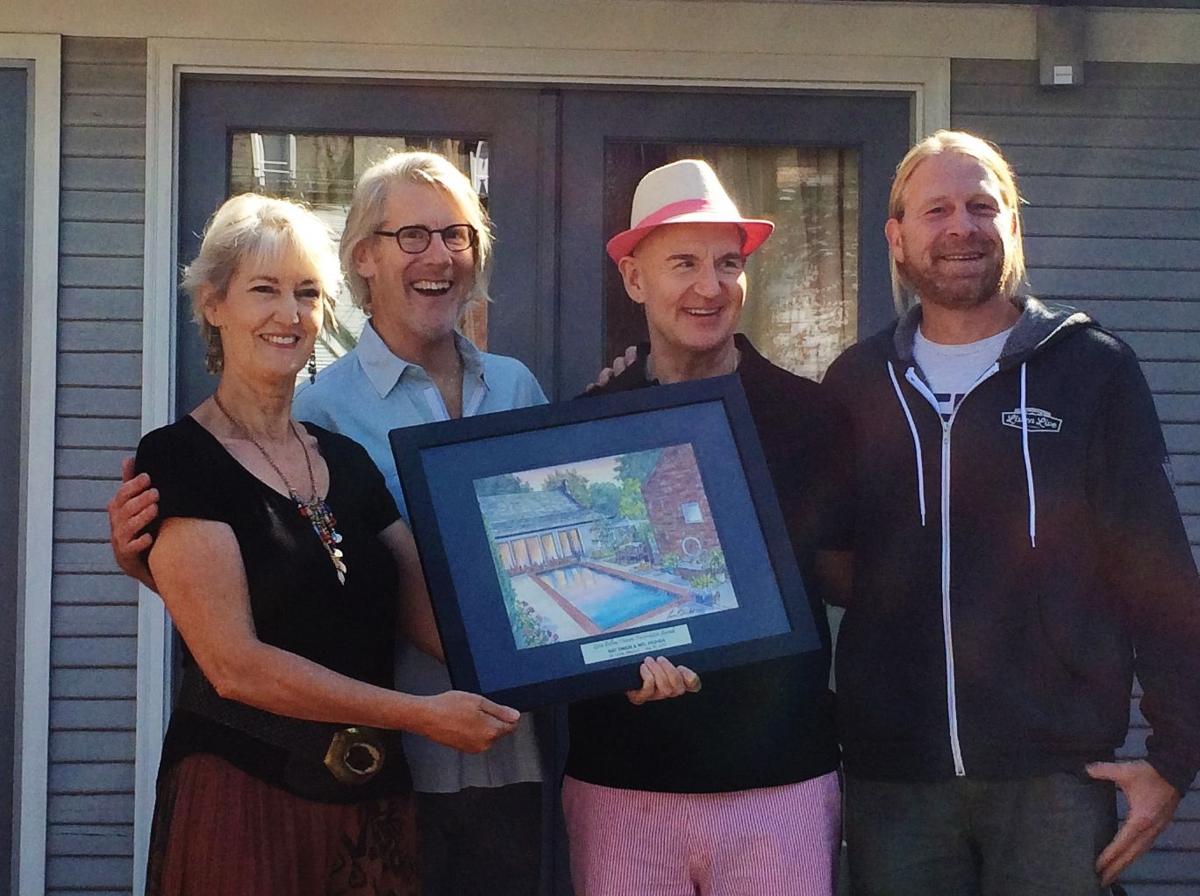 St. Louis -- Leisa Collins, an acclaimed national artist who specializes in paintings of historic homes and buildings, presented two individuals in Benton Park with her latest  Leisa Collins Historic Preservation Award for their stellar actions to save and fully restore two pre-Civil War cottages that had been abandoned for over a decade.  
Awardee, Ray Simon, an architect and noted rehabber in Benton Park, had the vision to rescue the two crumbling relics on Missouri Ave. Together with partner Mel, they transformed the fading structures into what is often described as one of the coolest properties in the neighborhood.
Ninth Ward Alderman Dan Guenther spoke to the gathering of friends and neighbors and related stories where he has personally witnessed the impact that Ray Simon has had on historic preservation within this community.
The award, an original pen and watercolor painting by Collins of Simon and Pashea's restored project, was unveiled and presented accompanied by enthusiastic applause from friends and neighbors.
It's Collins' tenth award since starting the historic recognition in 2013 as a way to give back to individuals within the community who have "saved, preserved, restored or brought back to life a historic structure, thereby historically enriching their city, town or local community."
"I have found that St. Louis is a community that truly appreciates their rich cultural history and treasured architectural landmarks." said Collins, a native of New Zealand who have lived in the USA for the last three decades and recently make her home in St. Louis with her American husband. "And this is despite there being a total of 25,000 abandoned buildings in this area and the daunting problem of how to save all these decaying historic beauties."
Following the presentation, guests were treated to tours and enjoyed refreshments in the enclosed courtyard with its saltwater-filled swimming pool.  Simon's plan for the property from the beginning was to create a space that utilized the outdoor environment to unify the two buildings.  The renovation took 18 months.  
No stranger to dilapidated buildings, Ray has won multiple "Most Enhanced Awards" from the Landmarks Association of St. Louis.   He also holds a  prominent place among the special breed of fearless and possibly crazy rehabbers who keep buildings like this from becoming vacant lots.
Clearly visible on the 1875 Compton and Dry birdseye map of St. Louis, the two buildings at 3339 Missouri bear many of the hallmarks of what has been termed the Missouri German Vernacular Classical Style. This home predates much of the existing buildings in Benton Park and, when constructed, was in an area that was in a transitional zone between the city of St. Louis and the farms and dairies that supported it.
Collins travels extensively and is currently preparing a coffee table book that will showcase homes and historic buildings she has painted in every state and will take the reader on an architectural journey across the country.  She has completed 47 states to date, including Missouri. "While my artistic inspiration is the captivating array of architecture one finds in every state, my fascination also lies with the individuals and families who with their hands, skill or artistic design, brought each and every one of these architectural forms into being, creating both a footprint and legacy that we enjoy today," she said.
For more information about the artist and her Leisa Collins Historic Preservation Award, visit her website at www.leisacollins.com.