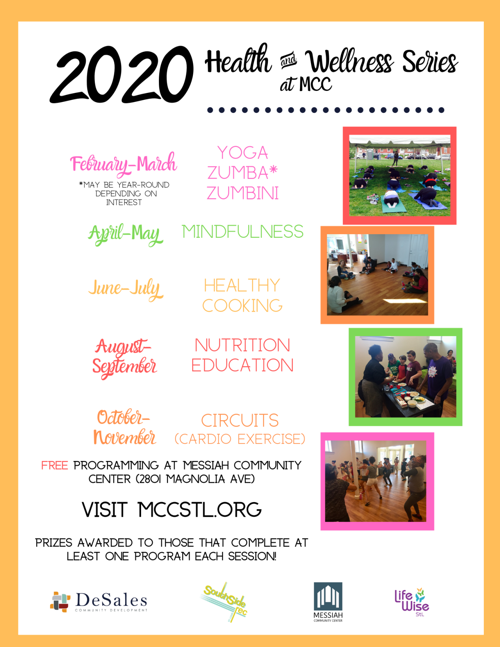 DeSales Community Development, Messiah Community Center, and LifeWiseStL Present Yearlong Health and Wellness Series.
Three nonprofits in South St. Louis have collaborated to present a series of health and wellness programs over the span of a year. Starting in February, free classes will be offered to community members over 6-8 week periods. During the February to March period, Yoga, Zumba, and Zumbini (interactive playtime for toddlers and their caregivers) will be offered. Mindfulness will be in April and May, and Healthy Cooking will be presented in June and July. Nutrition Education will be given in August and September, and the year will finish with Circuits- a type of cardio exercise.
    These organizations, who are dedicated to developing healthy communities, are excited to begin their year of programming this week! For those participants who attend the majority of sessions in each program, a prize will be given at the end of 2020. While DeSales will coordinate the programming, MCC will provide the space. Formed in 1976, DeSales has been focused on revitalizing neighborhoods in South St. Louis through the development of affordable housing and community services. Messiah Lutheran Church is excited to have this space to offer for quality programs that encourage a sense of community. LifeWise StL, formerly known as Kingdom House, is supplying instructors and materials for the series. For 118 years, LifeWise StL has been dedicated to strengthening the St. Louis community and removing barriers to wellness, especially for women. Mike Ziegler of DeSales is particularly excited: "This type of collaboration is an example of how working with our community partners allows us to do so much more than just provide affordable housing. We're excited to bring this free, health-focused programming to our residents and neighbors during 2020.
Come and join the fun this Tuesday for our first Yoga and Zumba programs! The free series will be at MCC at 2801 Magnolia Ave. in Fox Park. For more information on the Health and Wellness Program, or the separate services offered by each partner organization, please visit mccstl.org or contact any of the following people.
Community Services Manager
DeSales Community Development
Director of Family Development and Program Evaluation
Church Operations Manager