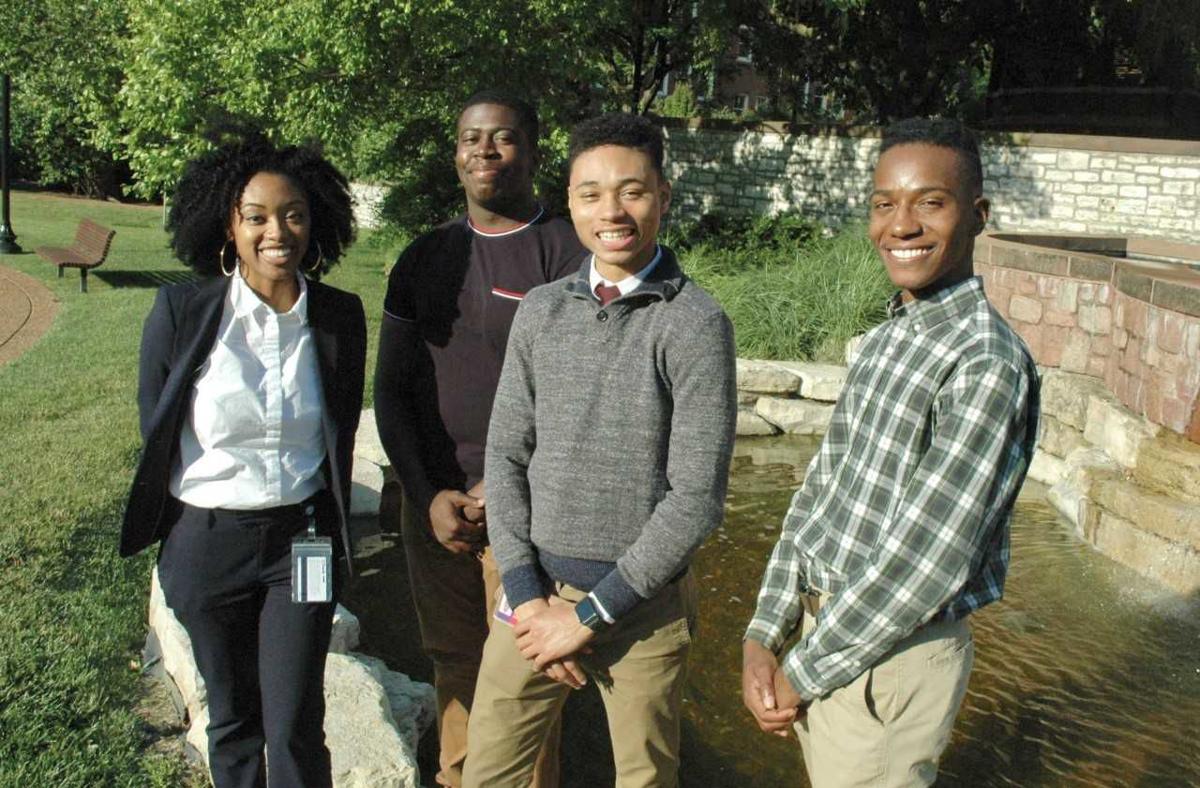 Four Harris-Stowe biology majors are on the pursuit of excellence as participants in the Ronald E. McNair Post-Baccalaureate Achievement Program (McNair Scholars Program) at Saint Louis University. Rising seniors Wesley Agee, DelShawn Fowler, Dalia Harris and Derek McFarland aspire to attend graduate school upon the completion of their undergraduate degree programs and then earn their Ph.D. All agree that being in the McNair Scholars Program, receiving support from their home institution, and encouraging one another to stay the course are keys to the achievement of their goals.
Fowler and McFarland, who hail from Detroit, MI and East Saint Louis respectively, were the first of the four students to apply and be accepted to SLU McNair in the spring of 2018. They both participated in the program's summer research internship the following summer. During the eight-week internship, up to twelve scholars conduct an original research project under the supervision of a faculty mentor and receive free campus housing, a stipend, and opportunities to present their work at various conferences.
"What initially sparked my interest in McNair was the opportunity to get that initial research experience," said McFarland, "Because a lot of research programs or internships want you to have previous experience when you apply."  
"I was intrigued with the program and I fell in love with the staff, the advisors, the family-oriented environment, and the help that we get," Fowler shared.
Since completing the summer internship program, Fowler and McFarland have gone on to present their research at conferences and receive awards for their outstanding work. Both presented at the 2019 Missouri Louis Stokes Alliance for Minority Participation (MOLSAMP) Research Symposium at Lincoln University of Missouri and won first (Fowler) and second (McFarland) prize after their presentations were scored by a team of judges. McFarland had previously won first prize at the 19th National Role Models Conference in Washington, D.C. and was the recipient of $1,000.
Agee, a seasoned student researcher from Wentzville, MO who had previously interned with both the Missouri and New York Botanical Garden, was unable to participate in SLU McNair's summer internship program with Fowler and McFarland. However, he was soon thereafter given the opportunity to present his existing research at the McNair Heartland Research Conference in Kansas City and the annual UNM McNair Research Conference in Albuquerque, NM. He also presented at the MOLSAMP symposium with Fowler and McFarland.
"We all kind of hold each other accountable in certain ways, and always are there for each other whether we see each other every day or not, said Agee regarding the bond that the four students share. "Whenever we talk, I feel like it's always in an encouraging way."
"We celebrate each other's accomplishments," McFarland stated. "When I won first prize for my conference presentation, I didn't feel any negativity from anyone. I didn't feel any contempt towards my winning. Everyone was like, 'Derek won! Derek won!'"
The last of the four to become a McNair Scholar, Harris, a native of St. Louis, admitted that watching her male counterparts thrive in McNair was the reason she decided to apply. "It's funny, because I didn't really know about the program until I found out they got in," admitted Harris. "So, I'm just like, 'Okay, what's all the hype about this program?' I didn't know how prestigious it was; I was just like, 'Let me do my research and then I'll see if I want to join', and then I didn't think I was going to get in!"
Harris, who is currently participating in the SLU McNair's summer research internship program, is seeing firsthand how doors are opening for her as a McNair Scholar. "The faculty mentor that I was paired with, she works in the building that I was trying to work in freshmen year for an internship," Harris noted. "I didn't get the internship because I didn't have previous experience, but McNair gave me this opportunity to get inside that building, and I appreciate it."
Three of the four Harris-Stowe scholars currently serve on the e-board of the MOLSAMP Scholars Biology Club; Agee is the club's president, Harris, vice president, and McFarland, secretary. Fowler was recently named "Mr. Harris-Stowe" and serves as an ambassador for the university. While Agee, Fowler, Harris and McFarland are role models for students coming behind them, they admit that there are unique challenges to choosing a STEM path that can crop up for students of color long before getting into college.
"I didn't even think I was going to be a biology major because a lot of people at my high school didn't think I was smart enough, said Fowler. "There were times when I was like, 'I don't think this is for me.' I just had to keep going because I wanted to finish and show everyone it's possible."
"At the high school I attended, they didn't talk about different careers in STEM," admitted Harris. "They didn't really discuss different careers besides being a medical doctor."
At Harris-Stowe, a historically black public university in St. Louis, Missouri, the scholars have found support and encouragement as STEM majors. "I took a class for biotechnology that helped out," said Harris.
Fowler agreed. "That class helped with choosing different careers in biotechnology and the biology field in general, so even though it was a one-hour course, I think it was well worth it because you learned what types of fields you can get into and what exactly is needed for those fields, so I think it was really useful."
In addition to classes such as this one, the scholars have also sought and been afforded opportunities to get practical experience working in research labs at Harris-Stowe and are regularly encouraged by faculty and administration to seize other valuable learning experiences.
"I think Harris-Stowe does a good job of creating this atmosphere of doing something over the summer," said McFarland. "You can't not do anything over the summer. You can't just go home and come back the next semester. And they have opportunities posted up everywhere on campus because they know there's this sense of being an underdog as a Harris-Stowe student."
Harris credits Dr. Tommie Yvette Turner, who is Director of the Institute for Science and Mathematics at Harris-Stowe State University, with getting STEM students beyond their comfort zones and into growth opportunities for budding scholars. "She will push you to apply for internships," said Harris.
As they prepare for the final stretch of their undergraduate careers, all four HSSU scholars look forward to their continued participation in SLU McNair and the support they will receive through the program with applying to graduate school, as well as the support they will continue to offer each other.
"We literally do our homework together, and it's kind of like a team effort to graduate," said Fowler. "We're like, 'Hey, I'm graduating, you're graduating, we're all graduating together'!"
Students who are interested in learning more about opportunities to become a McNair Scholar can send an e-mail inquiry to slumcnair@slu.edu. The program is open to eligible students at Fontbonne, Harris-Stowe, Saint Louis University, Washington University in St. Louis, Webster University and the University of Missouri-St. Louis.