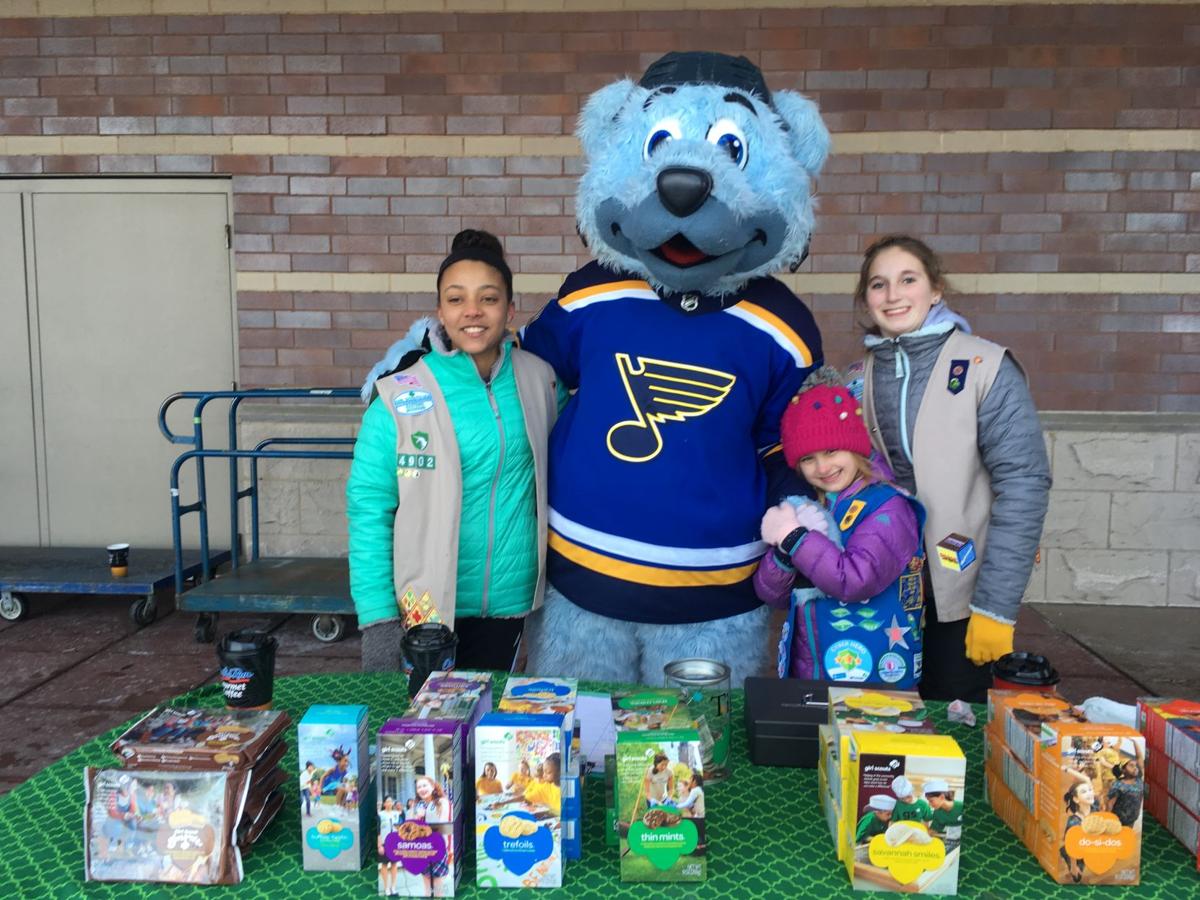 St. Louis, MO – January 10, 2020 –The 2020 Girl Scout Cookie Program® kicked off this past Saturday with two new ways to celebrate eastern Missouri's young female entrepreneurs: refreshed packaging design that continues to reflect the experiences made possible for girls and [drumroll please] a new lemon cookie called Lemon-Ups®, these zesty cookies have 8 different messages–find one that describes you!
As the largest girl-led entrepreneurial program in the world, the Girl Scout Cookie Program helps our communities' bold, young leaders learn five essential skills: goal setting, decision making, money management, people skills and business ethics. Whether it's going on adventure-packed camping trips, exploring space science and designing robots, or taking action to improve their neighborhood, every purchase stays local to power amazing experiences for girls.
Two troops located in Kirksville, Missouri decided to use their Cookie earnings to give back to those in need. After one of their fellow Girl Scout sisters was diagnosed with cancer, these girls wanted to bring comfort to children in the same situation. So, they decided to create rice packs which can be used as a heating pad to relieve pain from cancer treatments. These girls assembled, sewed and then donated more than 150 rice packs to bring relief to patients at their local pediatric oncology unit.
For these eastern Missouri Girl Scouts, giving back is essential to the Girl Scout leadership journey. Charitable customers who also wish to give back can show their support with Troop to Troop, a girl-led community service effort during the Cookie Program. Each donation of $5 provides one package of cookies to members of the United States armed services. Last year, more than 97,000 packages of cookies were gifted and distributed through the USO of Missouri. This year, local Girl Scouts are working toward donating 100,000 cookie packages to the USO of Missouri.
Girl Scouts of Eastern Missouri's 2020 cookie line-up includes: Lemon-Ups®, a crispy lemon cookie baked with inspirational messages; which joins classics like Thin Mints®, Samoas®, Trefoils®, Tagalongs®, Do-si-dos® all for $5 a box. Also, available are Toffee-tastics® and S'mores™ which are $6. To find a Girl Scout selling cookies near you, visit girlscoutsem.org/cookies or use the official Girl Scout Cookie Finder app, free on iOS and Android devices.
We're Girl Scouts of Eastern Missouri
Our extraordinary journey began more than 100 years ago when the first Girl Scout troop was formed in our region in 1918. Every year since, we've furthered our mission of building girls of courage, confidence, and character who make the world a better place. We're the preeminent leadership development organization for girls. And, with programs across eastern Missouri, Girl Scouts offers every girl a chance to practice a lifetime of leadership, adventure, and success. To join, volunteer or donate to Girl Scouts of Eastern Missouri, call 800.727.GIRL (800.727.4475) or visit www.girlscoutsem.org. Girl Scouts is a proud United Way member and is supported by the following United Way agencies: United Way of Greater St. Louis, United Way of Northeast Missouri and Franklin County Area United Way. Follow Girl Scouts on...Twitter http://twitter.com/GirlScoutsEM and Facebook http://www.facebook.com/GirlScoutsEasternMO.