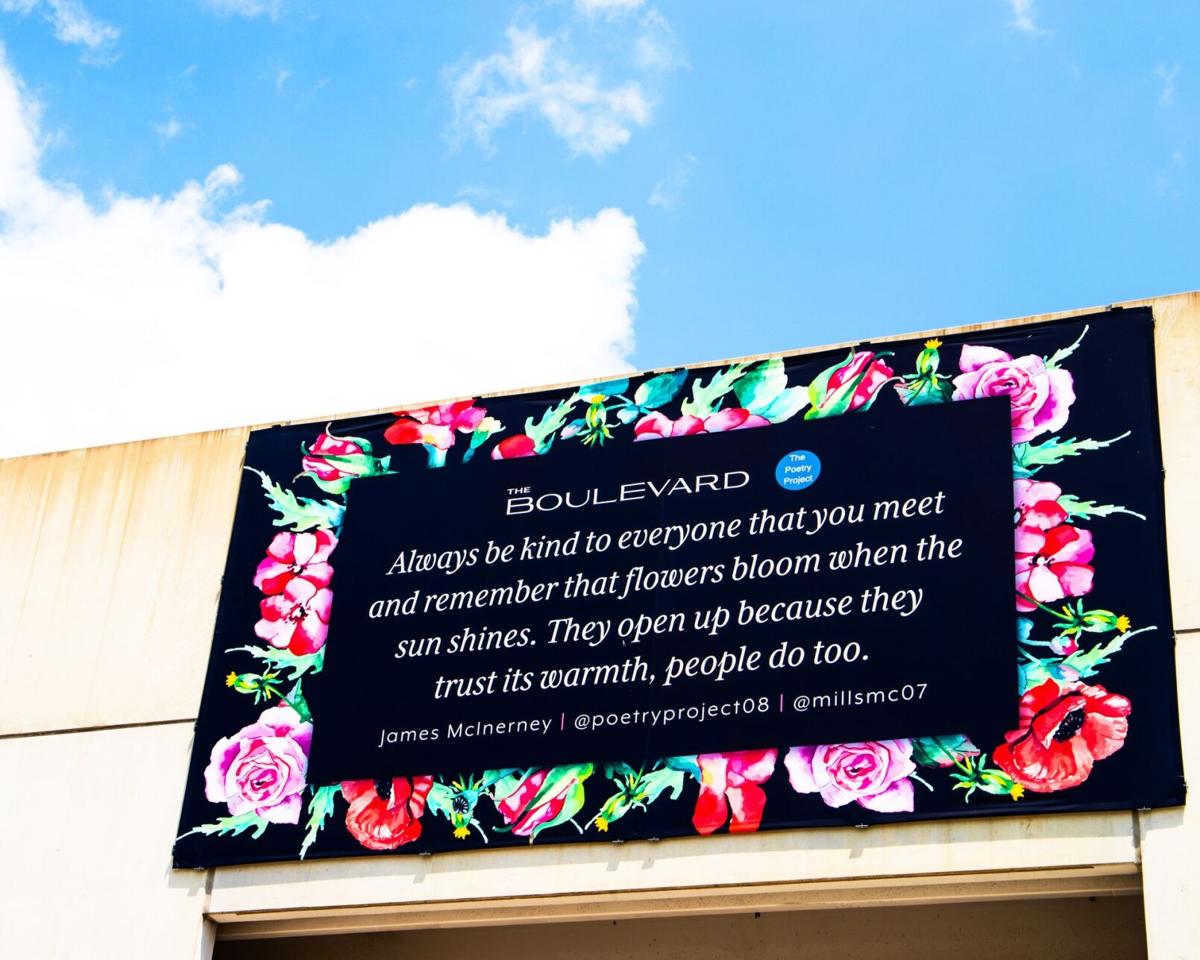 Edwards Realty Company Partners With The Poetry Project to Bring Positivity Through Global Visual Art and Poetry Program at Open Air Centers Nationally 
ORLAND PARK, IL (July 26, 2021) A partnership between leading commercial real estate firm Edwards Realty Company (ERC) and The Poetry Project aimed at spreading positivity post-pandemic, has unveiled a series of visually compelling and uplifting art installments at Edwards Realty Company's open-air centers throughout the midwest region. Edwards Realty Company was excited to work with James Mclerney, the founder of The Poetry Project to bring the project to its centers in St. Louis, MO (The Boulevard), the Chicago Suburbs (Burr Ridge Village Center.) and Holland, Michigan (Town Center Holland). 
The Poetry Project has garnered widespread global attention and can be seen in various shopping centers, parks, universities, gyms, airports and train stations around the world with more locations being added on a weekly basis. 
"We strongly believe in the power of public arts and culture to bring communities together. The Poetry Project seemed like a natural fit to bring to our centers, especially post-pandemic. All of us, including our tenants and customers, could benefit from beautiful visuals and positive messaging," said Ramzi Hassan, Edwards Realty Company President.  
Following other major activations at the center, including a recent celebration of arts at another of our centers, the Poetry Project is very much aligned with the goals of Edwards Realty Company. These "instant mood lifters" are a prime example of the kind of environmental elements the company seeks to provide its tenants as well as the customers who visit its various open-air centers. The real estate company is committed to creating a sense of community at each of its centers, which made The Poetry Project a natural fit. The installations can be found on storefront windows, garages and sidewalks throughout each of the properties.  
"The response to the program has been overwhelming. It has far exceeded our goal of uplifting spirits and raising awareness for mental health challenges. We were pleased to partner with Edwards Realty Company who fully embraced the purpose behind The Poetry Project," said James McIerney, founder of The Poetry Project. 
About Edwards Realty Company 
Edwards Realty Company is a leading real estate investment, development and management firm with three decades of experience investing in communities. Over the past 30 years, Edwards Realty Company has developed a diverse portfolio of mixed-use properties across the Midwest. Their indoor/outdoor centers are "Centers of Attention" in their respective neighborhoods and represent an innovative convergence of community, compassion, commitment and commerce as evidenced by the tenant mix and vibrant events and activities such as Pop Local. Edwards Realty Company invests, develops and manages its properties strategically to ensure they become part of the fabric of the communities in which they are located. For more information, visit: www.edwardsrealtyco.com.
The Poetry Project is a community-based, grassroots project aimed at bringing local communities together with messages of hope and support. Founded by UK-based Poet James Mclerney, the project is having a widespread positive and empowering impact on those who view the messages on display in public areas. to promote well-being and raise awareness of mental health issues. As well as being used in public places, it is also being used on social media and behind the scenes in the office place, to motivate staff and increase productivity. For more information, visit: https://jamesmcinerney.wixsite.com/poetry/the-poetry-project.