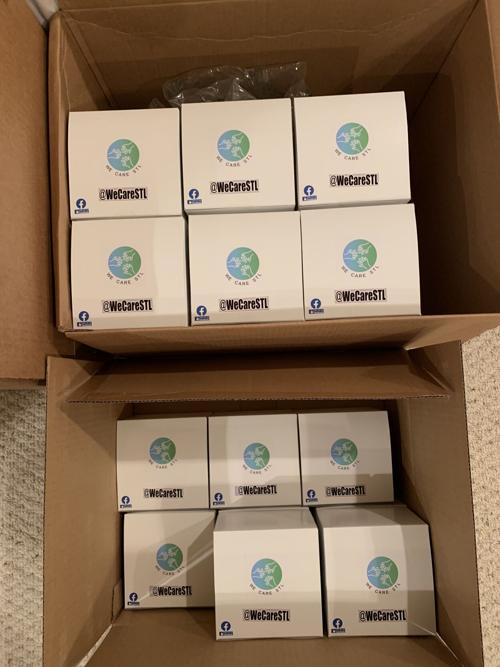 St. Louis, MO - We Care STL is a nonprofit organization which raises donations and distributes care packages to medical clinics in St. Louis that free provide primary care, mental support and domestic abuse services to people who don't have health insurance or can't afford health insurance. The organization's mission is to put a smile on the faces of people who may be underinsured or underprivileged in St. Louis by giving them a care package to make them feel appreciated and cared for.
With months of dedicated commitment, We Care STL has been able to partner with two clinics in St. Louis - Vivent Clinic and Volunteers in Medicine in St. Charles, to provide 100 care packages in addition to raising awareness on the uninsured community. We Care STL has also onboarded more than a half-dozen Campus Ambassadors from local universities such as Saint Louis University, Washington University in St. Louis, Mizzou, and UMSL, in order to to assist with managing digital marketing campaigns, corporate outreach, applying to grants and helping run a successful nonprofit organization.
"We've seen unprecedented growth over the past several months since launch", says We Care STL founder and president Vasilios Sahinidis, who graduated from Carnegie Mellon University in 2016, and has been living in St. Louis for about 3 years now. "St. Louis is really a hidden gem, there's so much to do and the community is fantastic.  I wanted to pay back the city where I have so many fond memories from".
In the midst of the pandemic, We Care STL has become an evolving platform to put a smile on the faces of those in our St. Louis community who may not have health insurance or can't afford it. About 10% of the St. Louis community does not have health insurance. The nonprofit partners with various free medical and mental health clinics as well as domestic abuse shelters and surprise patients with care packages as they walk out of the clinic after their appointment to make them feel recognized, remembered, and cared for. The care packages include goodies such as mini first-aid kits, personal hand sanitizer, stress balls, hand soap, hand wipes, vitamins, cough drops and more.
We Care STL is community-oriented, and aims to continue easing the saddening effects of the healthcare system. To add to the cause, We Care STL is continuing to decrease the gap between the uninsured and the insured one step at a time. We Care STL is incorporated in the State of Missouri, and recently filed and is awaiting 501(c)(3) status. To learn more about We Care STL, visit (www.wecarestl.org).