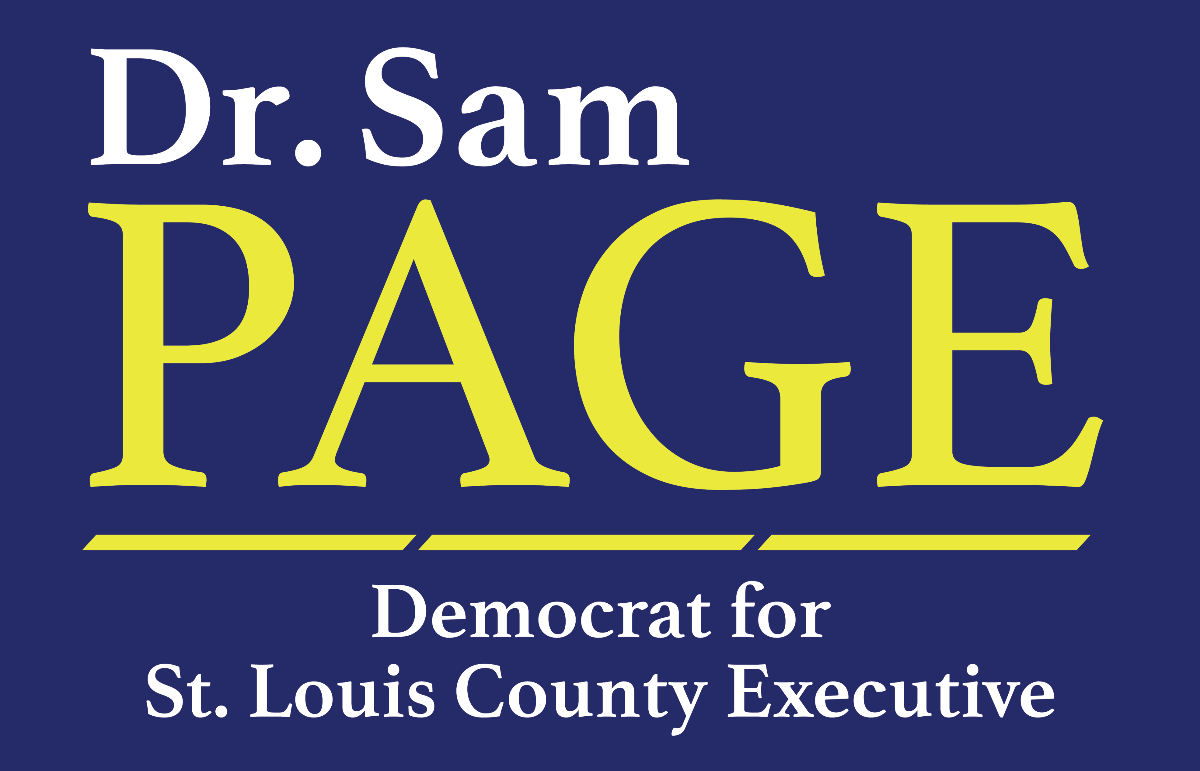 Broad Coalition backs Dr. Sam Page for County Executive
Over 50 organizations and individuals have endorsed Dr. Sam Page for County Executive. This is more than his three opponents have received combined. 
On June 22nd, The North County Labor Legislative Club became the latest in a long list of labor unions to endorse Dr. Page. While presenting the endorsement, Fred Searcy, President of North County Labor said, "NCLLC understands that Dr. Page is a leader that all of St. Louis County can be proud of, regarding his vision and leadership through these troubling times. As we move forward I know that under the leadership of Dr. Page, North County, as well as St. Louis County, will prosper."
Dozens of other labor unions have endorsed Dr. Page, including the umbrella organization St. Louis Building and Construction Trades. Secretary Treasurer John Stifler says, "The St. Louis Building and Construction Trades Council is proud to support Dr. Sam Page for County Executive. Through his work to bring prevailing wage to County projects, raise the minimum wage within County government to $15 an hour, and provide paid family and sick leave to County workers, Dr. Page has shown over and over again that he is for the working families of St. Louis County. He has our wholehearted support!" 
Dr. Page has also received the endorsements of the Firefighters of Eastern Missouri, UAW, Teamsters, SEIU, UFCW, and the St. Louis Labor Council which includes North County, South County, and Rockwood Labor Clubs. 
Elected leaders like former County Executive Charlie Dooley, County Councilwomen Lisa Clancy, Rochelle Walton Gray and Kelli Dunaway, State Senators Scott Sifton and Jamilah Nasheed, and State Representatives LaDonna Appelbaum, Ian Mackey, Sarah Unsicker and Doug Beck have also endorsed Dr. Page. 
"We need continuity amidst the crisis in St. Louis County. Dr. Sam Page is the right person to lead our region through the COVID pandemic," said State Senator Sifton. 
Dr. Page says he understands that these endorsements were not made lightly, "When someone says they are endorsing you, it means that they believe you can work together on the most important things facing our community: public health, public safety and criminal justice reform, and the economy. I'm proud to have their support." 
Dr. Page has also received the support of Organizations like the Sierra Club, Planned Parenthood, Betty Thompson, NARAL, Missouri Progressive Action Group, the St. Louis Young Democrats and St. Louis Indivisible, all of whom come with dedicated volunteers and activists behind them.
"At a time when reproductive freedom is under attack like never before, we need strong local leaders fighting to protect our health and secure our rights," said NARAL Pro-Choice Missouri Executive Director Mallory Schwarz. "During his tenure as St. Louis County Executive, Sam's bold leadership has ensured access to sexual and reproductive health care for all, and prioritized the health and safety of our communities during the COVID-19."
He also has the support of the backbone of Democratic politics in St. Louis County: township organizations. Florissant, Normandy and Missouri River have already come out in support of Dr. Page, and the campaign expects more to follow. Visit sampage.com/endorsements/ for the full coalition behind Dr. Page for St. Louis County Executive.
Be the first to know
Get local news delivered to your inbox!