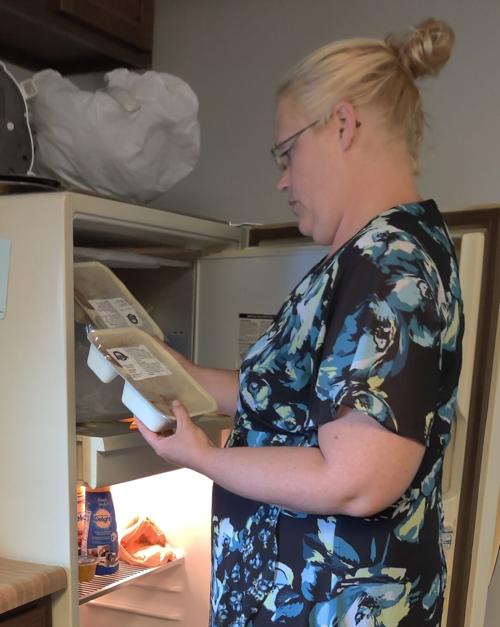 What started as a spontaneous reaction to a need has grown into a lifeline for destitute Warren County residents.
   The not-for-profit North East Community Action Corporation (NECAC) is providing a limited amount of free foods to those in need from its Warren County Service Center at 120 E. Main in Warrenton.
   The program started in June, when NECAC Warren County Service Coordinator Desiree Antoniou began distributing to the homeless five frozen meals she gets each week from a local volunteer. In July, she began offering canned soups, vegetables, beans, bags of rice and packaged foods inside her office.
   "The word is spreading and it's going really well," Antoniou said. "There is a need. I've seen people I've never seen before. It's really helping them out."
   Those who partake are offered the opportunity to learn more about NECAC's social service, community health and public housing programs. However, Antoniou isn't pushy. One woman who lives in her car sought additional help, but another homeless lady doesn't respond to Antoniou's inquiries, preferring to pick up a meal and leave the service center without speaking.
   Antonious says that's fine. People may eat their meals at the service center or take it with them. She's put two chairs in front of the building and two more inside to accommodate. In accordance with social distancing and COVID-19 health guidelines, Antoniou cleans them after each use
   "I had one man in for energy assistance and he asked if he could take a can of chili," Antoniou said. "I said 'Yeah, why don't you take two?'"
   If NECAC is unable to provide assistance, Antoniou makes referrals to other local agencies that may offer help, including the Warren County Food Pantry.
   Contributions will be the key to sustaining the food giveaway, and Antoniou says people have been generous.
   "We've had a lot of people show up and donate dry foods," she said. "If we can do one more thing to help people get through, then that's great."
   For more information, or to donate, call Antoniou at 636-456-8191. The service center is open from 8 a.m. to 5 p.m. weekdays.
Be the first to know
Get local news delivered to your inbox!