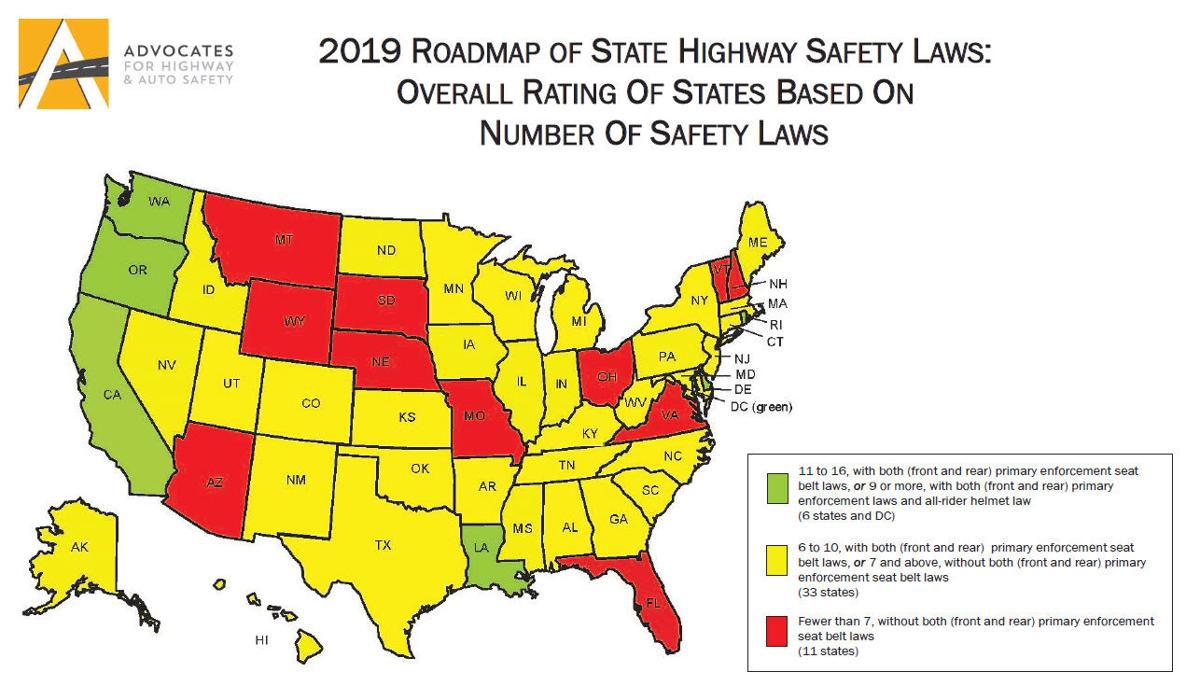 New report ranks Missouri third-worst state for driver safety laws
Missouri lacking 12 key safety laws to protect drivers, passengers and pedestrians
ST. LOUIS, MO (January 23, 2019) – A new report ranks Missouri near the bottom of all states for driver safety laws, at a time when distracted driving is happening at a high rate.
Advocates for Highway and Auto Safety, a national roadway safety coalition, has released a new report ranking states on how many of 16 key safety laws each state has in place.
Missouri is tied for third-worst in the rankings, with only 4 of 16 laws in place. Illinois fares better – it's tied for the 8th-best state with 10 laws in place. (Rhode Island tops the list with 13 laws, while South Dakota comes in last with only two laws.)
This comes at a time when distracted driving is widespread. According to State Farm surveys of driver behavior:
·        79% of drivers said they participate in some sort of interaction with their phone while driving (talking, texting and/or smartphone functions).
·        Drivers reported using smartphones while driving despite finding them distracting and despite thinking that it increases the likelihood of a crash. When asked why, they provided reasons such as: improved efficiency, need to stay in touch, habit, searching for information on the internet, and seeing something they want to share.
Some Missouri legislators are taking action. In the current legislative session, several bills have been proposed in the Missouri House that would prohibit texting & driving for all drivers (current law only bans texting for drivers under 21), prohibit use of hand-held wireless devices by all drivers, and prohibit cell phone use in school zones. Prior efforts to pass such bills have failed.
The laws Missouri lacks include primary seat belt enforcement, child seat laws, stronger provisions in the state Graduated Driver License program, an open container law, and text messaging restrictions for all drivers.
According to the new report, the annual economic cost to Missouri from motor vehicle crashes is more than $5.5 billion.