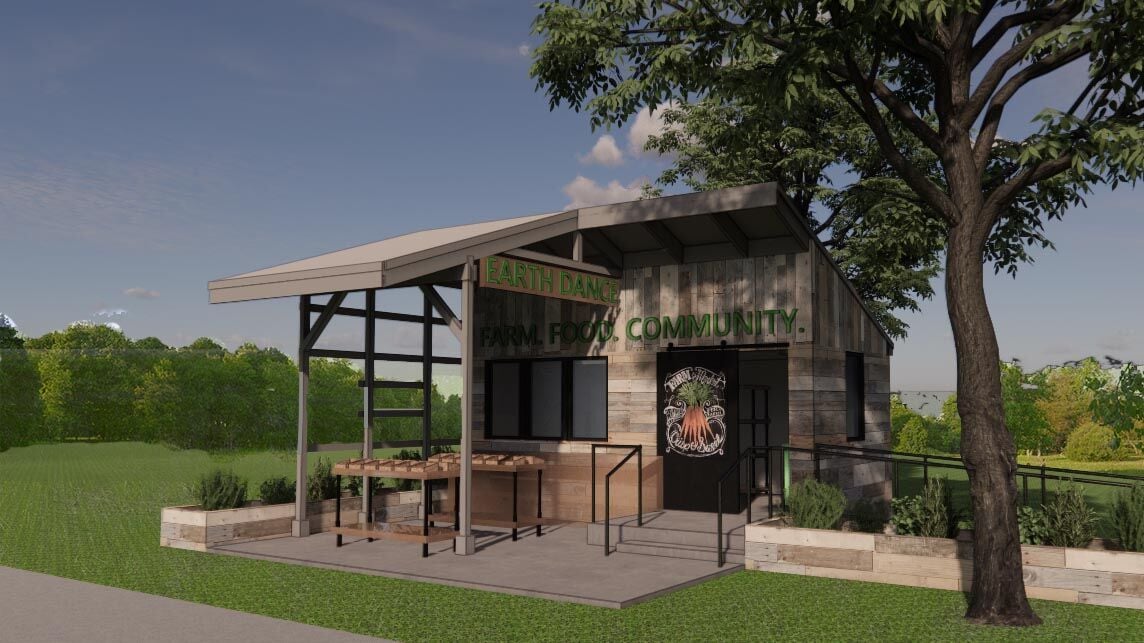 EarthDance Organic Farm School in Ferguson is opening a Pay What You Can Farm Stand at the farm to serve Ferguson residents and the surrounding communities. The grand opening is Friday, July 30, 2021.
St. Louis, Missouri, July 2nd, 2021 – 
EarthDance is opening a Pay What You Can Farm Stand to make its fresh organic produce available to everyone, regardless of income. The grand opening will take place on Friday, July 30, from 4 to 7 pm, at EarthDance Organic Farm School, 233 S Dade Ave, Ferguson MO. The event is open to the public (RSVP required) and family-friendly, and will feature live music, speakers, a cooking demonstration, zumba class, blessing and ribbon cutting ceremony, and more. Carpooling is encouraged! Register for the event at www.earthdancefarms.org.
Having started a Pay What You Can Drive Thru Farm Stand in response to the COVID-19 pandemic, the non-profit organization decided to renovate an old tool shed and make the Pay What You Can Farm Stand a permanent farm fixture for the community. The renovation is now complete and the farm stand is ready just in time for peak harvest season! 
"We believe that access to healthy food is a human right, and that farmers deserve to earn a living wage," said Molly Rockamann, Founding Director of EarthDance. "Our model creates a way for people to source the fresh produce they want at a price they can afford. To do this, we count on people in a position to donate more than the retail value to also participate. Together, this creates a community-scale solution to meet one of people's most basic needs." 
Organic produce available for purchase includes: carrots, beets, beans, cowpeas, collards, kale, mustard, turnips, chard, lettuce, tomatoes, peppers, eggplant, cucumbers, squash, zucchini, winter squash, sweet potatoes, potatoes, onions, garlic, blackberries, pears, peaches, herbs, and more - all grown on site, using regenerative organic methods!
Starting July 16th through November, the EarthDance Pay What You Can Farm Stand will be open on Fridays from 3pm to 7pm and Sundays from 11am to 3pm. Cash, credit card, SNAP/EBT, and senior nutrition vouchers are accepted.
The physical renovation was primarily funded by a grant from the Missouri Department of Agriculture, as well as with in-kind contributions from Tao + Lee Associates, True Refrigeration, Hardin's Tree Service, Cary Aye, Red Beard Scenic, and Stone Valley Timber. Individual donors also have supported the creation of the Farm Stand.
To continue beyond the  pilot phase, additional funding is needed for farmer and staff wages, marketing materials, supplies and administrative costs. 
About EarthDance Organic Farm School 
EarthDance is a 501c3 non-profit  that operates the 14 acre organic farm school in Ferguson. EarthDance grows food, develops farmers, and builds community by offering nationally-recognized organic farming education; partnering with its local school district to infuse agroecology, culinary skills and nutrition into the K-12 curriculum; and advocating for social justice and change in the food and farming sector.