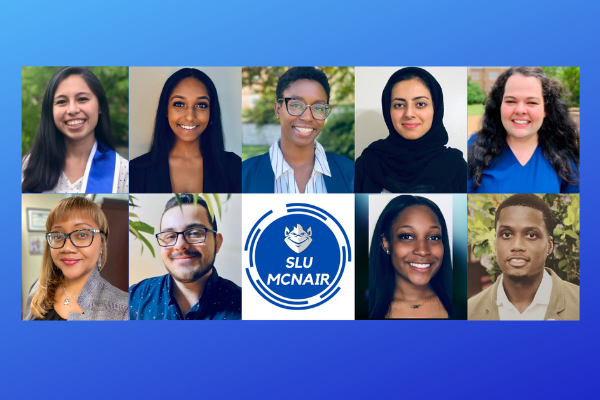 The MKN Heartland McNair Research Conference is an annual, regional event that McNair Scholars Program participants and staff from Missouri, Kansas and Nebraska look forward to each year. It's a time for the McNair Scholars to present their research, network with other scholars, and speak face-to-face with graduate school representatives. It's also a proud moment for the McNair program staff that accompany their scholars to the event. The conference usually takes place in Kansas City, MO, but due to COVID-19, it was held virtually this year from September 25-26. The disappointment of not being able to participate in person did not deter attendees from making the most of the conference, including the McNair Scholars Program scholars, staff and alumni of Saint Louis University (SLU McNair). This was the third consecutive year that SLU McNair participated in the Heartland conference, but the first year that scholars, program staff and alumni all participated together. McNair Program Director Jamie D. Motley, Ph.D. and Academic Coordinator, Anthony D. Parker-Gills were both co-organizers of the conference this year as well as presentation hosts. Alums Maria Garcia and Wendy Teal – both SLU Class of 2019 graduates – served as moderators. And five scholars who recently completed SLU's 2020 McNair Summer Research Internship Program presented their summer research: Fatima Al-Hanoosh and Hope Conyers, both students at SLU; Beth Asnakew and Miguel Campos, students at Washington University in St. Louis; and Tekahla Flint, who is a student at Harris-Stowe State University. Garcia gave the sessions that she moderated two thumbs up: "They went well!" she stated. "I'm proud of the scholars that presented – they did a great job!" Garcia, who actively participated in SLU McNair in 2018 and 2019 until she graduated, is currently a graduate student working toward her master's degree in public health at Boston University. SLU McNair is one of nearly 200 Ronald E. McNair Postbaccalaureate Achievement Programs funded by the U.S. Department of Education. Participation is open to first-generation, Pell-eligible and underrepresented students from Fontbonne, Harris-Stowe, SLU, UMSL, Washington University in St. Louis and Webster University who plan to enroll in graduate school and pursue their PhD following undergrad. Individuals wanting to learn more about the program can send an e-mail inquiries to slumcnair@slu.edu.
Be the first to know
Get local news delivered to your inbox!