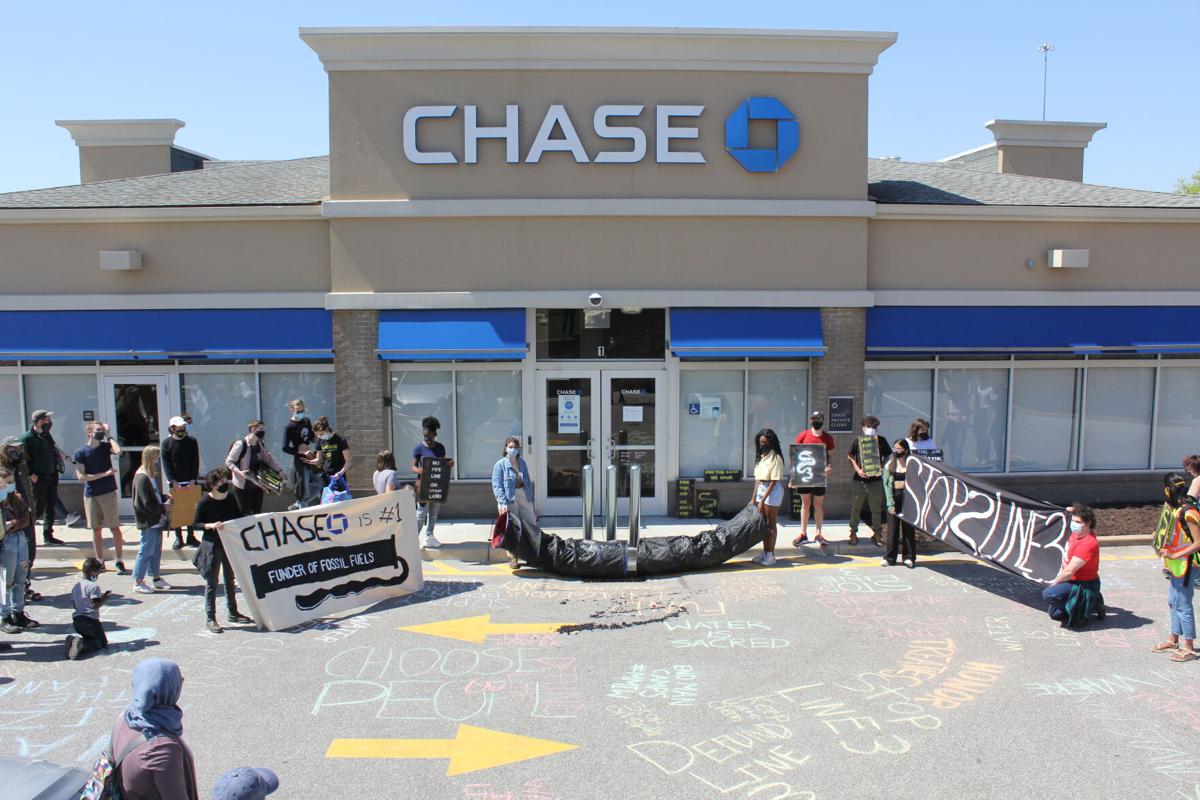 50 young people protest Chase Bank in Brentwood for its funding of Line 3 pipeline
St. Louis, MO -- In coordination with a growing national movement fighting against the construction of the Line 3 pipeline, Sunrise Movement STL and other community activists protested Chase Bank in Brentwood during busy Saturday business hours for their complicity in this disastrous pipeline. Protesters delivered a letter to the bank manager and workers urging them to take up the call to defund Line 3. 
"Why do we care about this pipeline here in St. Louis, hundreds of miles away from where it is being built? Because this pipeline affects all of us," Sunrise STL member Grace Tedder explained. "It crosses our river, the Mississippi. And all pipelines spill—it's a matter of when, not if."
Other St. Louis-based groups, including Party for Socialism & Liberation, Extinction Rebellion and 350 STL took part in the action. Activists marched around the bank branch, spoke about Chase's funding of Line 3, and wrote messages in chalk for Chase customers to see. They also left "tar sands oil" outside the bank entrance. 
"We're here at this Chase Bank branch, in solidarity with the Anishinaabe-led resistance, while our friends in towns and cities across the country are at their branches of these fossil fuel funders, to say that we won't stand for their funding of climate catastrophe," another Sunrise STL member said. 
Since 2015, Chase Bank has provided nearly $269 billion to fossil fuel corporations. Currently, they are amongst the top 10 contributors to Enbridge, directly funding Line 3 despite mounting opposition. Line 3 violates Indigenous sovereignty, crossing Anishinaabe land in Minnesota, and would contribute the equivalent greenhouse gas emissions of 50 new coal plants, if completed. 
Several St. Louisans will head up north this month to join the Line 3 resistance in Minnesota and continue the history of St. Louis solidarity against pipelines. Individuals can learn more about Line 3 and how to get involved at stopline3.org.