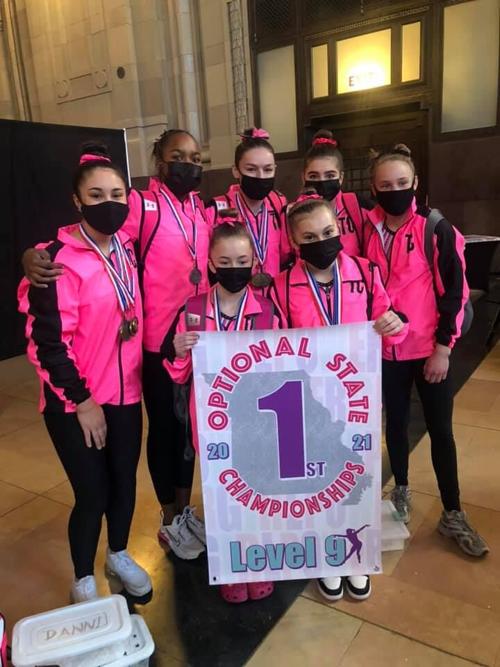 Team Central Gymnastic Academy Athletes Earn Top Rankings at Missouri State Championships
Gymnasts from Team Central earned top awards – both individually and as teams – at Missouri State Championships over the last two weekends. 
The State Championship meets, sanctioned by USA Gymnastics (the national governing body for gymnastics) are held over three weekends to accommodate the different levels and the number of gymnasts in Missouri. 
Each meet had two divisions – Xcel and Junior Olympic (JO). Team Central fielded athletes in both divisions at each championship.
At the Missouri Developmental State Meet in Jefferson City on March 13 – 14, 2021, Team Central's Xcel program athletes earned 3rd place team in the Bronze National division. 
The Missouri Advanced State Meet in Poplar Bluff was held March 19 – 21, 2021. Team Central's JO Level 4 athletes won 1st place team with a 113.900, while the JO Level 5 gymnasts tied for 2nd place team with 111.350. 
The Missouri Optional State meet was held in Kansas City on March 23 – 25, 2021. Team Central JO athletes realized their goal of achieving 1st place team finishes at 3 levels – Level 6 with 113.600, Level 8 scoring 113.200, and Level 9 with 112.775. 
Team Central is very proud to recognize the following athletes who excelled on an individual level:
JO Level 3 (all age groups)
Lilian Holyoke 3rd AA 33.300
JO Level 4 (all age groups)
Ava Asadorian 1st AA 37.775
Kennedy Butler 1st AA 37.525
Eden Harris 1st AA 36.400
Lina Saracco 1st AA 37.425
Danielle Dalton 2nd AA 36.450
Ellen Widjaja 2nd AA 36.275
Leah Proebsting 3rd AA 36.250
JO Level 5 (all age groups)
Anna Ravensburg 1st AA 37.325
Aubrie Godfrey 2nd AA 35.975
Kimberly Zhou 3rd AA 36.550
JO Level 6 (all ages groups)
Charlotte Brod 1st AA 37.550
Sierra Saengsamran 1st AA 37.075
Elizabeth Schellman 1st AA 37.400
Malia Tigue 1st AA 36.750
Jillian Voss 1st AA 37.525
JO Level 7 (all age groups)
Taylor Brown 3rd AA 37.150
Caitlyn Shelley 3rd AA 37.225
JO Level 8 (all age groups)
Kris Phillips 2nd AA 37.475
Amelia Ward 3rd AA 37.275
JO Level 9 (all age groups)
Audrey Barger 1st AA 37.925
Paige Bognar 1st AA 36.450
Rachael Morgan 1st AA 37.325
Cailyn Havecker 2nd AA 36.550
Eleanor Stevens 2nd AA 36.400
JO Level 10 (all age groups)
Ellie Sigman 3rd AA 36.200
Xcel Bronze (all age groups)  
Audrey Fantroy 1st AA 37.200
Scarlet Hloben 2nd AA 35.625
Eloise Kammermeyer 3rd AA 35.925
Xcel Silver (all age groups)
Anila Hynes 1st AA 37.125
Lillian Trauterman 2nd AA 36.725
Sophie Baum 3rd AA 36.500
Xcel Gold (all age groups)
Ilse Krakos 3rd AA 35.300
Kara Niemeyer 3rd AA 37.150
Xcel Platinum (all age groups)
Lillian Brown 2nd AA 35.950
Allison Maher 3rd AA 35.575
Team Central Junior Olympic Program Team Results
Level 4 – 1st Place Team – 113.900
Level 5 – 2nd Place Team – 111.350T
Level 6 – 1st Place Team – 113.600
Level 8 – 1st Place Team – 113.200
Level 9 – 1st Place Team – 112.775
The next stop on the championship trail for these hard-working athletes is the USA Gymnastics JO Regional Championships for levels 6 through 10 to be held in Bettendorf, IA April 16-18, 2021.
Team Central Gymnastic Academy is a non-profit corporation directed by Ray Overmann at 2675 Metro Blvd., Maryland Heights, MO 63244. For more information, please call 314-291-0101.