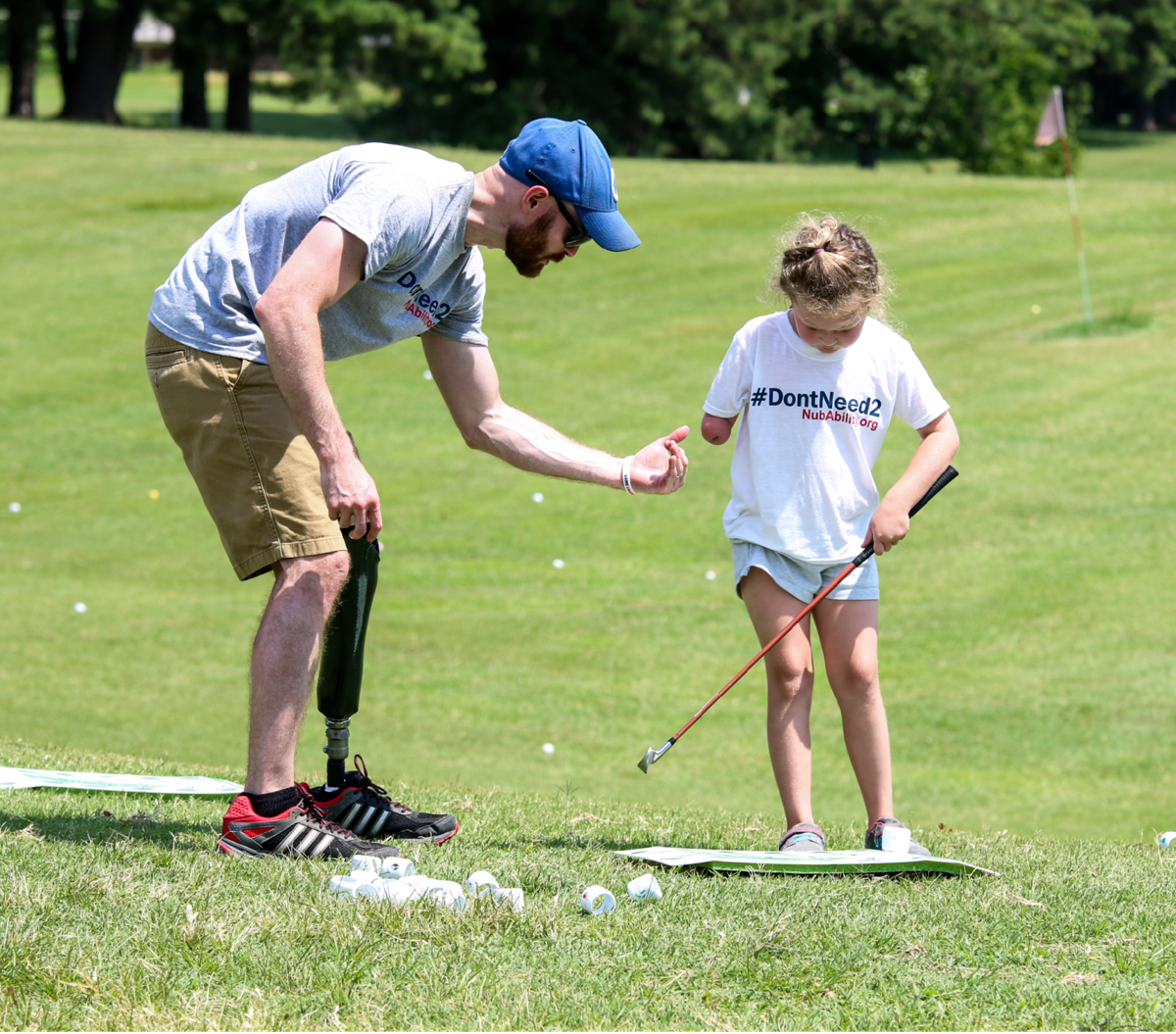 DUQUOIN, IL (July 30, 2020) - NubAbility® Athletics Foundation announced today that the organization is holding a #DontNeed2 golf clinic on August 15, 2020 at Red Hawk Golf and Grille in Tamaroa, IL. The one-day clinic is open to children with congenital or traumatic loss of one or more limbs ages four to 17 who wish to improve their golf skills and meet other limb-different children and adults. NubAbility is a non-profit organization that builds courage and confidence in limb-different children by teaching them to succeed in mainstream sports. 
"For many kids, Nub Camp is the only time they spend around other limb-different children and coaches - an experience that is invaluable when it comes to building self-esteem," said Sam Kuhnert, NubAbility founder and executive director. "We are working hard to implement federal, state and local guidelines regarding COVID-19 while continuing to offer the in-person contact that our limb-different children look forward to each year." To reduce the risk inherent in large gatherings, NubAbility will be holding a series of 10 small one-day clinics across the country between now and March with a focus on sports that are played outdoors rather than the large, multi-sport, multi-day camps it previously offered.
Sponsors of the golf clinic include  the Freedom Foundation, Heartland Coca-Cola and Marion Walmart Store #216. Casey's General Stores, Heartland Coca-Cola, and Red Hawk Golf and Grille have made in-kind donations to the event.
NubAbility® Athletics Foundation is a 501 (c)(3) non-profit that operates a national series of camps designed to get children with congenital or traumatic limb loss out of the stands, off the bench and into competitive mainstream sports. The viral video Boy With No Arms Does Box Jump, which received national media attention in 2019, illustrates the power and pride our campers experience when they overcome obstacles to achieve their goals. NubAbility participants leave camp confident they can win at athletics and in life. 
Founded in 2011, NubAbility will offer camps in eight states and provide services to more than 400 children in 2020. The organization's volunteer coaching team is made up of 80 limb-different collegiate and professional athletes in 20 sports. For more information, visit www.nubability.org.
Be the first to know
Get local news delivered to your inbox!