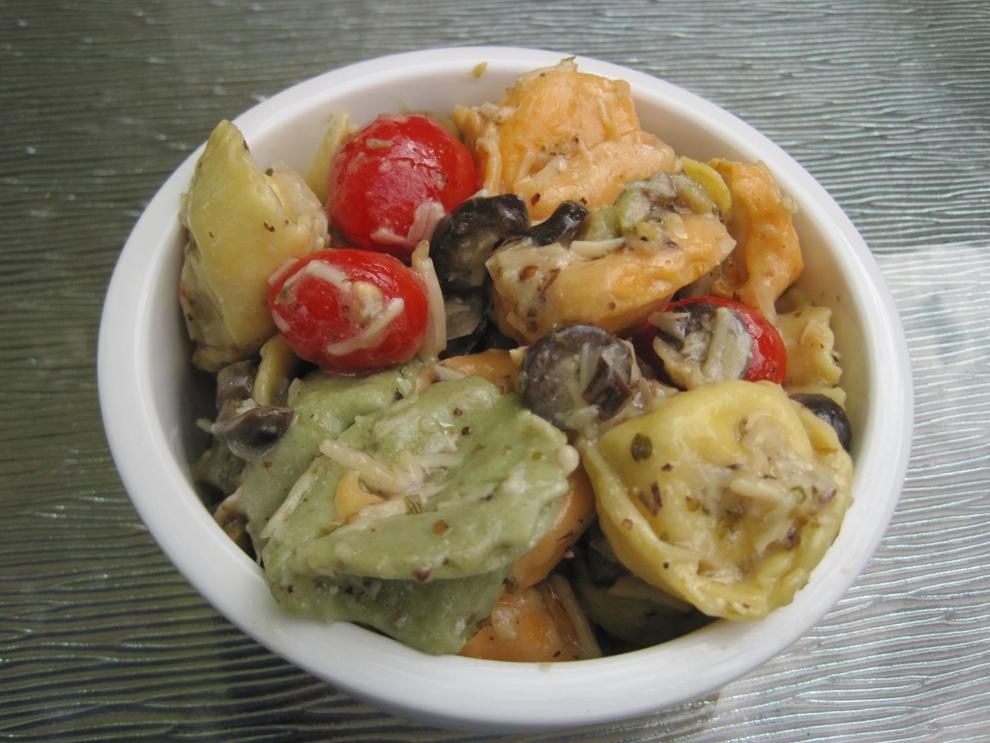 Yield: 10 cups salad; 20 small servings
2 pounds 6 ounces frozen tricolor cheese tortellini, cooked according to package directions
½ large red onion, 4- to 5-inches in diameter, peeled and cut in a small dice
½ cup sliced green olives, drained
½ cup sliced black olives, drained
6 to 8 ounces Greek vinaigrette dressing with feta cheese crumbles (see note)
½ cup coarsely shredded Parmesan cheese
1 cup small grape tomatoes
Notes: Store the grape tomatoes at room temperature to preserve top flavor.
• Although this recipe comes together quickly, it needs to chill in the refrigerator before serving, so plan to make it 1 to 3 hours ahead serving time.
• For the test, we used two packages of Luisa's frozen tricolor tortellini, which cooked to doneness in just 5 minutes.
• We sliced whole black and green olives for this recipe, draining them first.
• The Greek vinaigrette with feta is available from several bottled dressing manufacturers including Wishbone, Girards and Athenos. If desired, add 2 tablespoons feta crumbles to a classic vinaigrette as a substitute.
1. Cook the tortellini according to the manufacturer's directions, taking care not to overcook them and blow out the shapes.
2. Cool as directed, then place in a large bowl. Toss with diced onion, black sliced olives and green sliced olives.
3. Pour dressing over the salad, ¼ cup at a time, turning gently to coat. Dress to taste.
4. Add shredded Parmesan and toss, then refrigerate, covered, for at least an hour before serving.
5. Just before serving, add the grape tomatoes and toss to coat.
Per serving (based on 10): 398 calories; 13g fat; 6g saturated fat; 51mg cholesterol; 17g protein; 53g carbohydrate; 2g sugar; 3g fiber; 631mg sodium; 250mg calcium