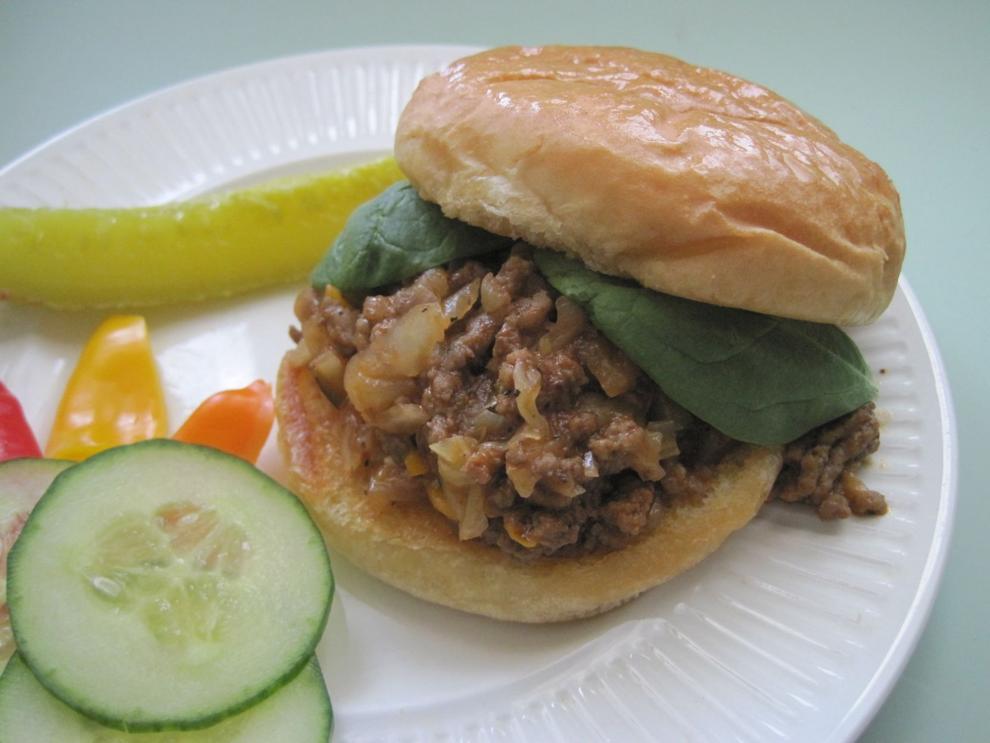 ½ pounds finely shredded cabbage
1 medium zucchini, shredded or finely diced
2 tablespoons brown sugar
2 tablespoons lemon juice
1 tablespoon white vinegar
1 tablespoon Worcestershire sauce
1 tablespoon yellow mustard
¼ teaspoon ground black pepper
8 hamburger buns, or 16 slices of bread, toasted (optional)
Notes: Whitsitt modified the Star recipe to cook the beef and vegetables together at the start of cooking as he likes the flavor better. He uses a turkey baster to lift the fat from the browned ground beef and vegetable mix before adding the sauce. "It's safer and easier than tipping a full pan."
• If you don't have ketchup, you can use a mix of ¾ cup tomato sauce and 2 tablespoons tomato paste, or simply use 1 cup of tomato sauce. The mixture will be a little more watery than ketchup but is lower in calories and carbohydrates.
• Any color bell pepper will work, but red will be the sweetest. For the test we used an orange pepper.
1. Add the meat, cabbage, zucchini, onions, celery and chopped pepper to a preheated large skillet, pan or 5-quart Dutch oven over medium high heat. Chop the beef as it cooks to make crumbles. Cook until the beef is browned and the vegetables softened.
2. Remove the grease with a turkey baster, tipping the pan to collect it.
3. Add ketchup, brown sugar, lemon juice, vinegar, Worcestershire sauce, mustard, salt and pepper to the cooked mixture and stir in. Reduce heat to medium low, cover and cook for 10 minutes until the vegetables are soft, stirring once.
4. Evenly divide, then spoon mixture over toasted buns or bread.
Per serving: 289 calories; 5g fat; 2g saturated fat; 34mg cholesterol; 14g protein; 45g carbohydrate; 17g sugar; 4g fiber; 757mg sodium; 117mg calcium
The recipe was originally developed in 2012 by then 12-year-old Rori Coyne. It was featured in the Kansas City Star in August 2012 after it was chosen by Michelle Obama as a winner in a recipe contest for kids.