HERMANN — Carter Hemeyer had just caught a pair of touchdowns passes in overtime to help Hermann High knock off rival Owensville 46-38.
Like most teenagers, he felt the urge to celebrate with teammates, friends and townsfolk.
After all, beating a county rival with two crunch-time receptions in double OT is the athletic moment of a lifetime.
But the 5-foot-8, 150-pound senior wideout and defensive back passed up the chance to revel in that hero status in this sports-crazy town of 2,300 located 78 miles west of St. Louis.
Instead, Hemeyer simply went home and headed right to sleep.
Hemeyer also is a standout cross country runner for Bearcats.
And he needed a full night of rest Sept. 27 to be at the top of his game for a cross country meet on Saturday morning.
Hemeyer woke up at 6 a.m., just hours after his two-TD effort, to compete at the Gans Creek Classic in Columbia.
He medaled in the highly competitive meet with a solid 19th-place performance out of 209 runners. His time of 17 minutes and 28.30 seconds also was impressive given the circumstances.
"He ran a gutsy race, especially for getting very little sleep and coming off six quarters of football," Hermann cross country coach Josh Morris said.
The 9-hour turnaround is nothing new for Hemeyer, who has been doing it on a weekly basis all season long.
"People look at me and think I'm crazy, but I wouldn't have it any other way," Hemeyer said. "I love both teams, I couldn't give up being on either one."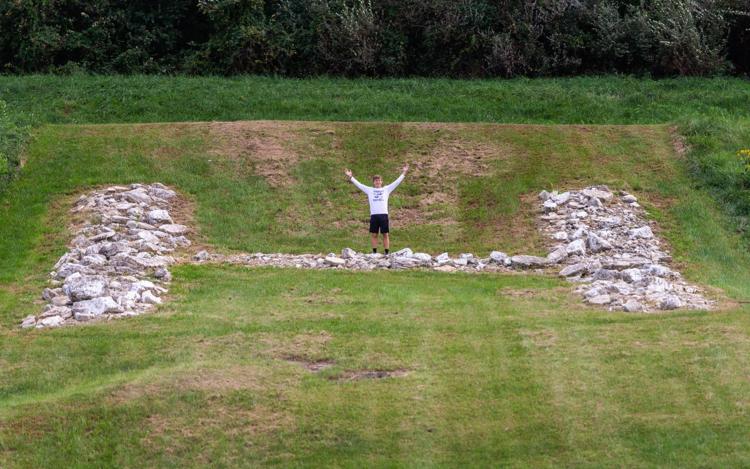 Playing two sports in the same season is a rarity, especially the football-cross country daily double. Football games are normally played Friday nights and many cross country meets are Saturday mornings.
There are some athletes who play soccer and serve as a kicker on their football teams. But few have the courage to tackle two sports that are so close together, at least time-wise.
Hemeyer manages to regularly excel in back-to-back high-pressure events.
"It's a rare situation," Hermann football Andy Emmons said. "But he's handling it, it's worked out really well. He checks every box you would need to make this work — a great leader, he's respected by his fellow students. He does it all. He's a very involved person and he's got a lot of energy."
That energy shows Saturday mornings. While his fellow football teammates are sleeping in, he's out competing for a successful cross country team that is ranked fifth in the latest state-wide poll.
Coaches Emmons and Morris essentially share Hemeyer during the week. The three get together and figure a workout and practice schedule that fits both programs.
"I couldn't do it without their help," Hemeyer said. "They make everything possible."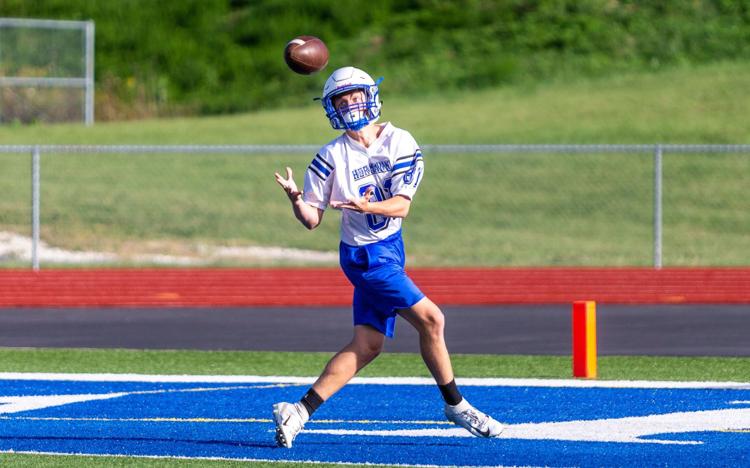 Hemeyer has been lights out in both sports. He has four touchdown catches this season, all at the most opportune times. He also anchors a strong defensive secondary.
Hermann is 5-2 in football following a Four Rivers Conference loss Friday to unbeaten St. Clair.
Hemeyer set a school cross country record Sept. 21 with a clocking of 16:36.10 at the Missouri Southern Stampede Invitational in Joplin. He lost his shoe in that race after a competitor accidentally stepped on his foot. Yet he carried the shoe — with a timing chip in it — the rest of the way, making the performance even more impressive.
"That just shows the kind of athlete that he is," Morris said. "He can overcome any obstacle."
Hemeyer's intestinal fortitude has caught the attention of students all across campus, who still marvel at his ability to balance a jammed-packed schedule.
"When he first told me of his plan, I asked him, 'Are you nuts?' " said Hermann senior wideout Keegan Head, who is also one Hemeyer's best friends. " 'Why are you doing this? What are you trying to prove?' Then, I realized that he just likes being involved in a lot of different things."
Hemeyer's mother, Kris, also marvels at her son's ability to handle an overpowering workload.
"At first, I didn't know what to think of the idea," Kris said. "But he's making it work. I've got to give him credit for that."
Hemeyer will be the first athlete in school history to letter in five different sports. He plays on the basketball and baseball teams and also run track for the Bearcats.
Last spring, Hemeyer helped the 3200-meter relay team to a second-place finish at state with a nifty anchor time of 2:02. He also finished third in the 1,600.
A straight-A student, Hemeyer said he realizes his college future lies in track and cross country. That's why he came up with the doubleheader idea in the first place.
Initially, he wasn't sure Emmons would go for the idea.
"It was almost like a joke, I wanted to see how he would react when I brought it up," Hemeyer said. "But he liked it. He talked (with Morris) and said he could make it work. That's all I really wanted to hear."
Hermann is enjoying success in both sports. Which might create even more pressure for Hemeyer down the road. The Bearcats' cross country district meet at Linn likely start around 12 hours after Hermann's first-round playoff game. A second-round football contest could come on the eve of the Class 2 state cross country meet in Columbia.
Morris said his squad has high hopes entering the postseason. A top-10 finish for Hemeyer is a distinct possibility. The football team also ranks in the upper echelon of the Class 2 District 5 standings with hopes of making a serious playoff run.
"That's would be great, a fun challenge," Hemeyer said. "I can't wait."