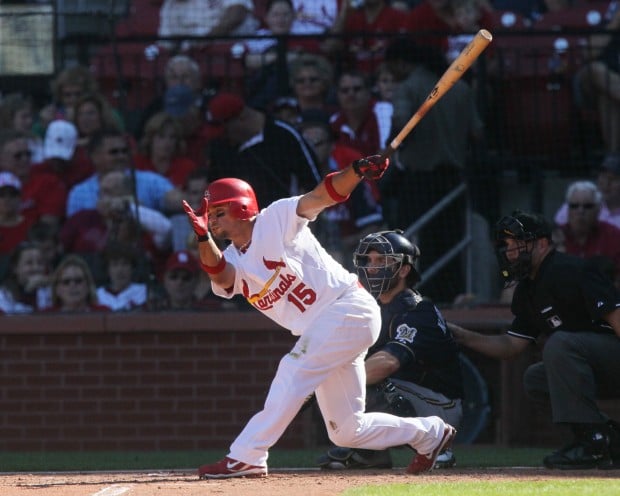 Shortstop Rafael Furcal has made a strong impression on his new team. Furcal says the feeling is mutual.
Stopping short of offering his hopes for next season, Furcal made clear that he is open to hearing what the Cardinals may have to say about making him part of their 2012 team, or possibly beyond.
"I love the city," Furcal said. "I'd want to play for St. Louis."
The Cardinals increasingly appear in a pre-emptive stance before re-entering talks with pending free agent first baseman Albert Pujols. The club must make decisions on Chris Carpenter's $15 million option for 2012, pending free agent right fielder Lance Berkman and arbitration-eligible second baseman Skip Schumaker.
General manager John Mozeliak indicated last month the club intends to assume Adam Wainwright's two-year, $21 million option, and the club is also expected to pick up catcher Yadier Molina's option for next season.
Furcal, on the final installment of a three-year, $27 million contract, represents a potential short-term answer at a position that has bedeviled the club in recent years.
"I've got to sit down and talk with my agent about business," he said. "I haven't done that yet. But we're open. Everybody knows what I can do if I'm healthy. I know that. Right now I feel pretty good."
Mozeliak has yet to open talks with Furcal's agent, Paul Kinzer, but says he hopes to do so this month.
A hand fracture and oblique strain have conspired to limit Furcal to a .209 average in only 69 games this season. Mozeliak acquired Furcal from the Los Angeles Dodgers on July 31 primarily to boost the team's inconsistent infield defense but also to evaluate him as a possibility for the future. Mozeliak said Sunday that he has seen enough to place the retention of Furcal on his to-do list before free agency arrives in November.
Furcal has appeared in 30 of 32 games since the trade, and at age 33 he insists he can handle the workload.
"I feel terrible when I don't play. That's the truth. I'm not good coming off an off day. I love to play baseball. That's probably what I got hurt so much. I love to play," Furcal said.
A career National League player, Furcal says he has long admired St. Louis' love for the game. Though he has remained a relative homebody since arriving in town, Furcal has seen enough of the market to feel comfortable in a new city and his new clubhouse.
"This has been a terrible year," said Furcal, a .282 hitter. "I haven't produced. Right now I'm concentrating on playing good defense. I'm not a career .300 hitter. But I can hit .290, maybe .300 and score 100 runs with the guys they've got over here."
Infielder Tyler Greene, catcher Tony Cruz and outfielder Adron Chambers will join the club today after Class AAA Memphis concluded its season Monday. Greene retains the Cardinals' stolen base lead (nine) after appearing in 51 games this season. Cruz hit .258 in 62 at-bats spread over 34 games before being optioned to Memphis last month. Chambers will make his major-league debut after constructing a solid season that included a .273 average, .370 on-base percentage, 72 runs and 22 steals. Their promotion will bring the Cardinals' number of call-ups to six.
•Though Furcal could return next season, the club also hopes to give significant playing time to Greene at shortstop during the next several weeks. "He's never had a prolonged period (of playing time)," manager Tony La Russa said before Monday's 4-1 loss. "He's had the kind of year in Triple-A that you have to give serious consideration. He wants to be an everyday player — that's what he should be thinking about."
• Molina returned to the lineup Monday after missing two games because of a calf strain. Molina contributed a one-for-three game that raised his average to .295.
• Shane Robinson made his first major-league start since 2009 Monday when he manned center field. Robinson missed much of this season because of hand and facial fractures suffered in a May outfield collision with Memphis.