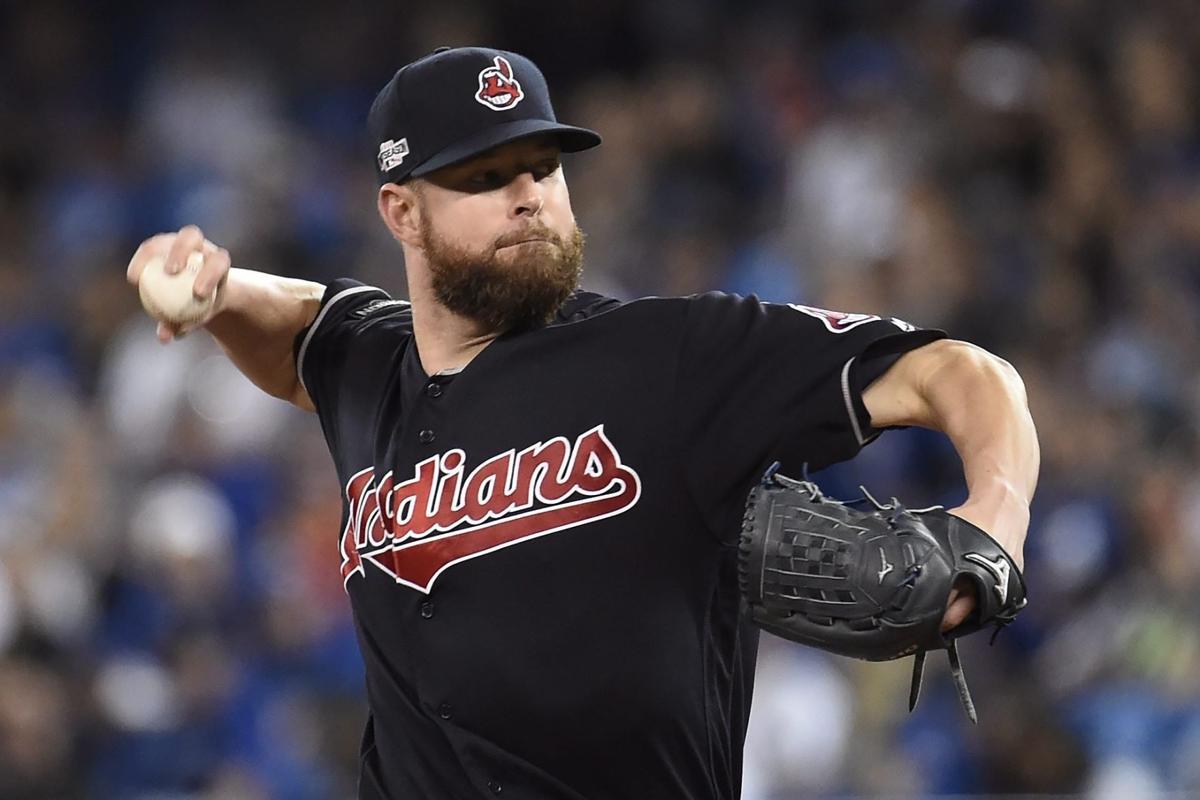 CLEVELAND • The San Diego Padres coveted an outfielder who could hit. The Cardinals had their eyes on a starter who could sink a fastball.
Cleveland, which wanted little, got more than it could have ever hoped.
For playing middle-man, Cleveland got an ace.
Corey Kluber, who joined Cleveland with the help of the Cardinals, will start Game 1 of the World Series on Tuesday at Progressive Field. The righthander, a Cy Young Award winner in 2014 and possibly again this fall, will become the first Cleveland pitcher to start a World Series Game 1 at home in the club's history, doing what Bob Feller or Bob Lemon never did. Six years ago he was the least recognizable name in a three-team deal that sent outfielder Ryan Ludwick to San Diego, brought Jake Westbrook to the Cardinals, and the unheralded, undistinguished Kluber to Cleveland.
"I was trying to find someone to play left field because we were 30th in baseball in offense out of left field, and we needed someone to be a threat behind Adrian (Gonzalez)," said Jed Hoyer. "There was no one on the market that year to get."
Hoyer was the Padres' general manager and the architect behind the three-team trade that now, as the general manager of the Cubs, he'll face the results of Tuesday.
As the trade deadline approached in July 2010, the Cardinals sat tied atop the National League Central on July 28 and the Padres had the best record in the league, at 59-40. Hoyer and Cardinals general manager John Mozeliak began discussing their needs, and the Cardinals' ability to replace former All-Star Ludwick in the lineup with surging Jon Jay meant they could do a deal. Mozeliak did not want to deal from the major-league team without getting a major-league need back in return, he said later. He had coveted Westbrook, a veteran sinkerballer who had long been a match for the Cardinals and would give them needed innings.
If Hoyer could get Westbrook from Cleveland, then the Cardinals would flip Ludwick to the Padres for Westbrook and a minor-league pitcher. A Cardinals official later credited San Diego with orchestrating the deal.
"That was the genesis," Hoyer said as the Cubs took batting practice Monday afternoon at Progressive Field. "Mo would trade me Ludwick if I could get a starter. He didn't want to make a deal for a prospect. He wanted Westbrook."
That was, perhaps, before the Cardinals saw the prospect that Hoyer gave up. Kluber was not ranked among the Padres' top 30 prospects. In the aftermath of the deal, the Cardinals front office wondered if they had any of a handful of pitchers who might have made a better offer — and they could have just landed Westbrook and kept Ludwick. Not one of the teams was really sure what Cleveland had landed in Kluber. Neither was Kluber.
In his first full season in Cleveland's organization, the righthander went 7-11 with a 5.56 ERA at age 25. The Triple-A team did not put him in the playoff rotation. He got 4 1/3 innings in the majors that summer and 63 the next. In May 2012, he took a leap not unlike one former Cardinals pitching coach Dave Duncan often urged pitchers like him to make.
He threw a sinker almost exclusively in a game.
Kluber focused on the pitch that made Westbrook desirable.
The son of a Cleveland fan, Kluber could spin a slider and he had a good feel for an assortment of pitches, but by straying from a four-seam fastball to the sinker he was able to unlock his game. He went 11-5 in 2013, earning a regular spot in the major-league rotation. In 2014, a year after Westbrook retired and Ludwick's final season in the majors, Kluber won the Cy Young with an 18-9 record, a 2.44 ERA and 269 strikeouts. In 2015, the Cardinals got an eyeful of the pitcher he had become. He struck out 18 to set the record for a pitcher in an interleague game. This season he went 18-9 with a 3.14 ERA and 227 strikeouts in 215 innings. He led his club in all significant pitching categories.
It took three teams to get him to Cleveland.
Two teams remain as he starts Tuesday.
SCHWARBER APPEARS SET
The Cubs have been able to extend their season long enough to probably get one of last October's breakout sluggers back in the lineup. Kyle Schwarber had a hit in the Arizona Fall League on Monday, passed all of his baserunning tests that afternoon and was scheduled to fly to Cleveland late Monday. The Cubs appear likely to add him to the roster Tuesday morning.
Schwarber, 23, played three games this season before rupturing two ligaments in his left knee. The surgery to repair the damage was supposed to cost him the season. Except, the season kept going.
Schwarber hit 16 home runs in the regular season and another five in the playoffs last year. The access the Cubs have to a designated hitter in Games 1 and 2 of the series helped influence the decision that could put Schwarber not just on the roster six months after the injury but in the lineup.
"He's saving his hits apparently because he keeps hitting the ball right at people," Cubs president Theo Epstein said. "Theoretically … if we decide to put him on and Joe (Maddon) decides to DH him he would have more of a chance to impact the series."
CLEVELAND CATCH-UP
Cleveland starter Trevor Bauer (lacerated little finger) faced a handful of hitters during a workout Monday and is set to start Game 2 of the Series if he's able to recover. Bauer had to be removed from the first inning of his ALCS start because a cut on his right hand opened up. Bauer injured the hand while repairing a drone. … Cleveland will add righthander Danny Salazar to the World Series roster Tuesday. Salazar was an All-Star this season with a 3.87 ERA and 161 strikeouts in 137 1/3 innings, but he strained his forearm and has not appeared in a game since Sept. 9.