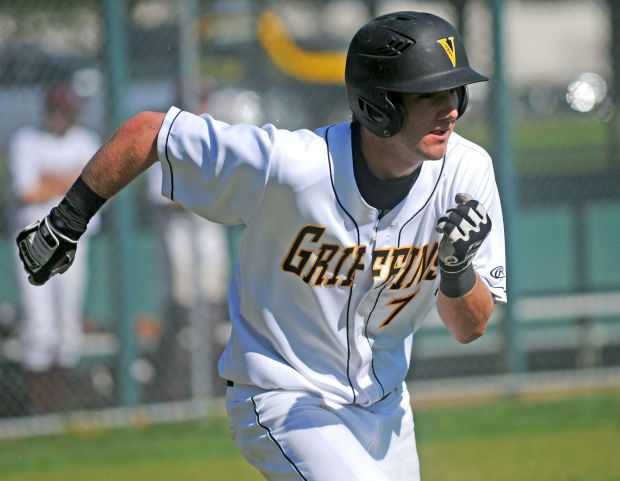 Former Vianney High multi-sport standout Nick Allgeyer was selected by the Toronto Blue Jays in the 12th round of the 2018 MLB Draft on Wednesday. The 6-foot-3 lefthanded pitcher, who played three seasons for the University of Iowa, was taken with the 356th overall pick.
Allgeyer appeared in 47 games during his Hawkeyes career. He started 15 games as a redshirt junior, compiling  a 5-4 record with a 2.41 ERA and 95 strikeouts over 97 innings pitched. 
Other players from the St. Louis area who were drafted Wednesday:
• CODY HACKER: The 5-foot-11 strikeout artist at Holt High was selected by the Baltimore Orioles in the 15th round (445th overall). Hacker was one of the top strikeout pitchers in the St. Louis area, recording 92 in his senior season. He posted a 7-1 record in nine starts and a 2.04 ERA in 48 innings pitched. Hacker held opponents to .153 batting average against, walked only 22 batters.
• MICHAEL WIELANSKY: The 6-foot-2 junior from Ladue High and the College of Wooster was selected by the Houston Astros in the 18th round (552nd overall). Wielansky posted a .401 batting average and scored 76 runs in 50 games played this past season. Wielansky helped the College of Wooster to a 40-win season by collecting 20 doubles, seven triples and six home runs while slugging .665. He also tied for the team lead with 17 stolen bases and carried a .966 fielding percentage at shortstop.
• BRADY SCHANUEL: The former Belleville East standout was selected by the Milwaukee Brewers in the 27th round (815th overall). The 6-foot-3 righthanded pitcher posted a 5-7 record this past season for the Iowa Hawkeyes. He started 13 games and pitched 53 innings, compiling a 5.94 ERA with 65 strikeouts.
• ZACH NEFF: The 6-foot lefthander and former Gibault High standout was selected by the Minnesota Twins in the 31st round (934th overall). Neff started his collegiate career at Austin Peay, where he made 12 starts and pitched 136 innings. He transferred to Mississippi State, where he made 24 appearances this year, compiling a 3-2 record with two saves in 41 2/3 innings. He struck out 35, walked eight and had a 3.46 ERA. 
• SAM GRACE: The Francis Howell North ace was drafted in the 40th round by the Baltimore Orioles (No. 1,195 overall). The righty started 10 games for the Knights in his senior season and posted a 5-3 record. He threw 44 1/3 innings as a senior and posted a 2.53 ERA. He collected 80 strikeouts and held opponents to a .161 batting average against. Grace is signed to play baseball at SIU Carbondale.
This blog will be updated whenever players with ties to the St. Louis area are drafted.