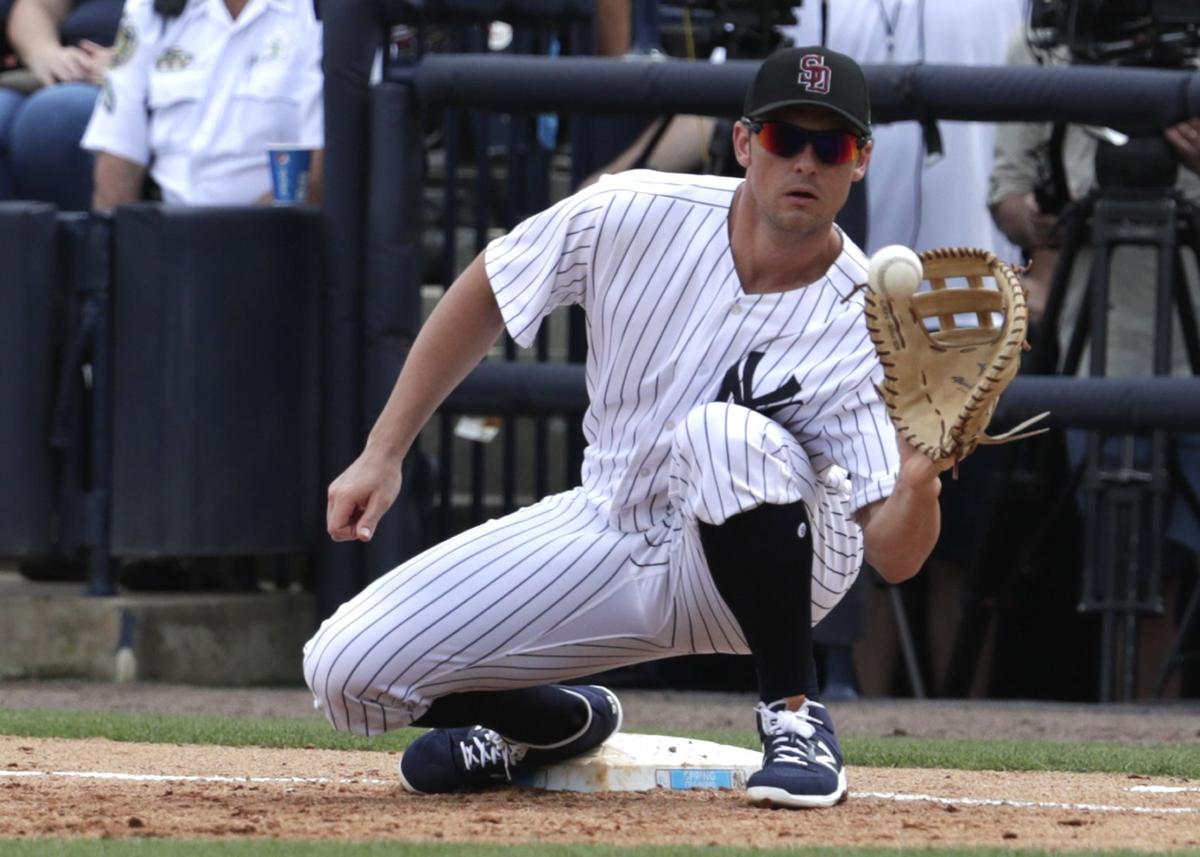 Oft-injured New York Yankees first baseman Greg Bird had surgery on his ailing right ankle and could be sidelined for nearly two months.
The Yankees said Tuesday's operation went as planned.
"Obviously, we were hoping it was going to be a shorter-term thing," first-year manager Aaron Boone said Monday when the intended operation was announced. "But we feel like we got some answers. We feel like we know what the surgery's going to accomplish."
Bird had surgery to remove a small broken spur on the outside of the right ankle. Dr. Martin O'Malley operated at the Hospital for Special Surgery in New York.
The slugger is expected to be out for six-to-eight weeks.
"Hopefully this is something he will now put behind him for good," Boone said. "We feel pretty good that the surgery is fairly minor and they're going to go in and correct the problem. Then he should be good to go."
Tyler Austin, who had been slated to start the season at Triple-A Scranton/Wilkes-Barre, will likely get the bulk of the time at first base in Bird's absence.
Marte gets $24 million • Infielder Ketel Marte and the Arizona Diamondbacks finalized a $24 million, five-year contract, a deal that contains a pair of club options that could make the agreement worth $46 million over seven seasons.
The 24-year-old was on track to become eligible for salary arbitration next winter and for free agency after the 2022 season.
A switch-hitter who plays both middle infield positions, Marte was obtained from Seattle after the 2016 season and filled in when shortstops Nick Ahmed and Chris Owings were hurt last year. He batted .260 with five homers and 18 RBIs in 73 games.
Murphy to miss start of season • Washington Nationals second baseman Daniel Murphy is headed to the 10-day disabled list as he recovers from offseason surgery on his right knee.
The Nationals put Murphy and righthanded reliever Joaquin Benoit on the DL on Tuesday. Murphy had surgery on Oct. 20 and been expected to miss the start of this season.
Hughes goes on DL • Minnesota Twins righthander Phil Hughes is beginning the season on the disabled list with a strained left oblique.
Twins manager Paul Molitor said before an exhibition game against the Washington Nationals on Tuesday that the 31-year-old Hughes is "still in the mix" to pitch April 11, the first time Minnesota will need a fifth starter.
Last season, Hughes went 4-3 with a 5.87 ERA in 14 appearances, including nine starts.
Arrieta allows four runs • Jake Arrieta felt fine after his second spring training start with the Philadelphia Phillies, and that was more important than the mediocre results.
Arrieta allowed four runs, seven hits and struck out three over three innings in the Phillies' 5-5, nine-inning tie against the Pittsburgh Pirates. He also had a balk and a throwing error on an errant pickoff attempt to first base.
Dodgers donate $2 million • Dodgers owner and chairman Mark Walter says the team is donating $2 million to support rebuilding efforts in Puerto Rico after last year's devastation caused by Hurricane Maria.
Infielder-outfielder Kike Hernandez and his fiancee Mariana Vicente selected the charity and added over $225,000 earned through their fundraisers.
Mariners eye Werth • The Seattle Mariners are expected to sign Jayson Werth to a minor league contract, a deal contingent on a successful physical.
Manager Scott Servais said before Seattle's spring training finale on Tuesday that Werth's name was brought up about a week ago and the Mariners believe there may be an opportunity for him to get some at-bats at Triple-A.