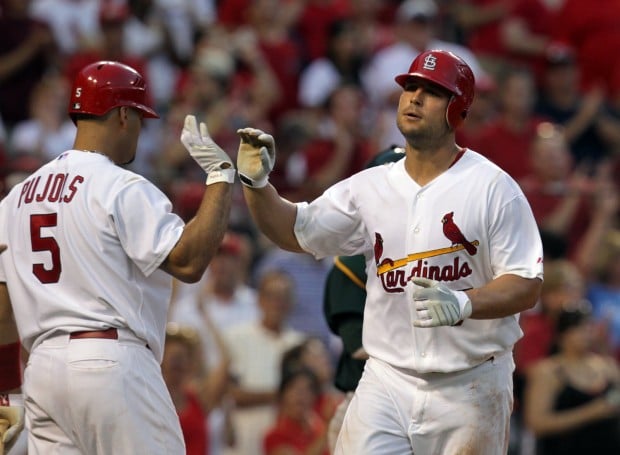 Post-Dispatch reporter and columnist Joe Strauss had a term for the feast or (mostly) famine attack we saw from the Cardinals last week. In today's sports archive feature we do something a little different and turn back the clock to this chat with El Diablo from August of 2010.
Joe Strauss: All right, sports fans. The Tsunami is rolling through the Busch Stadium press box as half of a Cardinal fans summer fantasy, day ball and full-contact chat!!! The draft's done, the Cardinals are readying for the second of a two-game set against the Brewers and the fan base is in full cardiac arrest over the team's retreat to two games behind the Cincinnati Reds. What could be better for business? Let's get today's session rolling. Feel free to ask the standard, the bizarre and anything relevant to the game as it progresses. This could get a little dicey. Again, no boogie boarders allowed.
trav40: Joe why can't we win against losing teams? Seems to me that it is either a lack of effort or looking past the lesser opponent either scenario is a fatal mistake. Do you think we will sign a third baseman?


Joe Strauss: Entering today, the Cardinals were hitting .232 against the Brewers, .273 against the Cubs, .254 against Houston and .311 against Pittsburgh. They had averaged 5 runs per game against MIL, 6 against the Pirates, less than 4 versus Houston and 4.4 against the Cubs. I wouldn't cite lacking effort. This is a lesser defensive team and an inconsistent offensive one. Last year's 91-win bunch produced the Python Offense that would gorge for a day or two then slumber for almost a week. The Cardinals just emerged from a run of 10 consecutive games in which they scored four runs or more. Since they have scored 2, 7 and 2 runs. Through six innings today Randy Wolf is feeding them a two-hit shutout. This ain't new.
---
DE_Schmitt: Joe, what happened to the arch design in the outfield grass at Busch? Thanks. I couldn't find the Bill Findley chat on the Cardinals website.
Joe Strauss: To be honest, I haven't asked. But the brutal St. Louis summer has taken its toll on the field, which was resodded during the last road trip. It's a big threadbare just beyond the infield and in foul territory on the third-base side. Maintenance is much more of a challenge. Things haven't looked as good since the Eagles concert. Coincidence? Perhaps... And here come the Cardinals!!!
---
dub the beachcomber: Joe, is there any chance we'll see Tyler Greene at third base? Is there interest in any third basemen going through waivers? Does the team have the ammo to make a trade happen? Thanks
Joe Strauss: When the Cardinals optioned Greene Tuesday, they sent along orders that he receive much exposure at third base while with Memphis. As the team waits on Greene, it remains glued to the waiver wire to see who is available. So far the options have not been palatable. There is much urgency to upgrading the position as names like Craig Counsell, Brandon Inge, Edwin Encarnacion and Geoff Blum circulate. Two weeks ago the Cardinals believed they could be picky. Not anymore. John Mozeliak would like to make something happen ASAP. Problem: The Atlanta Braves are now in the same market following the loss of Chipper Jones for the rest of the season.
Game Update: Waino' zips through the first inning. The Cardinals badly need Waino' to be bueno today.
Richfromiowa: Hey Joe, I have a simple question. Where are the 3rd base prospects in the Cardinal minor league system? It appears that the cubboard must be bare there. Sure is getting old trying to watch middle infielders play the position.
Joe Strauss: Matt Carpenter is an interesting talent at AA Springfield. I've caught his act a couple times this summer. He appears to be a plus glove with a strong arm. He moves well. The pre-season "Third-party publication" prospect rankings whiffed on him, but what's new? Former top position prospect Daryl Jones is in his third year at Springfield, not exactly an endorsement.
---
Steve: Joe:
Why doesn't TLR use Aaron Miles at 3rd. I cannot believe he would be any worse than Lopez and he can hit. As far as I am concerned he cost the Cards the game tonight. Garcia would have pitched a shutout and probably for at least 7 innings instead of 6. Heck bring up the guy from AA he could field better than Lopez; and Lopez isn't hitting anyway.
Just how many games has Lopez cost us?
Joe Strauss: I sense a rhetorical question. Lopez has been overexposed the last month. He is not a comfortable third baseman (obviously) and his offensive struggles have only fed his struggles. During a postgame visit to Club Flip after Tuesday's game, he accepted responsibility and seemed embarrassed by the role his defensive lapses played in the game. Still, I've rarely heard the Cardinals be as up front about a need as they are currently about fortifying third base.
---
mtomto: ChatMeister--I'm weighing in early.

Are you willing to go on record about this team? Do YOU think it can do anything on post-season, ASSUMING it wins the Central--And that's a major assumption. I say no (to winning the Central) and no (obviously beyond that). Just can't see it.

Do you have the Kool Aid cup in hand?
Joe Strauss: Just got back from the FSMidwest booth so I am on a major sugar rush. Watching Jim Hayes inflate balloons is a treat. The man is a true master at his craft.
Seriously, one doesn't have to ride shotgun with TLR on Opening Day to believe this team is talented enough to win the division and advance in the postseason. Any team with two frequently dominant starters such as Wainwright and Carpenter has a chance in any series. Once into October, the Cardinals and Phillies appear especially imposing.

Interestingly, the ChatMeister believes that the two teams with the biggest divison leads -- San Diego and Texas -- would likely be considered the longest shots to win the World Series.
I still believe the Cardinals emerge from the Central. But I can certainly understand the fan base's agitation over a bunch whose performance deviates so wildly day to day.

And, yes, I am swigging from a Cal Eldred autographed Kool Aid cup. ("Oh Yeah")
---
azbruce: Mr. Strauss:

If a confrontation with the other team is what it takes to get the Cardinals fired up to play a hard nine, then there is something seriously wrong with the team. Even though the Cardinals are a flawed team, which you have said on several occasions, they is absolutely no sound reason for their playing down to inferior teams like the Astros, the Cubs and the Brewers. I believe that tendency falls squarely on the shoulders of the manager; but he is too busy tipping his cap to the other pitcher or to the other team to even consider that the Cardinals' inconsistent play might have something to do with his leadership. I realize it's too late this season, but is there any hope that the manager won't be back in 2011?


Joe Strauss: There is the chance that this is TLR's last rodeo. But I find it hard to categorize this season as a referendum on his leadership. Yes, there have been several isolated incidents in which TLR and key players have had friction. The issues with Colby Rasmus have been real and are not completely resolved. (The latest occurred Tuesday when Rasmus believed himself unavailable due to a strained right calf before being sent out as a pinch hitter.) What you hope for, others fear. Again, if the team is fundamentally flawed, to what extent is that the manager's fault?
---
Phil: Now granted, the Troy Glaus trade didn't work out too well because of injuries, but why in the world did we trade Scott Rolen in the first place? I know his offense had dipped, but wouldn't you rather have Rolen there now instead of Lopez et al?

Also, do you think John Jay is the real deal? And why would Jay be lifted for Craig, even if a lefty was pitching?
Joe Strauss: Rolen demanded to be traded due to his differences with TLR. He was also a physically diminished player at the time. For Mo' to acquire Troy Glaus (who amassed 99 RBI in 2008) with such little leverage appeared a master stroke. Even had the Cardinals retained Rolen, he would have been a free agent after this season. (The deal Rolen struck with the Cardinals in 2002 also included a $4 million bonus at the end of this season.) There was no way the relationship between Rolen and TLR could be salvaged, especially after TLR's broadside of the third baseman at the 2007 winter meetings. Rolen will appear on many MVP ballots after this season. Flip is struggling at an uncomfortable position.
As for Jay, I'm intrigued. To anoint him an everyday major-league player at this point is premature. He at least fits within a RF platoon for '11. Healthy, he is an intriguing talent.
TLR (who was still suspended) didn't seem enamored with with the Craig-for-Jay move in Saturday's loss to the Cubs. I don't think many were.
---
Catman: Joe Almighty,

The Cardinals appear to be stuck with continued 3B defensive miseries! Flip has slowly crumbled under the stress defensively which now has also negatively effected his hitting. Tony and Mo seem to be trying to resolve the problem, but without any in house options and no Inge or Wigginton on the horizon, it seems like the Cardinals just might be in serious trouble! Their season long lack of defensive depth at 3B (and 2B if we're honest)just might be enough to hand the Reds the NL Central title! Your thoughts, O Wise One?!
Joe Strauss: I agree with your assessment about this team's infield defense. It has been porous for much of the season, especially at third base and second base. Even Brendan Ryan has had fitful periods. These elements were introduced during spring training as potential speed bumps. They then became potholes. Now the issue is a sinkhole. Anyone who didn't envision depth as a serious issue with this club wasn't paying attention in March.
---
Rick Welty: Yo Joe,

Should we be concerned about the innings that Jaimie Garcia is racking up? What do you think the difference is today with pitchers maxing out with throwing 225 innings and 35 years ago pitchers going in excess of 300 innings? Are "kinder, gentler" pitchers being developed today?
Joe Strauss: Certainly complete games are less prevalant today than 30-40 years ago. But the financial commitment to pitchers is exponentially greater. Hence, the practice of treating arms like fine china. The Cardinals are closely monitoring Garcia but deny any intention of shutting him down for an extended period in September.
Because the Cardinals likely enjoy only one more off day this season after Thursday, TLR and pitching coach Dave Duncan are weighing a de facto 5 1/2-man rotation, whereby Waino', Carpenter, Westbrook, Lohse, Garcia and Suppan could make starts in one turn and either Lohse, Suppan or Garcia deleted in the next turn. Make no mistake: Westbrook was a significant addition due to concerns over Garcia's durability and Lohse's return from May surgery. It's what TLR and Mo' meant when they insisted July 31 that the team couldn't win if it embraced the status quo.
---
Redfeather: Hi Joe;

Joe, being a Cardinal beat reporter you're up close to the team, in the club house, press box, etc, watching them up close every night. What is your view of this team in respect to its comaraderie? The veteran, core guys seem to be agitated more and more. We saw it with Carp on Saturday. Is this team losing confidence and focus on the field? How much is the Ludwick deal playing on their minds?


Joe Strauss: There is something to the notion that winning begets chemistry. There have been some dust-ups this season but the manager hasn't engaged a player in a clubhouse wrestling match (Pineilla/Dibble) or physically yanked a player from the field (Herzog/Templeton). It's a less experienced team than typical. It's a quieter clubhouse by Mo's own admission. If there was a general thread of discontent within the clubhouse it would be a story by now. There have instead been anecdotal examples of impatience, not insurrection. The Ludwick trade represented a significant irritant to numerous players. Now that Westbrook is here, contributing and fitting in, the disapproval is less vocal. But are some waiting for offensive help? Absolutely.
---
dn3524: Hi Joe.....2 parter:

1) Can you think of any team that throughout the season showed poor baserunning, poor infield defense, and poor offensive situational hitting, and then went on to playoff success? In all seriousness, is there really a point to this season? Reality bites.

2) In the early years of the decade TLR (and the rest of us) struggled to understand what made a certain LH hitting OF from the South tick. Eventually he left in a trade, albeit one that has paid huge dividends for StL. Flash forward...again, TLR seems to have difficulty with a sensitive young LH hitting OF from the South. These guys are quiet, and the fire is within, not without. Now, JD may get hurt a lot, but the kid has had a nice career for many winning teams. I fear Colby will be dealt since Tony doesn't know what to do with a personality like his. Mo is smarter than that, eh? To deal a cost controlled VERY young player like that? Right?

Joe Strauss: Can I think of a team that played like this one? Yes, 2006.
As for the comparisions between JD and Colby, it's true that TLR had frustrations with both. Drew was involved in arguably a deal that transformed the franchise for the next several years, perhaps more, as it hinged on Atlanta Braves pitching prospect Adam Wainwright being included in the package. My information is that Colby was especially uncomfortable playing under TLR earlier this season. Indeed, that may have even been communicated to the front office. However, Rasmus also enjoyed a highly productive first half. Many players have chafed at times under TLR, Rolen and Jim Edmonds among them. Yes, Ryan Ludwick found it difficult to comprehend TLR's daily lineup machinations. Those players who endure trust the manager's judgment and style. Brendan Ryan admitted during spring training that can be a very difficult thing for a young player left at the bottom of TLR's caste system. But it's reality.
---
KidTwist: What's your take on the draft? The team calls it a "three-run homer." I think they did well to sign their top guys, but I do have a problem. The Cardinals lack good position player prospects and the top guys they signed are Zack Cox and pitchers. You can never have too much pitching, but shouldn't they have grabbed another bat early? Signing Wilson would've more than made up for that. And did they really not offer him anything? Surely, in a situation like that, you throw out some obscene number and see what he says and if he says "no" at least you tried.
Joe Strauss: The ChatMeister have often been critical of the Cardinals drafts and player development under Luhnow. Perhaps some of that critique has been spurred by third-party publications distorting the system's depth (2009) and its inadequacies (2010). My sense is that the Cardinals may realize as much return on this year's draft than the much-discussed 2005 draft. Cox may eventually wind up at second base. The Cardinals aggressively pursued high-ceiling pitching, which is the game's universal currency. The Wilson pick was a flier. To criticize the Cardinals for not signing him is a little severe since no other club thought it worth more than a 12th-round pick whose talent screamed first round. I'm willing to allow Luhnow his three-run homer. But replay is also available.
---
IlliniAmy: Joe,

I can only guess that since no official statement has been made, you won't be able to comment on this, but I'm going to dare to ask anyway...why has Mike Shannon been missing so much time this season? Should those who would be so inclined pray about his health?

Is this a sign that he might be deeply contemplating retirement or semi-retirement (home series only and/or limited road trips like Ron Santo)?

Has he been attending the Blago trial?

On a completely different topic, last night is a prime example of why I believe ERA is a more accurate reflection of a pitcher's performance than W/L when voting on the Cy Young. If it were possible to assign the loss to a fielder, Felipe Lopez certainly deserved it last night. I'm not advocating giving the Cy Young on one statistic only, as I think lots of pitching statistics need to be evaluated, but I just felt a need to throw that out there on behalf of those of us who thought Carpenter and Lincecum had a narrow lead over Wainwright in 2009 (not so in 2010).


Joe Strauss: No need to overdramatize. Mike has gone "on assignment" a number of times this season. The man is in his 49th season with the Cardinals and his 39th in the broadcast booth. The club has increased Rick Horton's radio exposure while also giving time to Mike Claiborne. Shannon still seems to embrace his role. I can't speak to his future plans but this is the final year of his current contract. Everything I've heard says Shannon is the Voice of the Cardinals for as long as he desires.

As Waino' is learning today, run support is also a central element. I'm still convinced Wainwright deserved last year's Cy Young Award. Nothing that has happened since would cause me to change my mind.
---
Terrapin03: El Diablo,
Kyle Lohse's first victory since May 17 occurs at the Pujols Family Foundation 5-man scramble. Can you confirm that his contributions were limited to the first 7 or 8 holes before sitting out the rest of the round?
Joe Strauss: That's a red card, sir. You're off the pitch.
---
jjglover: Three games lost by four total runs. Baseball is definitely a game of inches, but nothing has gone the Cardinals way in the last three games. We have errors, curve balls thrown by Jaime in the middle of the plate that get called as balls (the real reason McGehee got a pitch to hit that far) and even a comeback minus our star hitters on Sunday. Garcia was awesome by-the-way. What are the rumblings for help at third, and how can we get this ball club angry enough to pound on mediocre teams? What is the real reason for the lack of desire in this team? Be specific if you can.
Joe Strauss: Inability to score makes a team look flat. I don't interpret it as a lack of desire but a lack of performance. This team has been overly reliant on its starting pitching for most of this season. Fans and perhaps the front office became infatuated with Jay after his lightning July. Allen Craig is hitting less than .200. Lopez, Molina, Ryan and Schumaker are not power hitters. Without Ludwick and Rasmus in the lineup, teams are willing to take their chances attacking seven spots in the order while daring Pujols and Holliday to expand their zones. I don't know what anger is going to change.
---
Mike: Any update on the possibility of a new Stan Musial statue?
Joe Strauss: I believe ownership is open to the possibility but first desires input from The Man. For an organizaton that has campaigned fervently for Musial to receive the Medal of Freedom, it seems a lay-up to commission a statue befitting him. To be kind, the current monstrosity is weak. I'm sure the more ownership hears/reads the fans speak out on this, the more quickly it may move.
---
Dave M: Joe: We have no 3rd baseman, no 2nd baseman of any relavance, a shortstop that can catch but can't hit his weight(typical of most NL teams for some reason) and an up and dowwn pitching staff. Does the manager and GM get passing grades for this debocle or should one or both be looking for work next year?
Personally I like door number two. What say you?
Thanks, Dave
Joe Strauss: So much for St. Louis' fan base being described as super tolerant. The club has lost four of five (Brewers, 3-2: Final) but is 12 over .500 with 44 games remaining. It needs a 26-18 finish to win 92 games, 25-19 to match last year's win total and 24-20 to reach 90 wins, which The Tsunami has projected will win the division. Mo' just agreed to a three-year extension. TLR has been told by ownership he's Cardinals manager as long as he desires.
There's an undercurrent within this organization that the club is more flawed than what is admitted publicly. There are several possible explanations for that.
This team requires adjustments after the season. More on that later.
---
iirishluck: I am a fan of TLR's reign here, but I am starting to wonder if this is about it for him here.

Do you get the feeling that TLR's message is getting stale in the locker room, and if so, is this TLR's last year managing here?
Joe Strauss: It's a question I have sought to ask but he isn't ready to answer. Approached about his status last week, TLR said the timing was inappropriate. The organization has allowed him to answer the questino about his return. So, in effect, no one else's opinion really matters.
---
TCC: This may be blasphemous but can this team be better without Albert, I only ask because I feel like if he really wanted to be a Cardinal in 2012 he would have already signed this off season? I do realize that #5 is a business man and he has no obligation to anyone but himself and his family but as time moves forward I feel like we have less and less chance Pujols will retire a redbird.


Joe Strauss: I'm posting your comment because a number of others have expressed a similar sentiment. The Cardinals face a difficult philosophical decision. This team faces numerous decisions within the infield and its bench. The club prefers to retain Pujols but not at any price.
---
Andy: Any chance that Daniel Descalso is promoted? He seems like a solid player...
Joe Strauss: His promotion would be largely determined by potential playing time. TLR is not a big fan of promoting players as a reward for a strong minor-league season. Descalso should be considered one of the team's top five position prospects. The final answer may be dictated by whether the front office believes him to be a viable option for 2011.
---
Mark G.: Chatmeister,

As much as I'd like to see Waino win the Cy Young, it already seems like he's being hosed by the national media. On a Rob Neyer chat, someone rattled off the list of categories in which Wainwright is leading the league, and Neyer countered that Roy Halladay has the edge in park effects and K/BB. Park effects, really? I know that it's fashionable to say a Cy Young shouldn't be decided on a stat like wins, but park effects? Give me a break. Like Bernie said, there's a good chance Waino will be the best pitcher in the league for 2 years running, and have no Cy Youngs to show for it.

Speaking of awards where the Cardinals will get jobbed, any chance Ryan wins a Gold Glove this year?
Joe Strauss: I don't know if Neyer votes on the Cy Young or not. If someone wants to prove they're the smartest kid in the room, they can find any of dozens of metrics to make their case. Wainwright has been the league's best pitcher this season, start to finish. To mark a guy down because of where he pitches or his K/BB rate is being intentionall obtuse to prove a point. A guy wins 20 games with an ERA around 2.00. Size me for a dunce cap, but I don't see the debate.
I'm not sure Ryan will receive serious consideration given his offensive struggles (don't underestimate), his midseason fielding funk and his service time. Managers and coaches vote on Gold Gloves, so all bets are off.
---
Joe Strauss: That's a wrap for this week. We went waaaaay long due to the intensity and volume of the questions. I anticipate a larger Tsunami should the team's fortunes not improve or a third baseman be found by this time next week. The Cardinals remain inscrutable after 118 games. In three days they will have less than one-quarter of the season remaining. I just saw the NL's third-worst pitching staff limit them to four runs in two games. The Cardinals had one hit with runners in scoring position in two days.
As an aside, a correspondent for a "third-party publication" ranked Matt Carpenter as the system's No. 2 third baseman last spring but did not list him among the Cardinals' top 30 prospects. (Carpenter hit .219 in the Florida State League after blasting his way through Batavia and Quad Cities. He was the highest-advancing member of the '09 draft class.) So there. That may be damning with faint praise but now you know.
If the Cardinals didn't believe they would make it to the postseason without bolstering their rotation last month, they surely recognize the need for offensive help now. Pujols and Holliday appear stranded on an island. Pujols may get pitches to hit early in games or in blowouts but teams are not going to challenge him in game-changing situations.
The Cardinals have now lost four straight home games for the first time this season. They retreated to two games over .500 since May 3, a span of 3 1/2 months. Like it or not, the Cardinals appear to be playing the role of chaser for at least the next week.