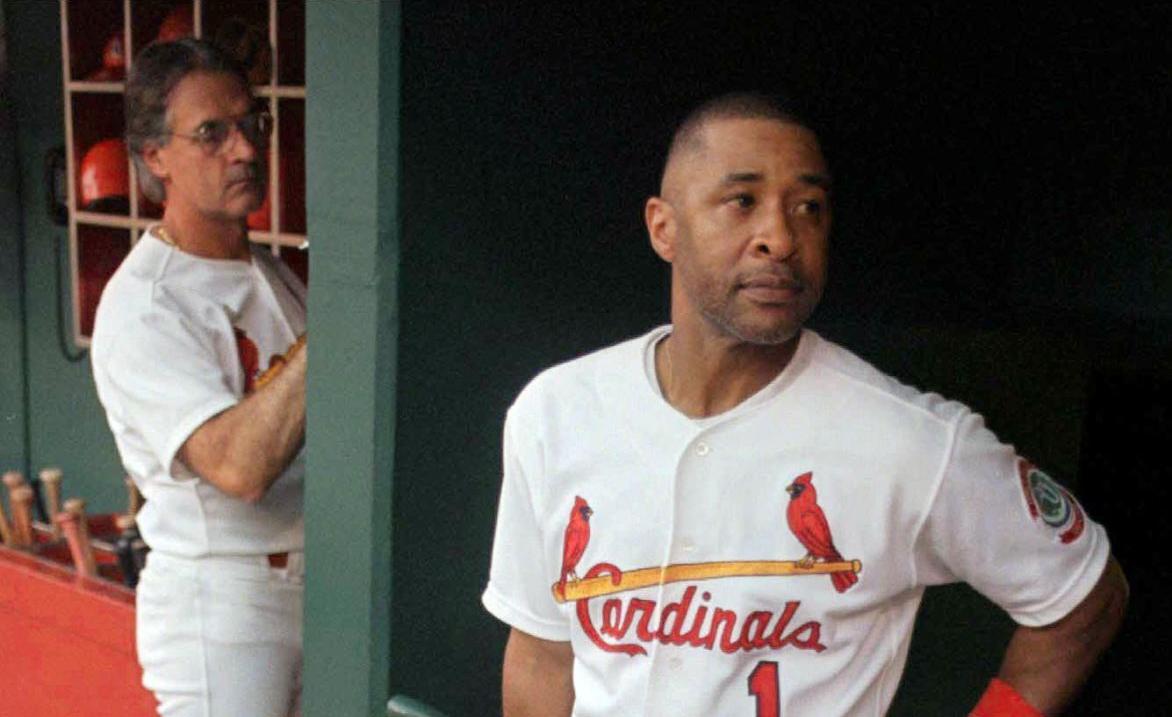 On Feb. 19,1996, Cardinals manager Tony La Russa declared an open competition for the Cardinals shortstop job.  Ozzie Smith would bat .288 with no errors that spring, while newcomer Royce Clayton hit .190 with eight errors. Despite those numbers and the promise of an open competition, La Russa would name Clayton the starter. Here is our original coverage.
On the eve of Ozzie Smith's first workout this spring, Cardinals manager Tony La Russa called the shortstop battle "an open competition."
La Russa said he could understand how Smith, 41, might ask why the competition is open as he begins his duel with Royce Clayton, 26. "The only question that should be raised is (Smith's) performance over the years," La Russa said Monday. "Why is there even a competition at shortstop? And my answer is based on last year. There's a question of how healthy and how reliable he can be."
Smith batted only 156 times and hit only .199 last season, a year in which he had shoulder surgery. Clayton hit .244 with San Francisco.
Smith finally passed an offseason physical and was cleared to play this season, which would be his 15th with the Cardinals.
But La Russa pragmatically said, "This is 1996. You're only as good as the next game or season that you play."
La Russa said the competition at shortstop is similar to the situation at catcher or second base, where the Cardinals also have tried to strengthen themselves by bringing in new players.
"You're seeing us try to protect ourselves and we're definitely trying to get to reliability," La Russa said. "That's being reliable physically and mentally. Up-and-down players don't win as much as consistent players win.
"I've assured Ozzie just as I've assured Royce that all I care about is that the Cardinals have the best chance to win. I have no preconceived notions that Royce has taken the job or that Ozzie will come here and prove to be the best. It's open competition, and that makes a lot of sense."
But La Russa said, "We've got a young guy who is going to be dominating at the position."
However the matter is resolved, La Russa insists the competition and potential depth will be good for the team.
"How can it be negative?" he asked.
"That kind of depth is usually - almost always - really good for the team. Just imagine if Ozzie is playing like he was in his prime and Royce is taking the next step? How can that be bad for our club?
"If somebody's unhappy the day they're not playing, then we'll deal with it when the time comes. But Ozzie is here to be part of the solution, not part of the problem.
"We've talked - Ozzie and I. I was impressed with him physically and mentally and I know he's ready for the challenge. So is Royce."
Though both have said they prefer not to play second base, La Russa didn't rule it out.
"My stock answer is that I'm ready to play the two best middle infielders," La Russa said.
"But I feel good about it because in the past having problems like that usually has been good for our club. I'm not carrying any baggage into this situation. I'm just trying to make it clear that we need to take our best shot - whatever our best shot is."