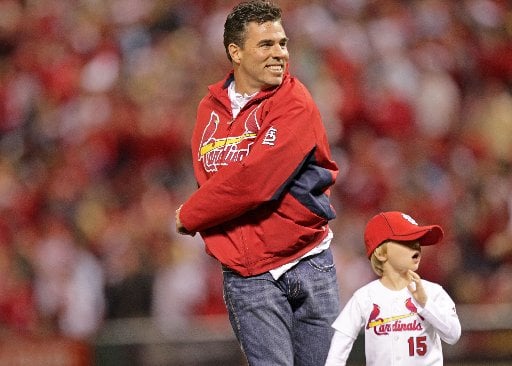 JUPITER, Fla. • A year after signing a nonguaranteed contract without actually returning to uniform, former All-Star center fielder Jim Edmonds may again don No. 15 next month as a spring training instructor for the Cardinals.
The move, yet to be announced or even completely defined by the club, might lead to deeper involvement with the organization, possibly in a consultant role to general manager John Mozeliak.
Mozeliak said Wednesday morning that he was not prepared to comment publicly about Edmonds' responsibilities but confirmed he has invited him to camp.
Initially reluctant, Edmonds has told associates he feels that a year of de facto retirement is enough separation for him to return to the game in another capacity. Edmonds retains a residence and a downtown restaurant in St. Louis.
Edmonds' return occurs after Mozeliak hired former closer Ryan Franklin as a special assistant. Franklin, 38, will advise Mozeliak on personnel and perform regional scouting chores based out of his Oklahoma home.
The Cardinals' saves leader in 2008-10, Franklin entertained the idea of extending his playing career until family priorities convinced him otherwise shortly before the World Series. He discussed a move to the front office while attending two Series games in Arlington, Texas, as Mozeliak's guest. Franklin accepted his new post during December's winter meetings in Dallas.
Franklin's role approximates the one Mike Matheny held before being named Tony La Russa's successor as manager.
Edmonds, 41, hit 393 home runs with 1,199 RBIs during a 17-year playing career that featured eight years with the Cardinals. His arrival coincided with the team's rebound from a stagnant decade into the National League's most consistent club.
Edmonds, who twice finished among the top five in NL MVP balloting, played a significant role in the team's 2004-06 run featuring back-to-back 100-win seasons, two World Series appearances and a world championship in '06. Mozeliak traded Edmonds in December 2007 for San Diego minor-league third baseman David Freese.
Edmonds played for the Padres, Chicago Cubs, Cincinnati Reds and Milwaukee Brewers after his departure from St. Louis. His signing with the Cubs after a midseason '08 release from the Padres led to bruised feelings with La Russa when his former manager suggested that Cardinals fans not applaud a player whom he considered a turncoat for signing with the franchise's chief rival.
The next year La Russa sought out Edmonds at the Gold Glove defender's downtown restaurant, F15teen, to apologize for what he acknowledged was a mistake.
MORE OLD FRIENDS RETURNING
Whitey Herzog and Ozzie Smith are expected to attend camp this spring along with fellow Hall of Famers Lou Brock, Bob Gibson and Red Schoendienst.