Whether he had to wait another year or he received the highest honor that echoes for every year to come, Scott Rolen promised his family Tuesday night he'd grill steaks.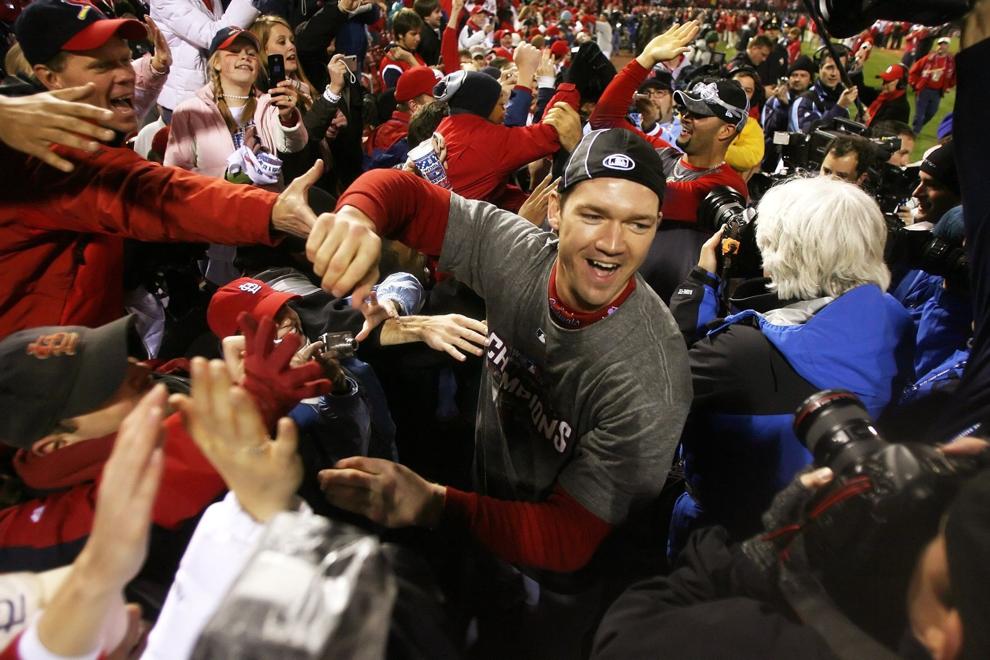 Then he got the call that fulfilled a career but left dinner unattended.
It's hard to flip filets when Cooperstown is on the phone.
"I had to turn the tongs over," he said. "Which, I think, is a good thing."
One of finest and fiercest defensive players ever at third base and a two-way force who became a champion with the Cardinals, Rolen was elected by baseball writers and will be inducted this summer to the National Baseball Hall of Fame. He was the only player to receive the required 75% of the vote from eligible baseball writers, the Hall announced Tuesday, and the seven-time All-Star will join committee selection Fred McGriff as Cooperstown's Class of 2023.
Rolen received a vote on 76.3% of the 389 ballots submitted by eligible members of the Baseball Writers' Association of America, earning induction by five votes — one of the closest margins in history.
"There was actually never a point in my life that I thought I was going to be a Hall of Fame baseball player," Rolen said from his brother's home in Bloomington, Indiana. "So, I think we can start there. Never thought I was going to get drafted. Never thought I was going to play in the major leagues. Never going to be whatever, and certainly … When I made the ballot, it's a great honor."
An eight-time Gold Glove winner at the position, Rolen becomes the 18th third basemen elected to the Hall of Fame. He'll have a say in whether he becomes the latest to wear an interlocking STL on his hat for his plaque. Rolen spent seven of his 17 seasons with Philadelphia and six with the Cardinals, where he won two pennants, the 2006 World Series championship, and had his finest year. In 2004, Rolen finished fourth in the MVP voting, sandwiched between teammates Albert Pujols and Jim Edmonds as part of the MV3.
He is the first player of this Cardinals championship era to be inducted into Cooperstown with Pujols and Yadier Molina on deck for the class of 2028.
Scott Rolen, one of the best baseball players the Hoosier State has ever produced, telling his folks he's in the Hall of Fame. Sports! pic.twitter.com/LNfr6lx8kI

— Charlie Clifford (@cliffWISH8) January 25, 2023
When asked by Bob Costas during the MLB Network broadcast of the announcement, Rolen said when it comes to the logo on his plaque he'll "take advice from the Hall."
It wasn't until sitting outside his son's basketball practice several years ago and listening to the voting results on the radio that Rolen even considered the possibility of induction, and only then was it through his son's eyes. Rolen recalled telling Finn, who was in elementary school at the time, that it was a "win" to get at least 5% to stay on the ballot. Rolen received a few more than 40 votes for 10.2%.
His son told him that he had a chance to do more than win, he could be inducted. Finn and friends and then family began tracking Rolen's rise — as he made sizable leaps to 52.9% in 2021 and 63.2% last year. Rolen said he didn't follow the vote tracking this year, his sixth on the ballot, even as public ballots put him close to 80%. He didn't need to. His son kept him updated.
After all, sometimes candidacies take time to marinate.
On Tuesday, as dinner awaited the grill, his dad got the call.
Finn got a steak — cooked by an uncle.
"You could definitely see there was excitement about the possibility, that he was opening up to that," said Gary Bennett, a teammate as far back as Class AA with the Phillies and a member of the 2006 title team in St. Louis. "He's a humble dude. He doesn't like to talk about himself. He doesn't really like to talk, period. But the idea of it was hitting him. … The first time you see him play, you could tell instantly this cat was different. Scotty played the game hard. He left everything he had on the field, because that was the way he knew how to win."
The Cardinals acquired Rolen, a unanimous Rookie of the Year in 1997, from Philadelphia in July 2002 and signed him quickly to an extension. He was an All-Star his first four seasons with the Cardinals. He quickly paired with Pujols to become one of the best middle-order tandems in the majors.
He helped complete a contending team.
The Cardinals helped complete him as a player.
"The biggest thing about St. Louis — there were just seasoned professionals, veterans, there at the time that you could really learn from overnight," Rolen said Tuesday. "They had been around. They competed together for a long time. That was a great thing in my career that I think I was ready for. Pushing six years pretty hard (in Philly) and young and not knowing what I was doing and then all of a sudden ... 
"I got traded to a championship team, or a championship-calriber team," Rolen continued. "And what I found out was veteran guys —their mindset was a little different than mine. I went to the ballpark at 3 o'clock because I was supposed to go to the ballpark at 3 o'clock. They went to the ballpark at 3 o'clock because they were going to do their job. And I'm like, 'Man, OK. This is a different thing for me.'"
In Game 7 of the 2004 National League Championship Series at Busch Stadium II, Rolen had the home run off Roger Clemens that broke a tie and sent the Cardinals to their first pennant since 1987.
The injuries and physical soreness that interrupted his career began with the Cardinals, and in 2005 he had two shoulder surgeries. That contributed to how he felt late in 2006 — his strength drifting at the plate, his body aching, and his relationship fraying with manager Tony La Russa. During the 2006 NLCS, Rolen was replaced in the lineup. He said that was when "Tony and I decided to headbutt each other a little bit." In a passionate interview at Shea Stadium, he stressed that he could help win a game with his glove. He wanted that chance. When he returned to the lineup he got at least a hit in the next 10 playoff games, and was a candidate for the MVP of the World Series with eight hits, a homer, five RBIs, and five runs in the five-game series.
One of the hardest stretches in his career had the sweetest finish.
"After 2004, when we got swept by the Red Sox (in the World Series), I told my wife (Niki) in that offseason — I said, 'I'm never going to win a World Series,'" Rolen said. "I can't play on a better team that than talent-wise, and certainly not a more cohesive team. That is as good a group inside the group as you can possibly have. And we got killed. We come back in '06, and it changed my mind about a lot of things. We kind of backed in, and we got hot and kind of ran the table."
After requesting a trade from the Cardinals in 2007, Rolen spent the final years of his career with Toronto and Cincinnati, where he was a two-time All-Star. He retired after the 2012 season with 316 home runs, 1,287 RBIs, and 2,077 hits. He's not the offensive juggernaut that Mike Schmidt was at third base, nor does he have as many Gold Gloves glittering on his shelf as Brooks Robinson, but Rolen was his generation's blend of the two. An all-around player who called baserunning was a measure of his character "as a human being."
Through all his interviews Tuesday night, while his brother-in-law took over the grilling, Rolen wore a hat that read, "E5". It's the name he gave his foundation and camp inspired, wryly, by all the errors (186) at third base he had a chance to make in a long career (5,745 total chances). And then not make the next time.
His eight Gold Gloves are second-most in the National League to the 10 won by Schmidt and current Cardinals third baseman Nolan Arenado.
Rolen had the highest Wins Above Replacement (70.1) of any eligible third basemen not yet elected to the Hall of Fame.
Colorado first baseman Todd Helton came 11 votes shy of induction, though no player has been that close without eventually being elected. Reliever Billy Wagner received 68.1% of the vote to position himself for future induction. Former Cardinals outfielder Carlos Beltran received 46.5% of the vote in his first year on the ballot and his first referendum since being connected to Houston's sign-stealing scheme in 2017. Other players on their first ballot with ties to the Cardinals, John Lackey and Jhonny Peralta, received less than 5% of the vote and will not appear on next year's ballot.
While a minor-leaguer, somewhere around age 20, Rolen rolled through Cooperstown for his only other visit to the New York village. He remembers seeing ice fishing, and recalled how "beautiful and quaint everything was."
"Go back and visit some day was my hope," he added.
Now he can do more than visit.
He can call it home, forever.
"You keep playing hard," Rolen said, "and see what happens."