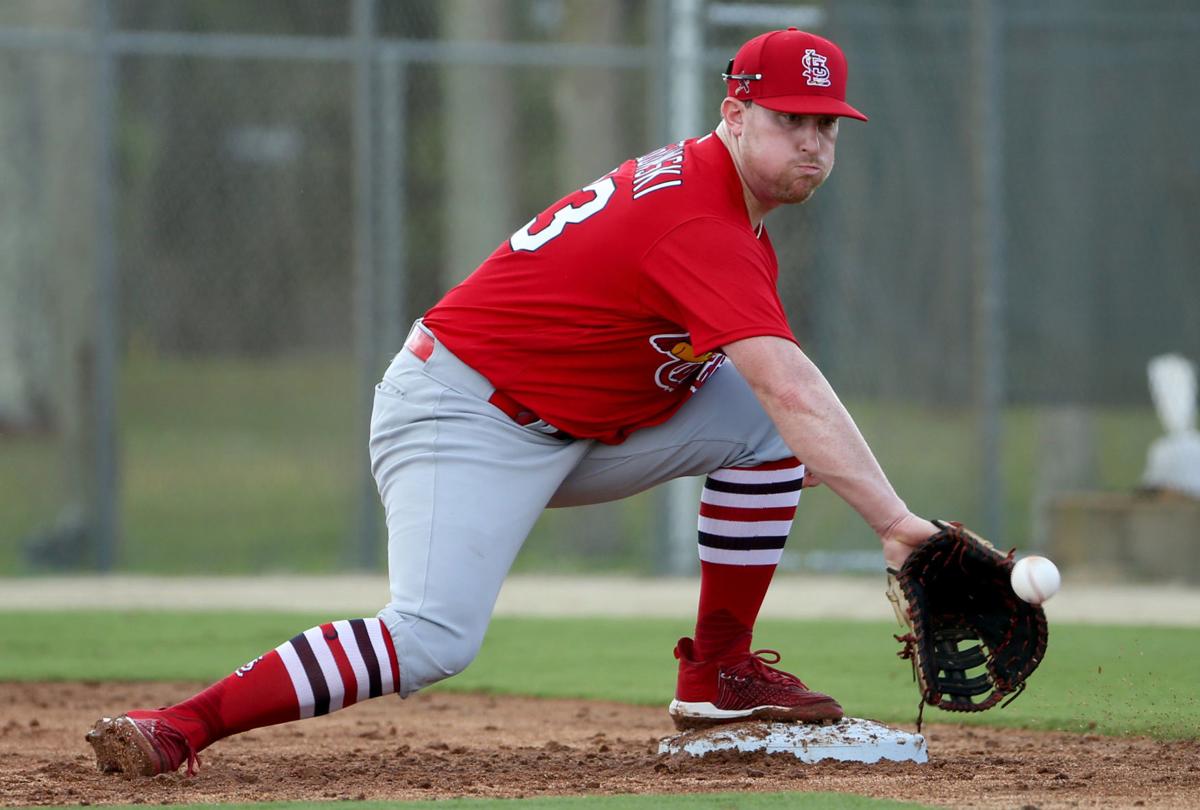 As he waited in St. Louis for the results of the tests that will determine whether he can join the workouts at Busch Stadium with his fellow Cardinals, John Nogowski saw the announcement scrolling through Instagram, where he kidded a reporter "you get all the news."
He saw it on the Springfield Cardinals' social media page, and then in a Class AAA Memphis photo, and as he read so did many others about how the inevitable became official Tuesday when for the first time in its 119-year history Minor League Baseball canceled a season.
"It is — for the lack of a better word — tough to fathom," said Nogowski, who has played 512 games in the minors and will spend this summer with the Cardinals or on their extended, shortened-season roster. "There are players in the middle of their careers or players not yet really into their careers and they're not going to be able to play — not because you're hurt, not because there's somebody ahead of you, but because of a virus. It's difficult to consider."
In a statement released Tuesday afternoon, Minor League Baseball president Pat O'Conner called the global pandemic "unprecedented times" and that it was necessary to remove any "uncertainty surrounding the 2020 season." As Major League Baseball's owners and players spent months negotiating a return to their season in the midst of a national crisis, it became apparent a minor-league season — with its hundreds of players gathering at dozens of facilities and crisscrossing numerous states — would be impossible to coordinate.
Officially, Major League Baseball will not provide players to its affiliates, so those affiliates will not play. The question next facing big-league clubs is how to avoid losing a year of development for its players.
"Upon hearing the news Minor League Baseball has been canceled for the 2020 season, I can't say I was surprised given what we are dealing with, but the finality for the players, staff members, coaches, employees, writers, and fans is still disappointing," said John Mozeliak, Cardinals president of baseball operations. "The challenge for major-league organizations will be can we find a safe place for some of our players to train this summer, but the likelihood of satisfying large numbers of players will be impossible."
Where to go?
The Cardinals have a handful of their top minor-league prospects, including pitchers Johan Oviedo and Kodi Whitley and outfielder Dylan Carlson, coming to Busch Stadium this week for the 21-day preseason camp. Other prospects are being considered for the extended roster that will be located at their Springfield, Missouri, affiliate. The Cardinals have 16 remaining spots on their 60-man organizational roster, and Mozeliak said they will determine the use of those spots based on the health of their 44-man camp roster.
After all players go through their intake exams this week and learn, as Nogowski was awaiting Tuesday, whether they are negative for the coronavirus, the Cardinals will determine if they can use some open spots for prospects. Or if they need to use them for depth.
If they can go with what Mozeliak described as "prospect style camp" — one that utilizes the workouts and scrimmages to get experience for young players — members of the Cardinals' 2020 draft class, such as first-round pick Jordan Walker, will be considered for spots.
Beyond that selected group, the Cardinals could look to expand their hitting, pitching and instructional camps they've held at the Jupiter, Florida, complex, or find some other way to gather minor-league talents in training settings. Local policies limiting the size of groups during the continued spread of the virus will dictate that possibility.
'Different strategies'
The team's performance department and minor-league development staff has worked to have plans for players while they are limited to at-bat workouts.
"We are kicking around multiple different strategies on what we can possibly do," Mozeliak said. "It would be a bummer if we weren't able to do something. No one wants a lost year for anyone."
The Cardinals selected Class AA Springfield's facilities for its alternate site in part because they own the affiliate, and that's an element of what gives the club's upper affiliates some stability for the turbulence ahead. In its announcement on Instagram about the canceled season, Springfield described "similar to so many minor league teams across the country this is going to be the most challenging time our organization has ever faced."
A canceled season has deep, cutting financial ramifications.
The Cardinals own their Class AA Springfield affiliate and High-A Palm Beach, and they are part owners of Class AAA Memphis. A four-year player development contract with Memphis expires at the end of September, but is expected to be renewed.
"What we're going through with this COVID-19 time is going to linger for another season or two and be a challenge for us all," said Craig Unger, the Memphis Redbirds general manager. "We have to see our way through it. Two, three years from now, the road back is going to make Minor League Baseball stronger. It's in the fabric of so many small communities. It's an important part of what Major League Baseball is because it's part of the start."
It's not yet clear how many minor-league affiliates or leagues will not return from the canceled season. Major League Baseball and its minor-league counterpart already were wrestling through negotiations that included big-league owners seeking to downsize the minor-league spread. The Cardinals expected to lose at least one affiliate, short-season Johnson City, in the process, and the list for all affiliates to be shuttered could grow beyond the 40 advertised.
Many affiliates are looking to other sources of income such as renting out facilities for events, or possibly hosting any of the college leagues that still plan seasons. In Memphis, AutoZone Park has a professional soccer team, Memphis 901 FC, readying for its season.
The next time it expects to see baseball is 2021.
"I've been involved in baseball . . . " Unger said, counting to 2006 and time spent at St. Louis radio stations and then with the Cardinals before moving to helm the affiliate. "My body is not programmed to be at home at night and not be at a ballpark. It is hard to fathom that there is no baseball coming to town."
Keep up with the latest Cardinals coverage from our award-winning team of reporters and columnists.