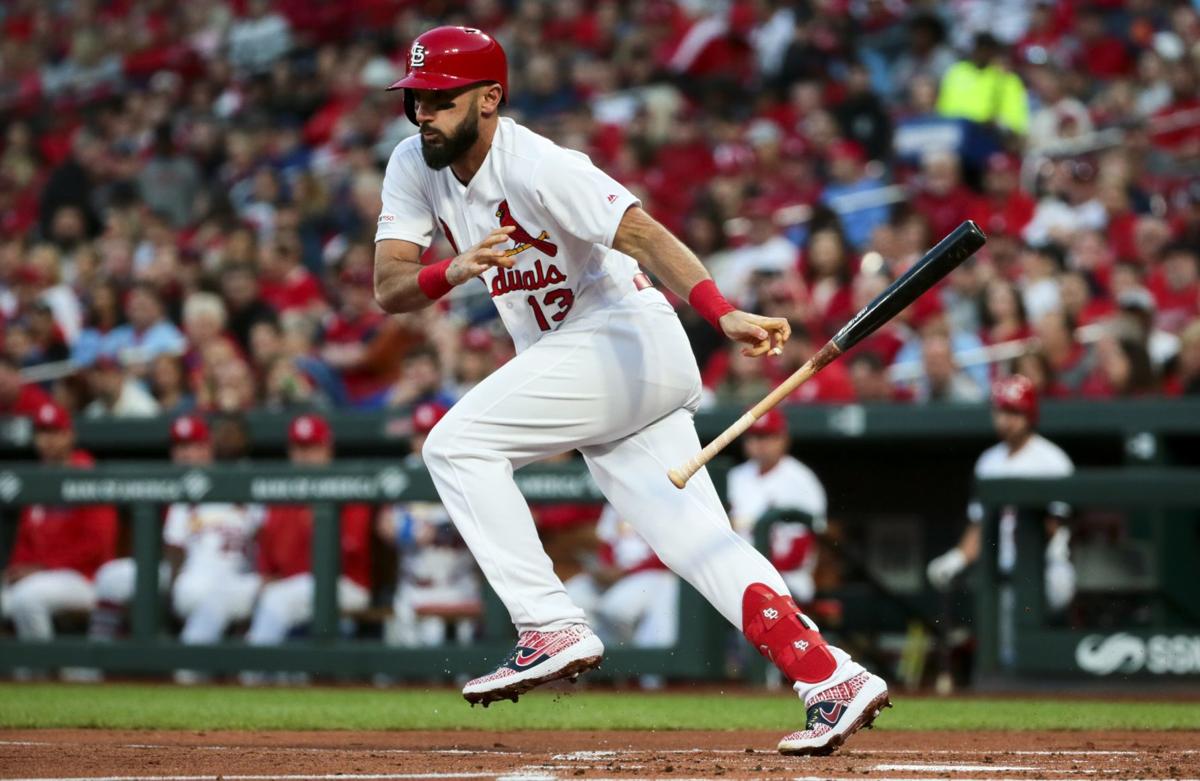 WASHINGTON • Although not quite as much as the increased shifts or amped-up velocity that challenge hitters like him, the phrases have changed through the years for how Matt Carpenter can describe the search for his swing. Yesterday's "in between" is today's "a tick off," though Carpenter and a few teammates recently discussed how even that doesn't capture it.
These days "a tick off" might as well be completely off.
"In this era that we're in with baseball, when you're a tick off you just can't really save your day like you used to be able to do," Carpenter said. "When I first came up in 2012 — compare the average fastball then to what it is now. It's not how it used to be. And shifts. And all the information that's out there.
"When your mechanics are just a tick off, you could still find a way to hit .250 for a month if you were a good hitter. Now, if you're just a tick off you've got a really, really, really strong disadvantage. If you're not dialed in, there's no surviving. There's no squeezing a groundball through or working a walk.
"Now, it's three strikeouts and a groundout into the shift."
Carpenter ended the first full month of the season a lot like he spent it, searching. The Cardinals' leadoff hitter struck out seven times in his first eight at-bats against Washington this week, and he had a season-high four strikeouts Tuesday.
Carpenter finished April with a .202 average and a slugging percentage (.356) close to his walk-infused on-base percentage (.328). Throughout the month he was tested by dramatic defensive shifts — Cincinnati routinely used four or five outfielders against him — and an off-speed approach that was obvious Tuesday.
Against a starter, Anibal Sanchez, who leans on his cutter, and two lefty relievers, Carpenter saw a total of 20 pitches in four plate appearances.
Four of those pitches were fastballs.
The rest were cutters, sliders and other off-speed pitches. His first two strikeouts came on cutters called for strike 3s, and his third and fourth came swinging at a cutter and slider, respectively.
"He's chased and missed on fastballs that he's used to squaring up," said hitting coach Jeff Albert. "But it feels like he's been very close. … His strengths the last few years have been pulling the ball in the air. There are not a lot of guys who can do that like he can and still make a lot of contact. He's got a really good skill to be able to do that."
Carpenter went 1 for 5 with two strikeouts Wednesday.
How opponents have challenged Carpenter has changed as he flexed his power. As recently as 2015, more than three out of every five pitches he saw were fastballs. In the first month of this season, that fastball rate has shriveled to 53.8 percent, according to FanGraphs. For the first time in his career, one out of every five pitches he's seeing is a slider, and nearly half are off-speed pitches.
On Monday, Carpenter drew a walk that was a key part of the six-run rally that won that game, and he finished April with almost as many walks (20) as hits (21). Before the game Wednesday, he compared this start to last season, when he ended the first full month of the season with nearly as many strikeouts (26) as hits and walks combined (29).
"If you look at last April," he deadpanned, "I'm smoking hot."
The first month of the season has, traditionally, been his most sluggish. His .249 average in April is the lowest of any month in his career, and as the weather warms so does his production, climbing to a .294 average in May and an .889 OPS for June. This April is no different in that way — it informs how he expects to be pitched in May and beyond.
"You've got to evolve," Carpenter said. "I think that's been one of the big reasons why, historically, I've been a slow starter that first month. I've just been building a database of what teams are doing against me. Then you make adjustments and go three, four months of good baseball. The teams adjust, and you start all over. I'm in that period where I'm seeing how I'm being attacked this year and trying to make my own adjustments."
GREGERSON PITCHES, AWAITS WORD
Veteran reliever Luke Gregerson asked teammates to treat his outing Wednesday afternoon as they would a game so that he and the coaches gathered to evaluate him could see whether the health he felt truly translated to the results they all waited to see. Gregerson threw 30 pitches, had the equivalent of seven at-bats against teammates, and did not allow a ball out of the infield during a live batting practice session at Nationals Park.
The purpose of the exercise was to give manager Mike Shildt, pitching coach Mike Maddux, and others a first-hand look at Gregerson against big-league hitters. The righthander, who has been sidelined by injuries for most of the past 12 months, appeared sharp and "the best I've seen him since he's been here," Shildt said. Depending on how he feels Thursday, Gregerson is likely to come off the injured list as soon as this weekend at Wrigley Field based on Wednesday's results.
"Feel is one thing," Gregerson said. "I've been expressing how I feel – and I feel strong. I feel healthy. I feel way better than last year, which is nice. I feel like I'm back to normal for the most part. I think that's the most important thing. I think I've proven that part. This was more about getting a visual from the coaching standpoint, the hitter's standpoint, and to see if what I was doing down there (in the minors) translates."
FOWLER, ETC.
• Dexter Fowler (flu) remained at the team hotel for a second consecutive day recovering from an illness that sent him briefly to the hospital Monday night. Manager Mike Shildt said Fowler was on "the other side" of the flu and would be expected back Thursday. …
• Paul DeJong's 13 doubles in April tied the Cardinals' record for the most in that month. …
• Juan Soto was a late scratch from the Nationals' lineup Wednesday due to back spasms.
Stan "The Man" Musial" lived up to his nickname on May 2, 1954 when he swatted five homers in a doubleheader at Busch Stadium I. His feat was …
Check out these and other hot topics from columnist Ben Frederickson's chat with STL sports fans, including: Why does Shildt stick with .202-h…
Check out these and other hot topics from Hall of Fame baseball writer Rick Hummel's chat with Cardinals fans, including: Who's to blame for C…
Keep up with the latest Cardinals coverage from our award-winning team of reporters and columnists.