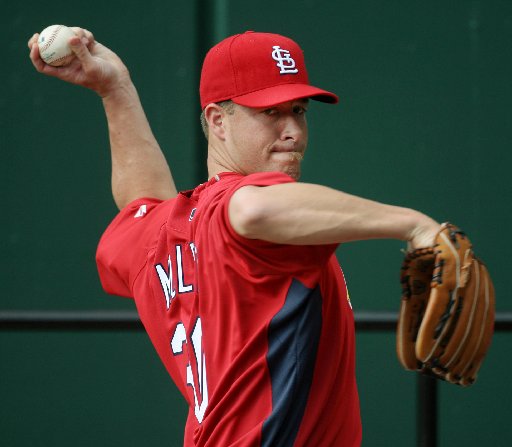 LAKE BUENA VISTA, Fla. • With their young daughters sharing a birthday party together and the dads certain to need a distraction at some point, former Cardinals lefty Mark Mulder fired a text to former Cardinals righty Kyle Lohse and said he should bring his glove to the party.
Mulder sensed Lohse's confusion and texted a tease.
"I've got to show you something," was the gist of it.
Mulder, 36, last threw a pitch in a major-league game on July 9, 2008, for the Cardinals. He was 30-years-old, in the prime of his career, and already had 103 wins in the majors. But his shoulder was rebelling against him, his mechanics and health pulling it in different directions.
Mulder had two shoulder surgeries lead him toward retirement and during a couple attempted returns with the Cardinals even tried to become a sidearmer at one point.
Well into his second baseball career as a television analyst with ESPN, Mulder was watching LA reliever Paco Rodriguez and how he separated his pitching hand from his glove. On a lark, Mulder tried to mimic the lefty one day and – voila!
"It was like I found a shortcut that I had been missing, a way to get my arm back where it needed to be," Mulder said Tuesday night from his home in Arizona. "I never threw a single pitch like I did in St. Louis. Not one time. There wasn't a single pitch that I threw for the Cardinals that I threw feeling this well. I was doing it on smoke and mirrors. That year I won 16 games (2005), I had no breaking ball, no cutter. I was getting by on the sinker, split. I knew how to pitch. I could somewhat locate. I got away with being a groundball guy that year.
"That's why I have to give this a shot."
Mulder, 36, has let his agent and others know that he would like to return to the mound for the 2014 season. He has been throwing every three days and ramping up to prepare for spring training. He intends to throw for several interested teams.
The Cardinals and Mulder are not likely to have mutual interest.
Mark Ellis, a friend and a free agent that has drawn some interest from the Cardinals, recently stood in to judge Mulder's pitches from a batter's point of view. He's asked former big-leaguer Pat Burrell for help.
And he's been egged on by Lohse.
The two pitchers became teammates with the Cardinals and friends through the offseason. They live close together. They vacation together. They golf together. Their families are close. And on that one birthday-party afternoon they played catch. Mulder told Lohse that he just "wanted to see if something is working." They played catch, and all of the issues that Mulder had finding his arm slot, swinging his arm, and getting anything on his pitches had faded – either with time or with the new wrinkle in his mechanics.
"It became really exciting," Mulder said. "I don't know where this goes. All I know is I want to try. I get up there now (on the mound) and I don't want to stop. I want to keep this going. I want to see what's still possible. I've got to give it a shot."