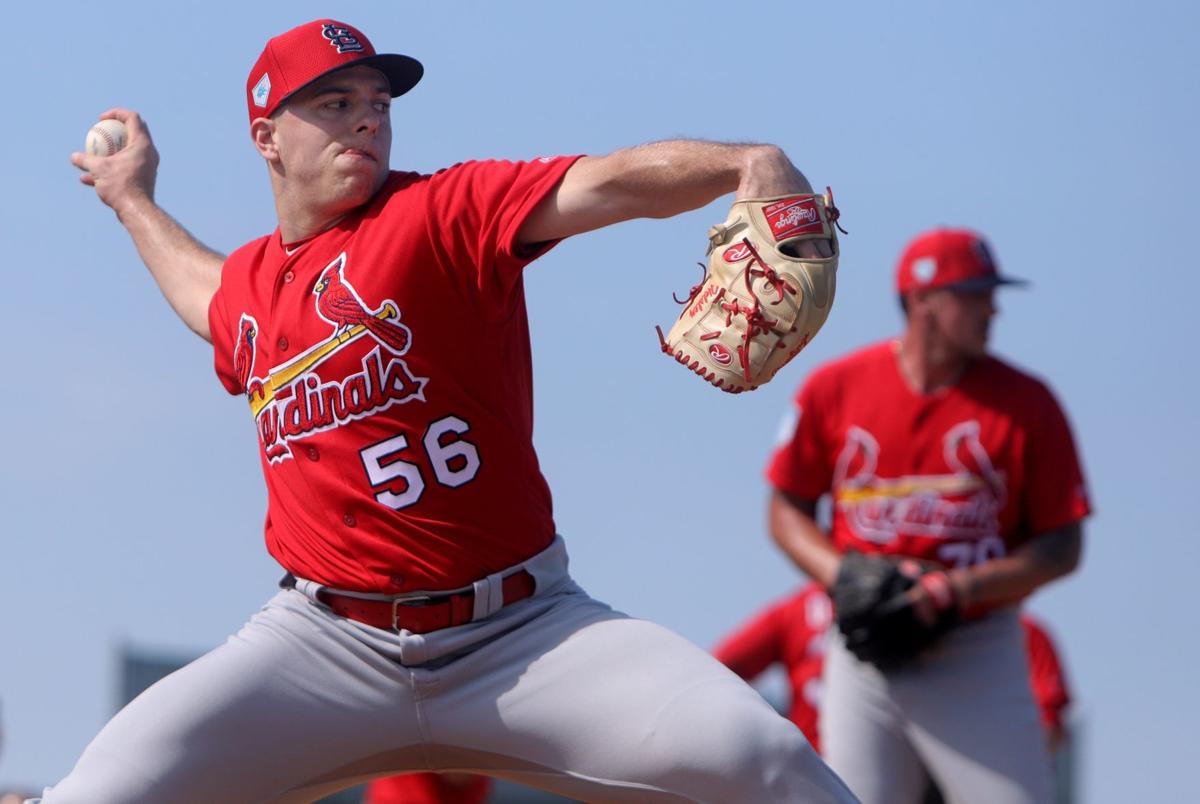 As he readied for his first debate ever as a candidate for principal chief of the Cherokee Nation and paced a hallway at Ryan Helsley's alma mater, David Walkingstick had some nerves, and then he got a text message with a tip. The note suggested he slide into his opening statements that Helsley, hometown kid and Northeastern State University star, was, at the same time as the debate, about to make his major-league debut with the Cardinals.
One look at the crowd of about 250, and Walkingstick could tell they already knew.
"I was fist-pumping out in the hallway and then I have to go in, there's a broadcast, the crowd is there," Walkingstick, a member of the tribal council, recalled Friday night. "And they weren't focused on the chief debate. They were focused on Ryan Helsley. He stole our thunder that night. They're looking at ESPN on their phones, checking if he's in the game. He's putting Cherokee Nation on that map again tonight. All eyes were on Helsley."
What they saw on April 16 at Miller Park was a glimpse of the arm that brought scouts to the same school as the debate and, as one coach there said, "let's call it a ballpark they quite possibly had never been to before."
Helsley allowed a home run to the first batter he faced — Christian Yelich — but on the final pitch he threw asserted what got him to the majors. He struck out a batter with a 101.5-mph fastball — the third fastest thrown this season by a pitcher not named Jordan Hicks. As the debate went on, Helsley struck out four in 2 1/3 innings, and the righthander from Tahlequah, Okla., the capital of Cherokee Nation, became the first player from his all-Native American high school to reach the majors, the first player from his college to reach the majors, and one of the few citizens of Cherokee Nation to reach the majors.
With an election set for June 1, the debate between Walkingstick and two other candidates did gather attention for topics essential to tribe, such as a discussion on health care. At a Buffalo Wild Wings nearby, televisions tuned into the Cardinals' game that night. At a locals' bar, Dewain's Place, cheers greeted Helsley's heat. His parents, Jason and Sherry, watched at Miller Park but got updates from back home.
"It gives me goosebumps talking about it," Sherry said this past week standing in the concourse at Busch Stadium before a game. "That's my kid. They're talking about my kid."
Added Jason, "He's one of ours."
"Makes our school proud," said Walkingstick, a fellow graduate of Sequoyah High School who sees Helsley at the school's weight room in the winter. "Makes our town proud. Makes our tribe proud."
The first clue was the scouts.
The six scouts, maybe eight, and later 10 scouts that came to Northeastern State University stood out, because the school hadn't generated that kind of big-league traffic before. They came to see velocity. In the final game of the National Baseball Congress' World Series in 2014, Helsley pitched 1 2/3 scoreless innings for the Santa Barbara Foresters, struck out three, and dizzied radar guns. Scouts came to his bullpen sessions and scrimmages that fall, and the first game he threw that next spring, the Cardinals had a scout there. Aaron Looper, the same scout whose "gut feel" sticker had helped draft Trevor Rosenthal in 2009, was there to see another strong-armed, former infielder at a small college.
"That championship game was the first big, big velocity from him, and scouts started drooling," said Travis Janssen, NSU's coach at the time and now Austin Peay's baseball coach. "Scouts are going to know where to go for a good player. I didn't have a real feel for it until I had a scout from the Blue Jays in my office and I asked, 'What are we talking about here?' I'm thinking he'll go in the 20th, 30th round.' 'Coach,' he says, 'people are talking about top five rounds for him.'"
That was almost four years after Helsley threw four pitches and was told to stop.
As a junior at Sequoyah, Helsley attended a showcase, and the infielder with the free-safety mentality who spent his winters as a decorated basketball player agreed to try his hand at pitching. He didn't know what to expect. But it wasn't throwing just four pitches. That's when a pitching coach told him to stop, and Janssen agreed.
"I had seen all I needed to see," the coach said.
He explained to Helsley's parents that he saw a "high-ceiling arm" and that a "velocity jump was coming." He explained that if Ryan had "aspirations of MLB, it's going to be on the hill." Jason was unsure. MLB? College first. Over dinner at Chili's, Sherry argued that her son could hit, could play third base. Janssen offered a scholarship to pitch.
It was the only offer Ryan received. "Recruited by one guy, one college, our hometown college," Jason said. "Let's get on this pitching horse and see how far it can take you."
"Turned out pretty well," Ryan said.
Four years after throwing those four pitches Ryan went in the fifth round of the 2015 draft to the Cardinals, and less than four years after that he debuted, with a nation watching. In limited work the past week, he averaged 98.3 mph on his fastball, and that would rank second in the National League behind Hicks' 100.9. He has developed a breaking ball as a pro, and he's likely to spend this season shuttling between Class AAA for regular work and the majors as fill-in firepower. For a kid who grew up a Cardinals fan in Oklahoma, it's the start of a dream.
And, Helsley said, it's also more. "It's really cool to come out of a small town like I did and to have a chance to be the face of that area, to be the one that people look to and want to talk to," Helsley said. He added: "You represent a family."
In the offseason, Helsley returns home and doesn't plan on ever calling anywhere else home. He works out at his high school, and then he assists his great aunt at a nearby immersion school, where all of the classes are taught in Cherokee. He works on reading English and math with third- and fourth-graders after school. The words Helsley knows in Cherokee are limited to some animals, colors and the word for quit, pronounced "tle-s-di," according to the Cherokee Nation's website. He heard it from his grandparents, his mother's parents.
Ryan and twin brother Kyle were working on a school project when their mom took them to a nearby town to see the census records and show the boys their grandfather's name. He's full-blood Cherokee, Sherry said. Her grandfather held onto the original allotment of land given the family after relocation, and it remains in the family. Her father, age 89, traveled to St. Louis on Easter to see Ryan with the Cardinals.
Jason's great-grandmother worked at the Cherokee Heritage Center in Tahlequah, and he would point to a postcard from the center that showed a Cherokee woman weaving a basket, "That's her." Ryan said this past week in the Cardinals' clubhouse how his "grandma's grandpa was on the Trail of Tears."
Ryan's mother, Sherry, works in radiology at the Cherokee Nation health clinics, and his father, Jason, does heating, air, and electrical work for the hospital. After playing football in college, Kyle returned home to Tahlequah and works at a concrete plant, one that has worked in the construction of a new 469,000-square-foot health center in town that will be the largest of its kind for a tribe in the country.
An official with Cherokee Nation explained that citizenship is based on tracing ancestry with the Dawes Rolls, a record commissioned by the U.S. government in the 1890s to register members of the five tribes for land allotments. Some Native Americans were forced to register, and the rolls are considered incomplete by historians. They do help establish ancestry, an official said. A recent article in Cherokee Nation's magazine mapped the tribe's history in baseball — and its present. Colorado's Jon Gray and Baltimore's Dylan Bundy, both Cherokee citizens, played against each other in 2016. Milwaukee pitcher Adrian Houser joins Helsley as two of the three big-leaguers born in Tahlequah. Bill Harrelson, an Angels pitcher in 1968, is the third. The Cherokee Nation highlighted seven professional ballplayers with Cherokee ancestors. Deputy chief S. Joe Crittenden wrote in an email Friday that Helsley "continue(s) that tradition … (as) an example to Cherokee and native youth across the nation that if you are willing to put in the work and time then nothing is impossible."
As they stood near Gate 3 at Busch Stadium this past week, Cardinals fans streaming past them, Jason and Sherry found similar words to explain what Ryan's arrival meant to his hometown, to the people there, to all the eyes on him. Jason circled back to the night Ryan called them about the promotion. Ryan called his mom's phone because he thought his dad might already be asleep.
"Goes to show you don't have to be from a really big city, go to a big high school, or go to a Division I college – if you're blessed with ability and you practice and you work and dedicate yourself and you get the breaks someday you get to make that phone call at midnight," Jason Helsley said.
He paused, tears swelling in eyes. "You get that call at midnight, like, 'Hey, Dad. I made it. I made it,'" Jason added. "You take advantage and keep your mind right and you end up here, pitching in the major leagues. Being an Indian kid with the Cherokee Nation, a country kid, there are few who have made it, and he's one of the few. There are no words."